Shopping Basket
Your Basket is Empty
There was an error with PayPal
Click here to try again
Thank you for your business!
You should receive an order confirmation from Paypal shortly.
Exit Shopping Basket
How we React to Things...

​​I recently had a situation happen to me that comletely knocked me for six, floored me, upset me beyond belief and there was absolutely nothing I could do about it. Nothing.

My website provider switched my site builder from one day to the next, completely reformatting my website. The first I knew about it was when I clicked on my site and thought it didn't look right and definitely not how I left it last time.. Different fonts, mis-aligned text, different colours...

All the hours of SEO work that I'd learnt how to do had gone. Nothing there. Removed. Blank sheet. From 21st October 2020 this was, effectively, a new site on the net. Old stats gone. Tools I'd relied on since first building my site in 2008 gone. Just gone.
About two months ago I did receive an email about upgrading the site at some point. No date given and no communication whatsoever since. No heads up on the change over date - nothing. I had no chance to screen shot info or key words and there's no tutorial on how to use the new builder. Do you laugh because it's nuts or do you cry... I cried.

I felt like I'd lost a huge part of me - a bit silly maybe but there you go, that's how I felt. I liked to look back to see what visits I'd had from where and see how my site had done over the years. I was really proud of the 80% SEO mark I'd managed to get by tweaking a word here, adding a different phrase there, making some words plural and others not... all these little things make the difference and it was a fair bit of a learning curve for me - I've got none of them saved , of course..

So... Anyways... Deep breath...

I recently treated myself to a lovely book - The Boy, the Mole, the Fox and the Horse by Charlie Mackesy. A truly beautiful book.

On one of the pages it says " One of our greatest freedoms is how we react to things ".

So very true..

Can I live without all that archived data? Yes, of course..

Can I learn how to use this new builder? Yes...

Will it take me hours to re-do the SEO work? Yes!!! :(

But can I do it? Oh yes...
Um... Is it easier to write this blog post in the new builder format...? Yes.
Does my website now have that lovely little secure padlock icon? Yes.
Might I learn to love this new builder? Oh probably...
There's a cherry in here somewhere - I just have to find it...

And find that pesky, invaluable SEO analyser... now where on earth has that gone???

Best get Coffee and Carry On

Happy Sunday Everyone

Catch You Next Time x

| | |
| --- | --- |
| Posted on 12 September, 2020 at 11:41 | |
So  I thought I'd do a little blog post today about - amongst other things - what's happening at the Flower Studio....
 Because there's still the nasty Covid out there and the studios aren't that big, I've decided to keep them closed to the public for now. But I am currently taking orders, either for local delivery or safe collection from here, for flower tributes or smaller weddings that just need bouquets and buttonholes and maybe Top Table flowers. I'll be open for these kinds of orders for the rest of September and all of October, closing again once the clocks go back. 
For now there are still some gorgeous, Summery flowers to be had and the weather is kind enough that they're happy to open beautifully in the natural light of the studio. Last week I had a special tribute to make and used some stunning Meijer Four Seasons Roses combined with a lovely purple/blue Clematis and some deep blue Gentian - a really lovely mix of Country Garden style flowers. This, I have to say, is my favouritest colour palette in the whole world...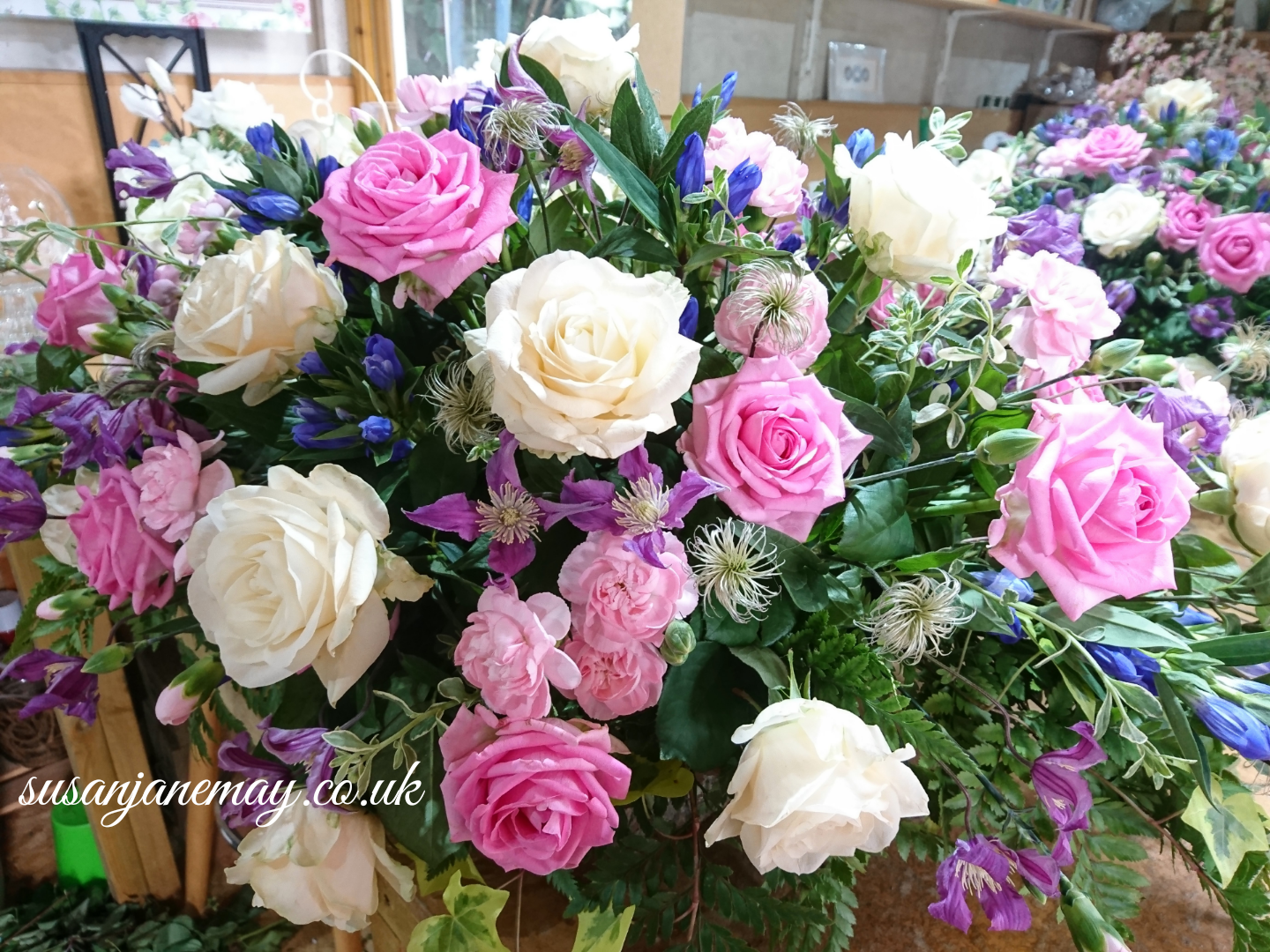 On the art side, I've managed to get some of my finished tapestry wallhangings listed in both my Etsy and Folksy shops - and I've popped photos of them on my website too. Admin - it can take a while - especially when 'help' arrives.... Would you just look at the size of that paw stretched across the keyboard! There was no way Harls was wanting me to be doing what I was doing right then - he wanted attention!!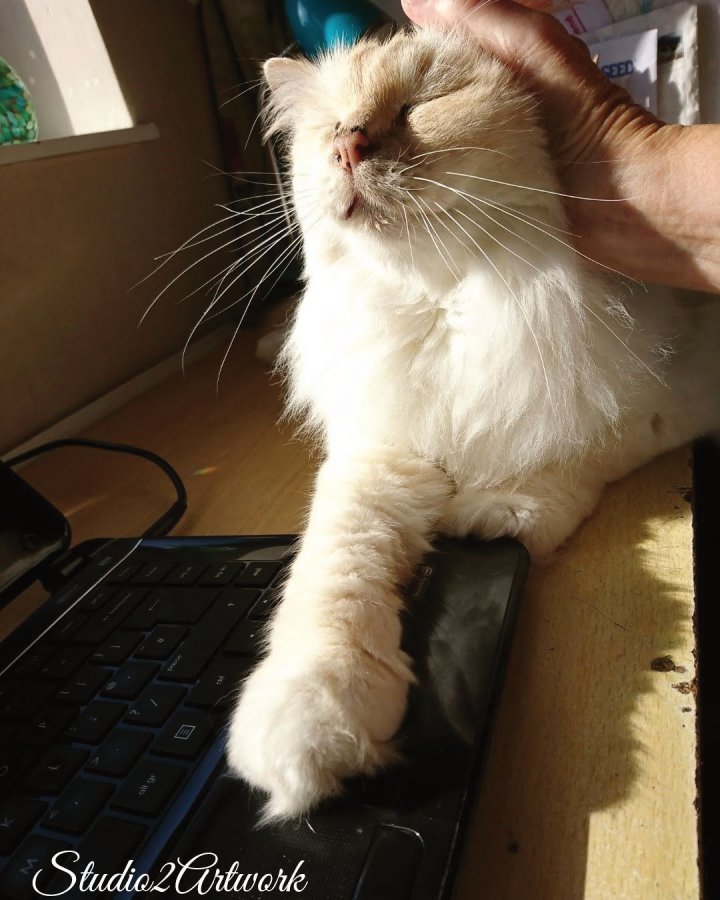 And I've started a new weave - this time it's a Maroochydore sunrise inspired wallhanging. The colours are incredibly vibrant and I've been spinning a fabulous, naturallyTurmeric dyed, Merino Wool & Tussah Silk blend to add to the sunrise colours. The majority of yarns I weave with I now spin myself - wool, silk, egyptian cotton, Ramie (nettle fibre) and, very soon, Alpaca.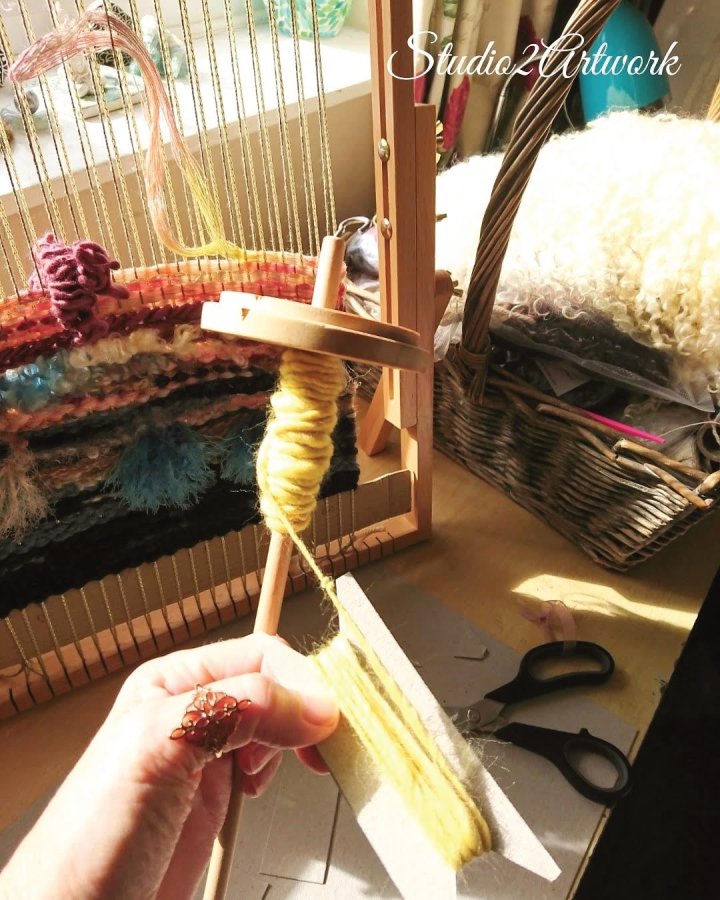 I also managed to get hold of the most beautiful raw fleece from a Teeswater sheep whose name is Amethyst - it's now hand washed and dried and the locks are just perfect for this weave..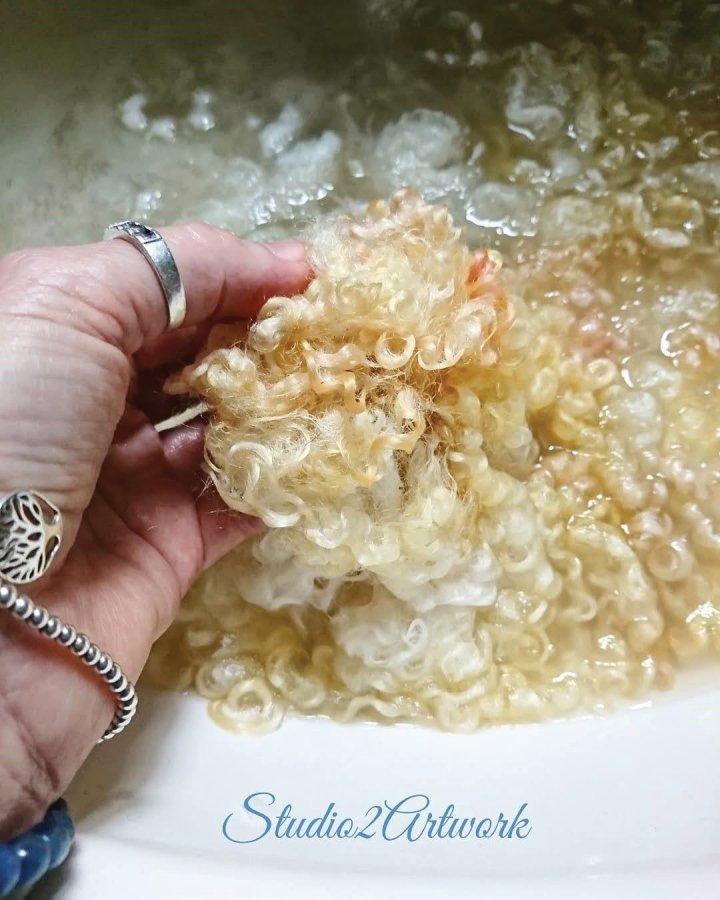 You can see just how beautifully it works with the colours in the pic below ... and there's the inspirational photo in there too, "borrowed" from an Insta post put up by Laurel Resin Art (who you can find at the Eumundi Markets, QLD - and you know how much I love that place!)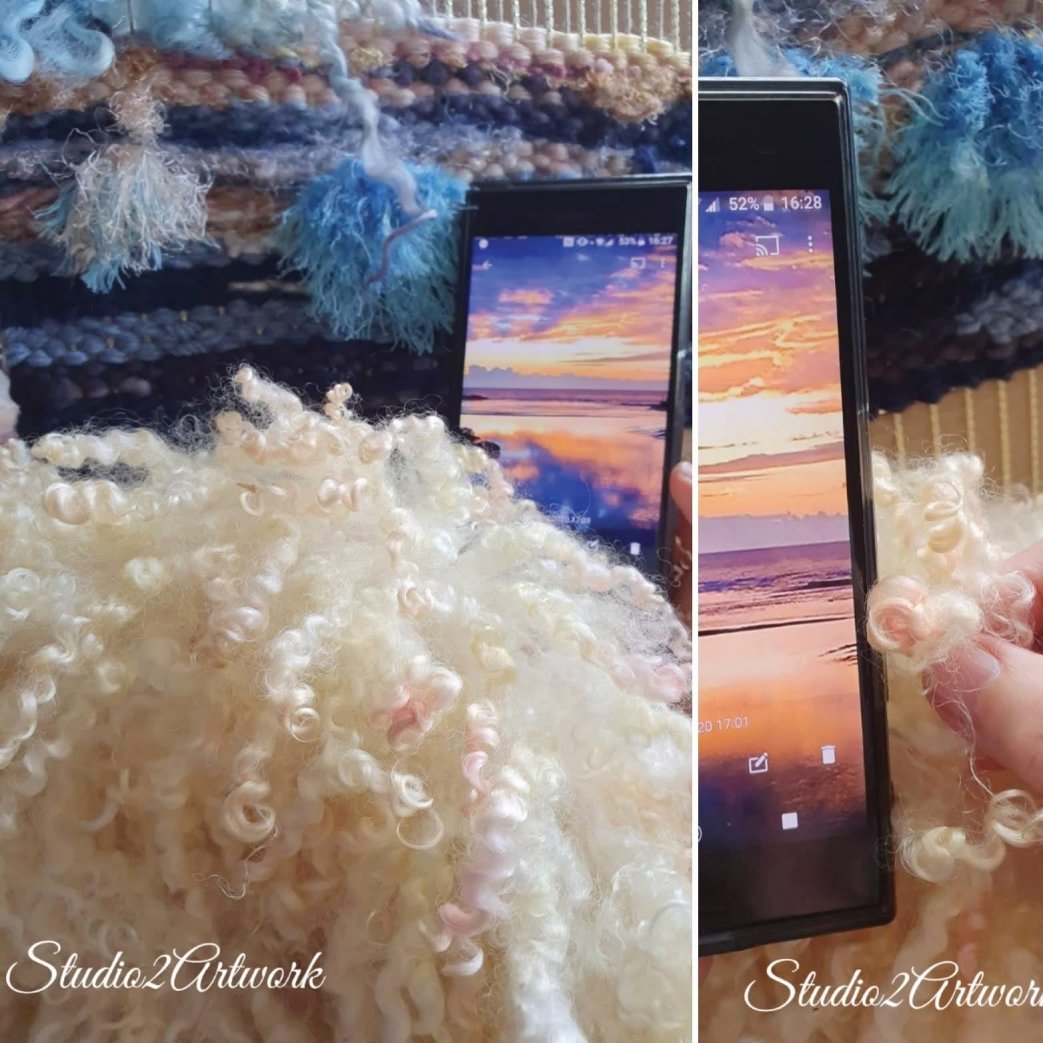 If you want to see how this weave is coming along then have a look at my Insta page or the Studio2Artwork Facebook page - there's links to both on my website's home page.
Have a lovely weekend! 
PS. Any comments with links in are now, without exception, being rejected before they're even published. 
Categories: Artist, Floral Design, Flowers, Weaver, Wedding Flowers
/