Shopping Basket
Your Basket is Empty
There was an error with PayPal
Click here to try again
Thank you for your business!
You should receive an order confirmation from Paypal shortly.
Exit Shopping Basket
How we React to Things...

​​I recently had a situation happen to me that comletely knocked me for six, floored me, upset me beyond belief and there was absolutely nothing I could do about it. Nothing.

My website provider switched my site builder from one day to the next, completely reformatting my website. The first I knew about it was when I clicked on my site and thought it didn't look right and definitely not how I left it last time.. Different fonts, mis-aligned text, different colours...

All the hours of SEO work that I'd learnt how to do had gone. Nothing there. Removed. Blank sheet. From 21st October 2020 this was, effectively, a new site on the net. Old stats gone. Tools I'd relied on since first building my site in 2008 gone. Just gone.
About two months ago I did receive an email about upgrading the site at some point. No date given and no communication whatsoever since. No heads up on the change over date - nothing. I had no chance to screen shot info or key words and there's no tutorial on how to use the new builder. Do you laugh because it's nuts or do you cry... I cried.

I felt like I'd lost a huge part of me - a bit silly maybe but there you go, that's how I felt. I liked to look back to see what visits I'd had from where and see how my site had done over the years. I was really proud of the 80% SEO mark I'd managed to get by tweaking a word here, adding a different phrase there, making some words plural and others not... all these little things make the difference and it was a fair bit of a learning curve for me - I've got none of them saved , of course..

So... Anyways... Deep breath...

I recently treated myself to a lovely book - The Boy, the Mole, the Fox and the Horse by Charlie Mackesy. A truly beautiful book.

On one of the pages it says " One of our greatest freedoms is how we react to things ".

So very true..

Can I live without all that archived data? Yes, of course..

Can I learn how to use this new builder? Yes...

Will it take me hours to re-do the SEO work? Yes!!! :(

But can I do it? Oh yes...
Um... Is it easier to write this blog post in the new builder format...? Yes.
Does my website now have that lovely little secure padlock icon? Yes.
Might I learn to love this new builder? Oh probably...
There's a cherry in here somewhere - I just have to find it...

And find that pesky, invaluable SEO analyser... now where on earth has that gone???

Best get Coffee and Carry On

Happy Sunday Everyone

Catch You Next Time x

| | |
| --- | --- |
| Posted on 9 September, 2018 at 10:24 | |
Well here we are – we are here!! We are the other side of the peak-time of an incredibly busy Wedding Season and we have survived Hooray!!
How are you all?
Hasn't the weather been Glorious? I've absolutely Loved it here being an Oz-weather-loving kind of person – hot, sunny, hot-hot – ooh Yes Please…
So we've had two fans on the go in the studios and Loads of chilled water bottles in the fridge and have basked in the gloriousness of the warmth of it all. Thank you Lord for a fabulous Summer x
And the flowers have all been fine too, conditioned up to their necks in cold water professional solution... There were several days I nearly put my feet in there with them ha!
The only casualty we had was some Astilbe which, bless it, just evaporated every drop of moisture into thin air and looked more like a dried flower than a fresh one from one day to the next.
So… here's a bit of a catch up on what's been happening "at the ranch"
( PS. I'm a HUGE fan of The Pioneer Woman… )
Harley's had a great Summer – gone blonder than ever – and has perfected how to block that rather annoying lamp light when he wants to settle down…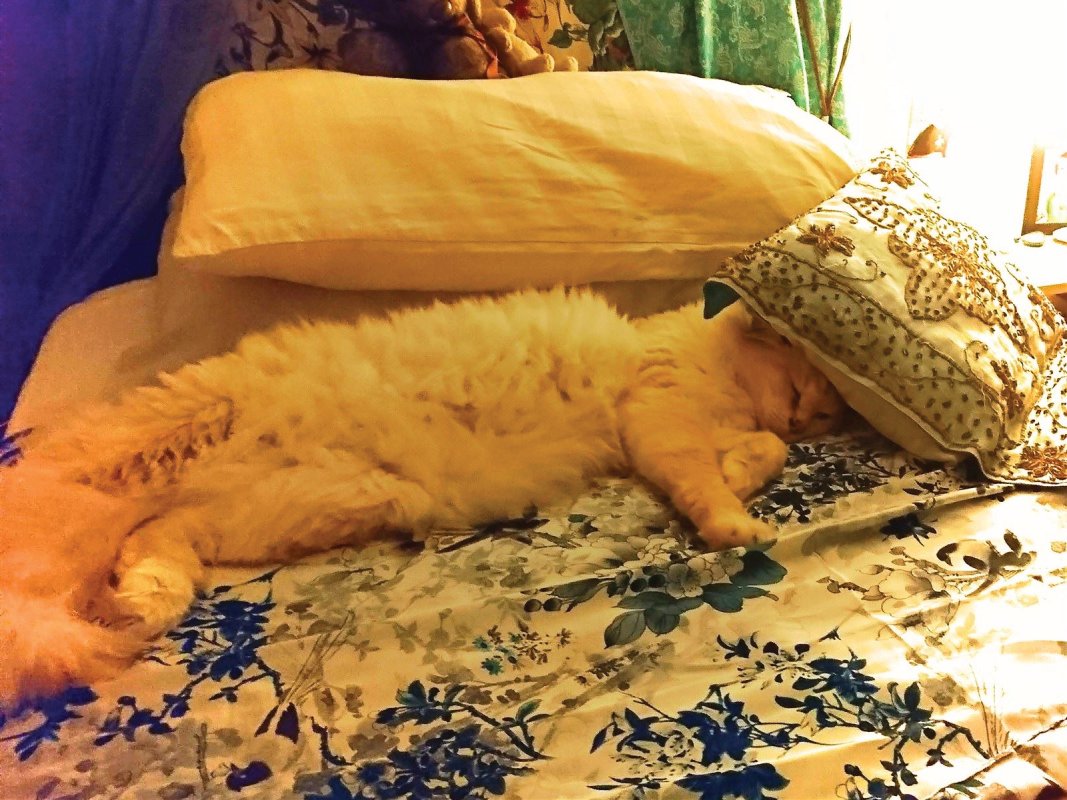 Lilly's had a lovely Summer too and has been practising her Ninja moves. She carries out frequent stealth-attacks, circum navigating Harley's routine and scheduled nap times and thereby claiming the Prime Position on the preferred bed for herself… Go girl!!!  And just look at those fluffy paws… Gorgeous or what? #justloveher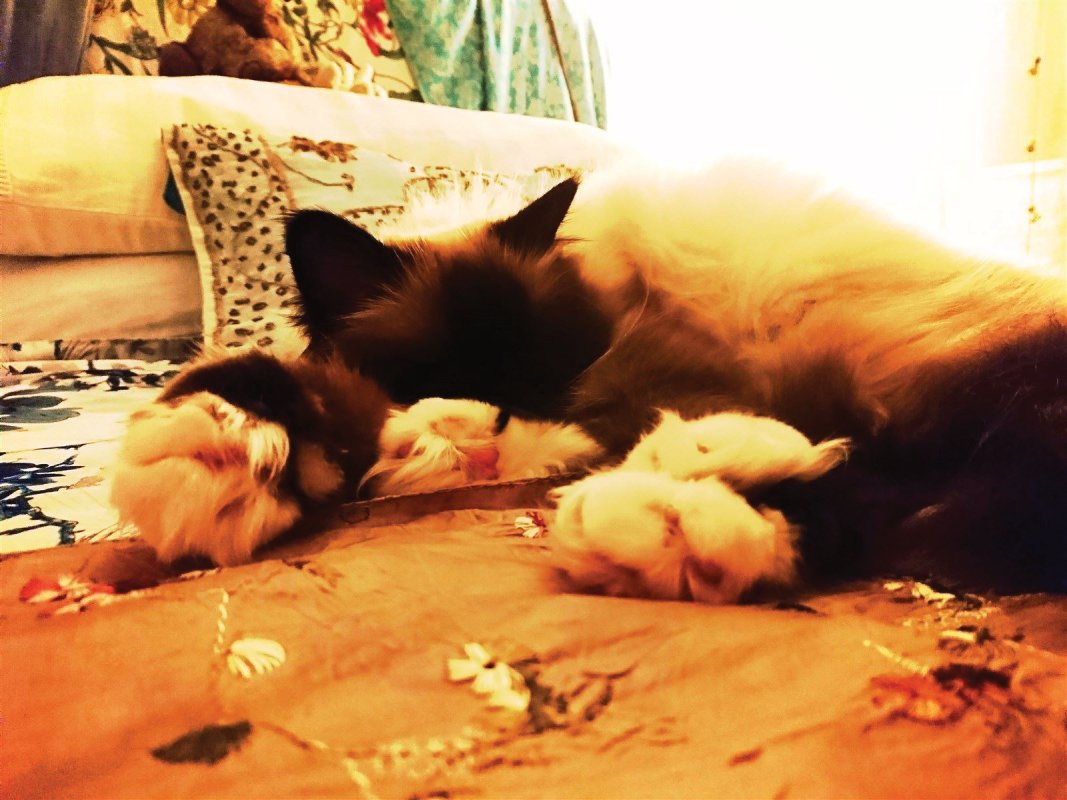 She's had a bit of a relapse lately but she'll be okay – she's off to the Animal Health Trust with me tomorrow for some tests. She's the one-in-several-million-cats that has no immunity to Toxoplasmosis. A few years ago very nearly killed her. Thank heavens for the AHT and their experts there.
She has relapses – especially after her annual jabs – and that's what's happened this time. We have medication to hand but she's not responded as quickly as usual so it's off to the Neurology Dept. we go…
Bless her, she's such a little fighter xx
Here she is looking Gorgeous in Studio 1 amongst the Blossom Trees a few weeks ago…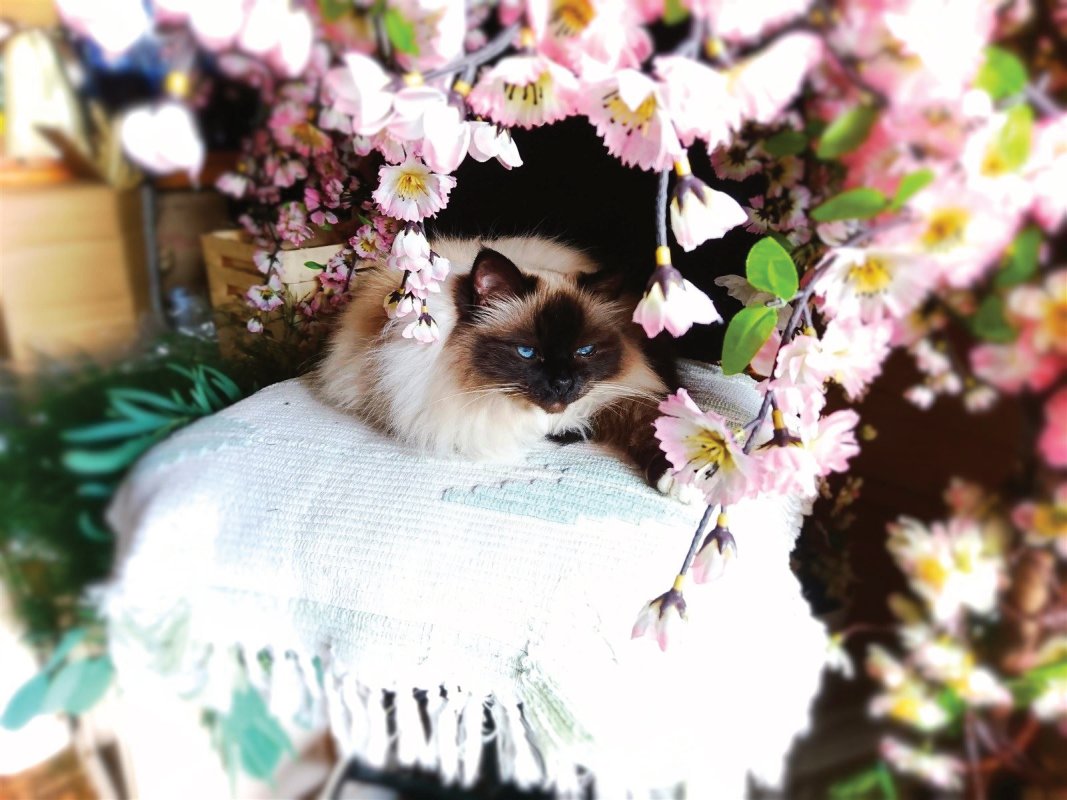 And #thebusyflorista has been doing this and that…
Starting every day for ages with a bit of a boost ha!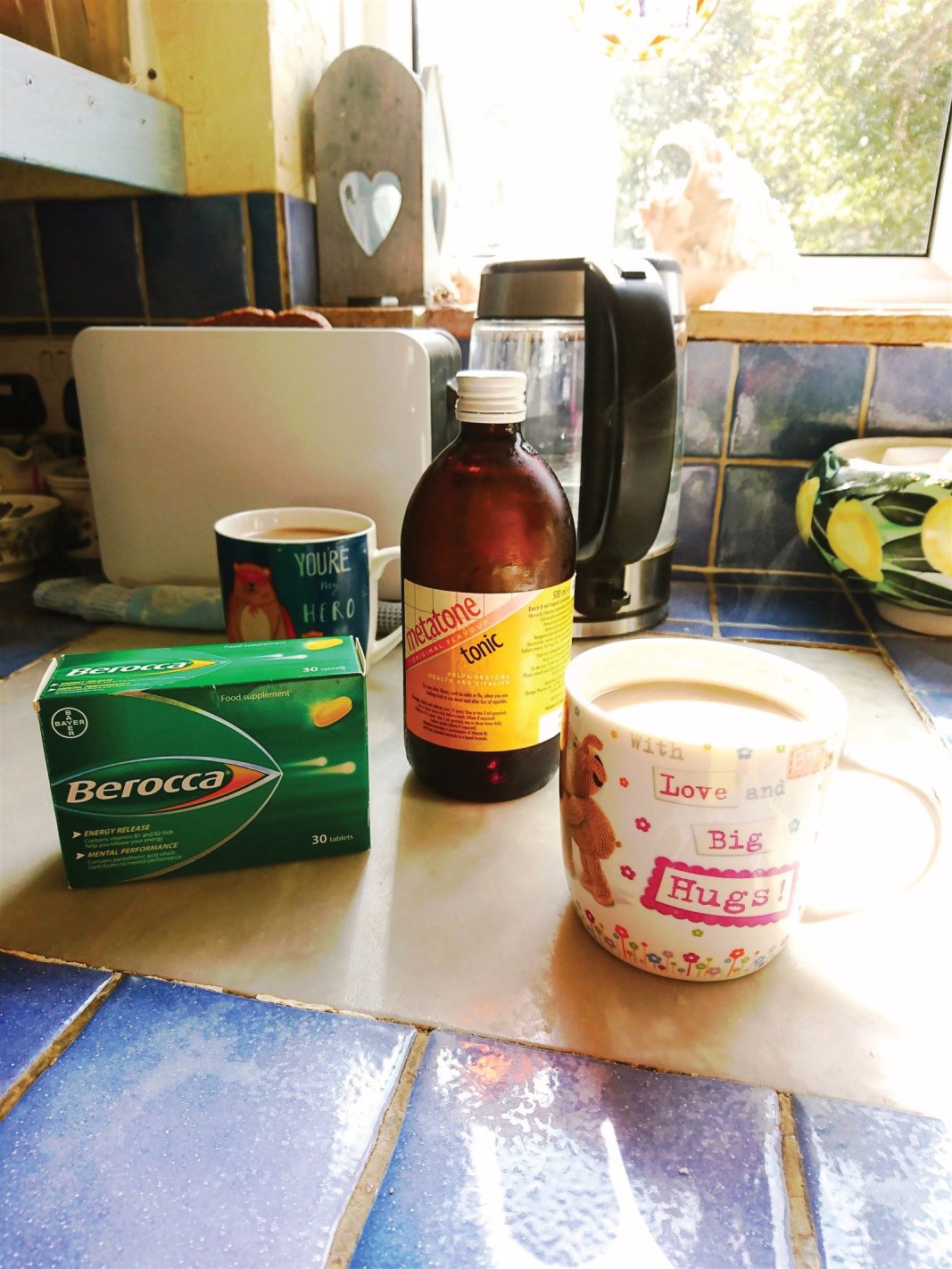 Conditioning, prepping and looking after Thousands of stems of flowers over the Summer…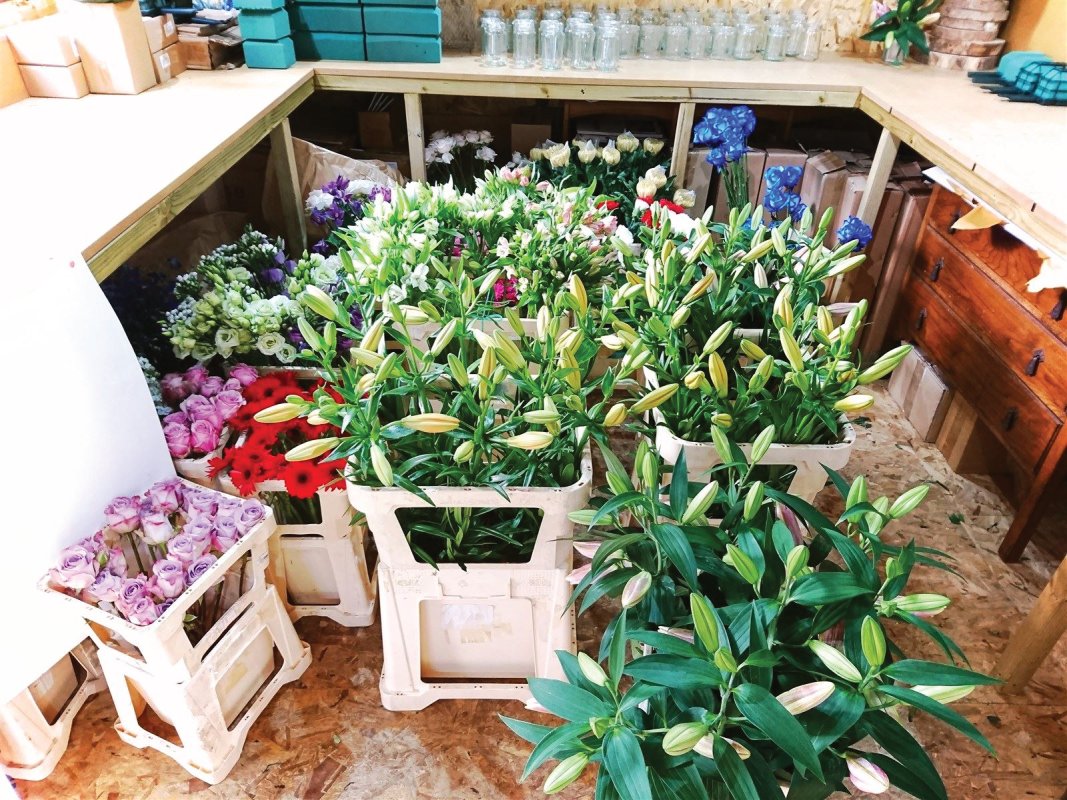 Having the-most-amazing August Bank Holiday weekend FULL of Weddings!!
One of which was a fabulous Indian Wedding – full of Vibrant Colours and a myriad of Flowers...
We decorated the Mandap…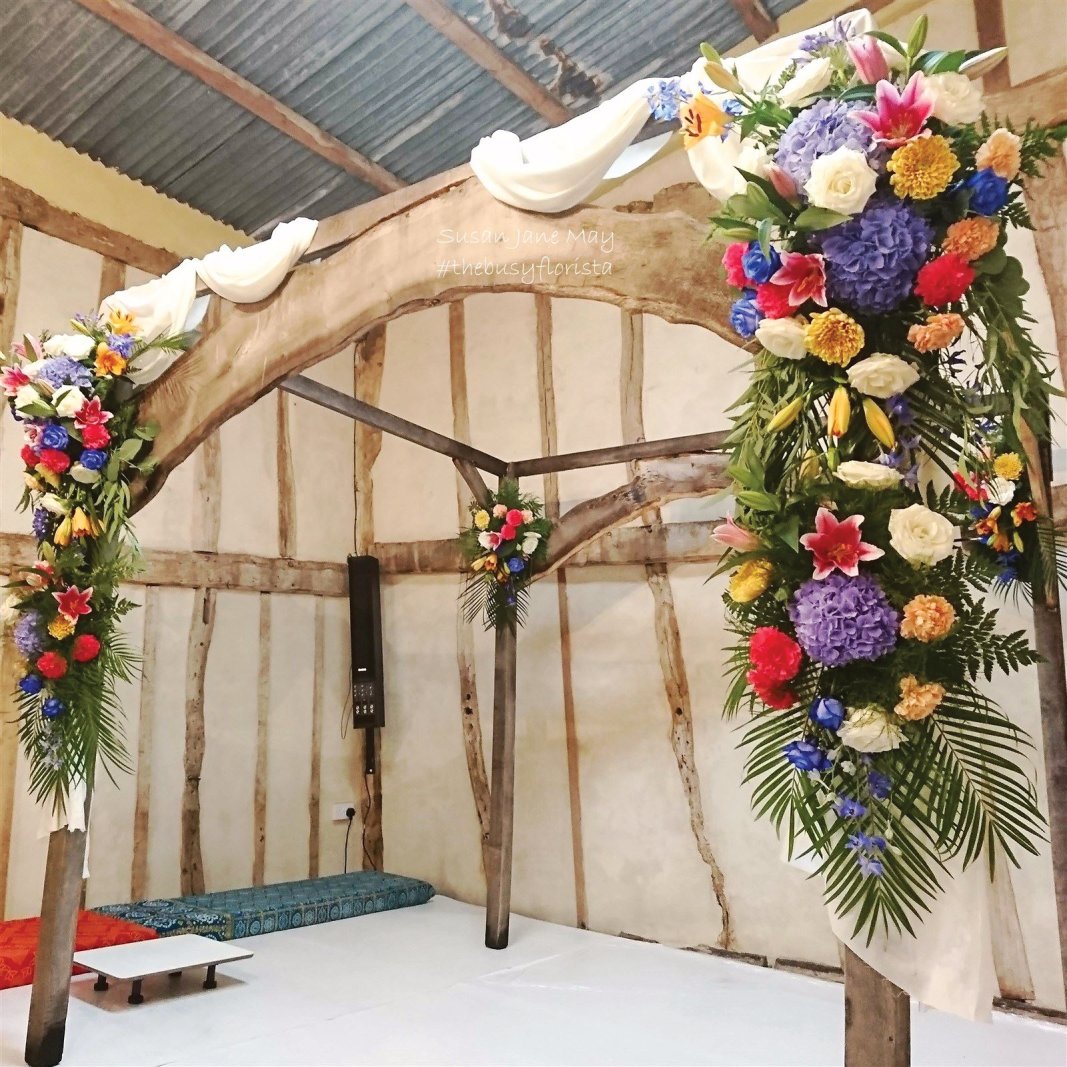 And created 25ft of Woodland-Style Ceiling Garlands…
Which required the going up and coming down, and going up and coming down and…well, you get the idea…of ladders…
Which were at quite an acute angle I can tell you…
Cable tying 4-5ft sections of Beech to poles… Adding flower groups along the way…One hand on the ladder, one holding the foliage… balance at the top…Position… Cable tie…
Don't let anyone ever tell you being a Florist isn't a physical job, and that all they do all day is play around indoors with pretty flowers…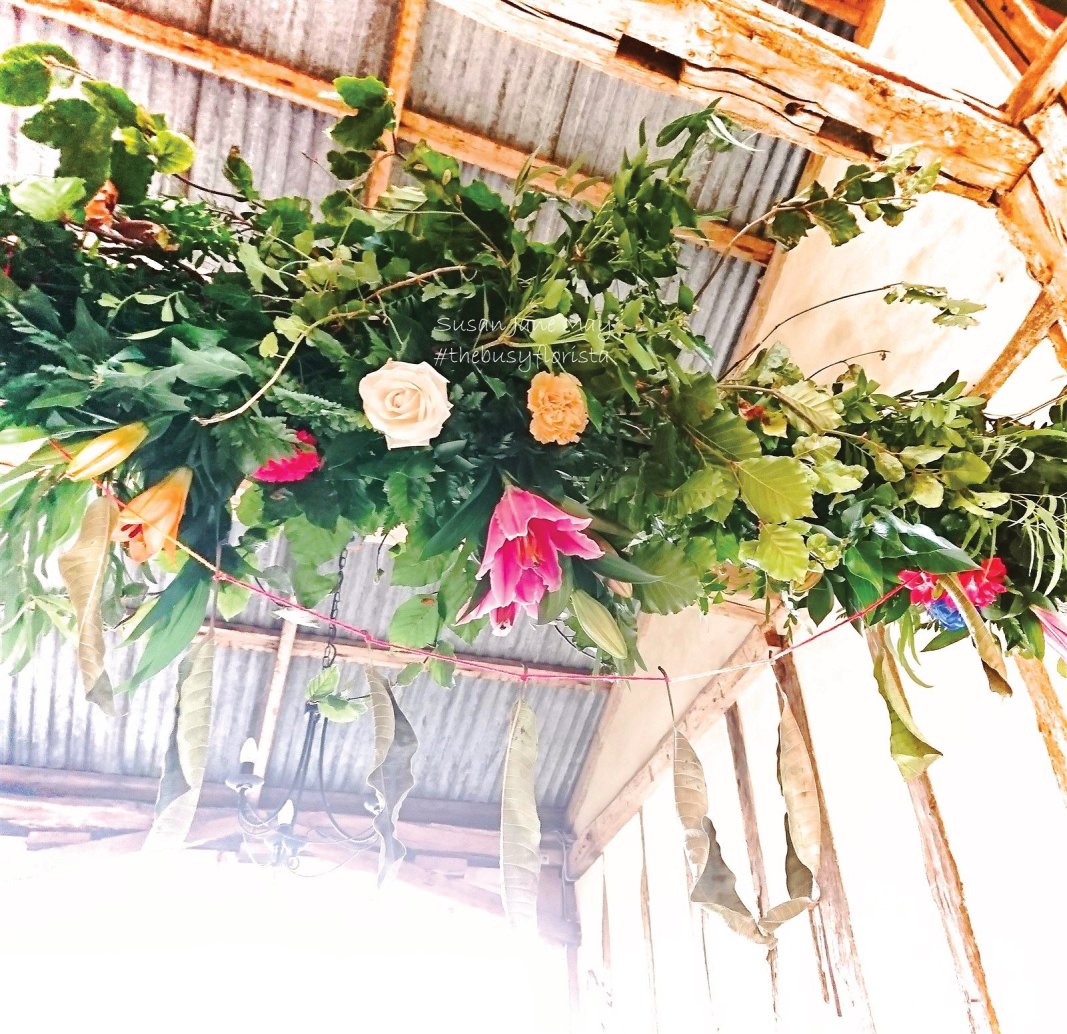 I had my dear friend and long standing work colleague Jane with me and we soon worked out that we both had to climb up the sides of the 'A' frame ladder provided at the same time or it would wobble terribly. There were a couple of "Whoop Whoops!!" from poor Jane when I stepped off my side a few times without thinking bless - haha!! You need to be Brave to do this job… and fit…
After setting up for this wedding all afternoon my feet were not the happiest bunnies that's for sure. Hot, red and glowing just doesn't do them justice ha! I'm sure Jane's were just the same… #hotfeet #notaprettysight #ouchyouch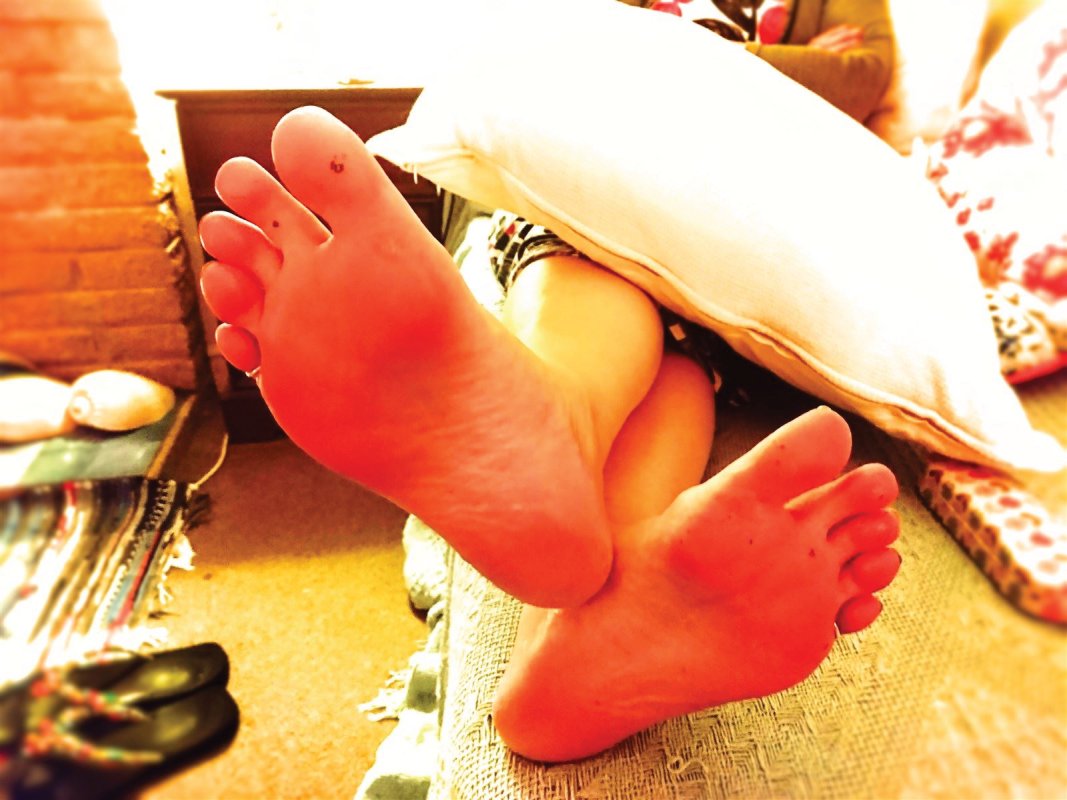 Early the following morning – Bank Holiday Monday – I was in the studio creating the Wedding Garlands. I loved making these, they're such a special part of the ceremony.  I'm about to promo them for ordering via my website…
And my feet? Well they were given some major TLC and new tats and are feeling much better!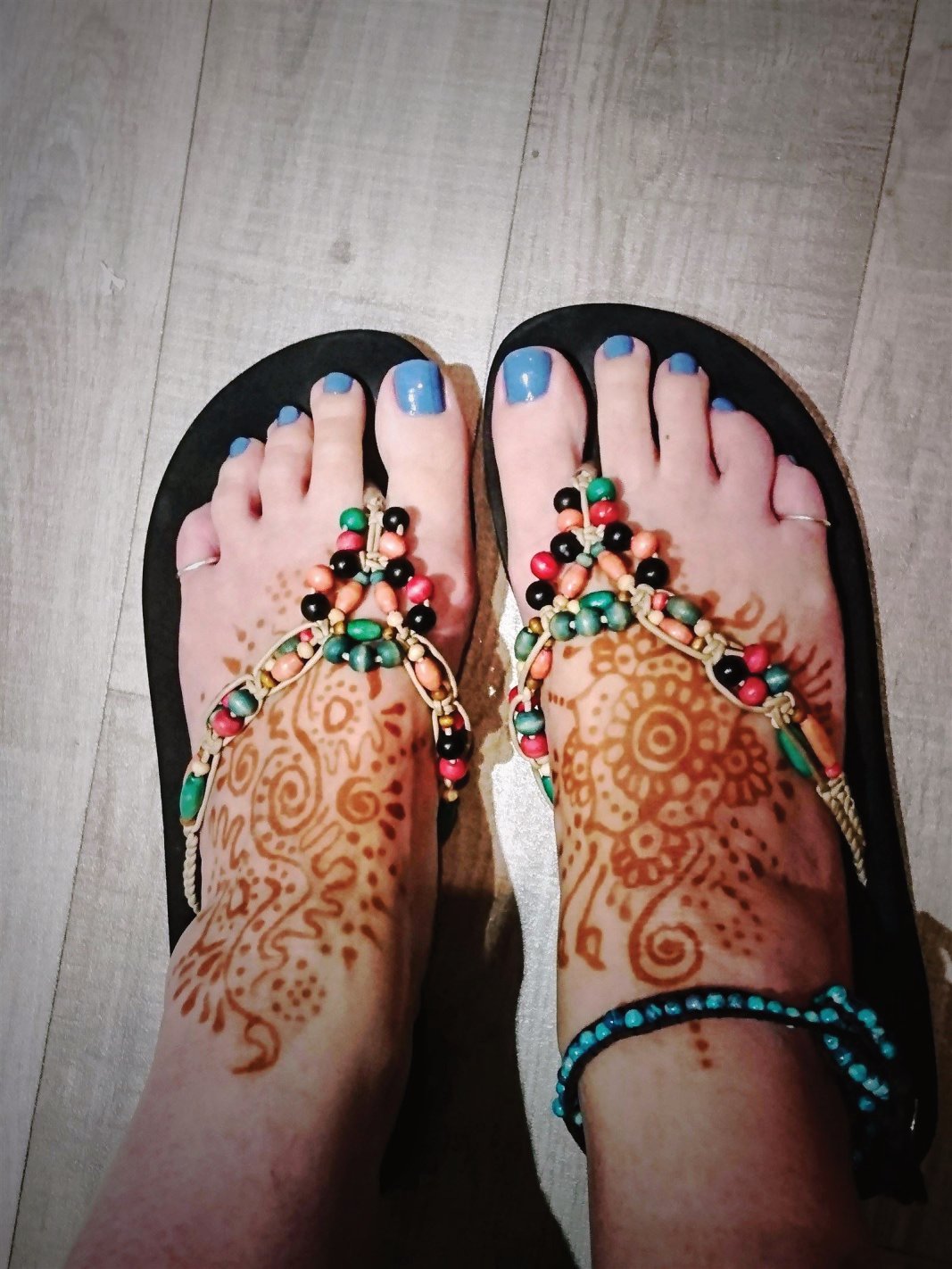 And I treated myself to some well-earned indulgence at my long standing and totally Favourite Hair Salon and had a wonderful experience with their new range of colours from the States – and a cut and style too.  So a BIG Thank You to Michelle at M Hair & Beauty in Long Melford – you nailed it girl!! Made me feel like a million dollars Xoxoxo
And last but not least at the end of a busy day I have a hug and lots of purrs from my Harls…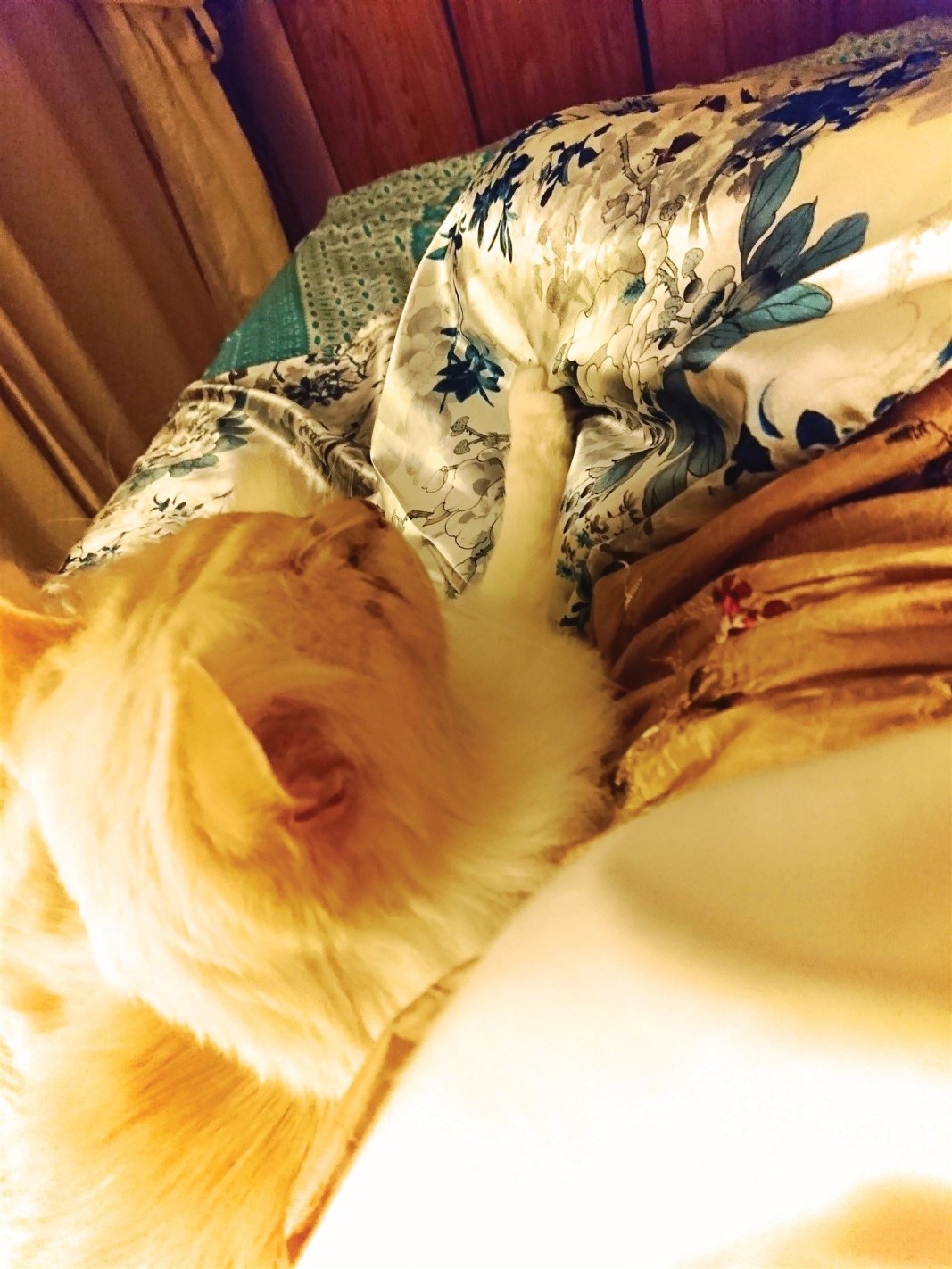 Happy Sunday Everyone xx
Categories: Artist, Bespoke Floral Design, Bespoke Wedding Flowers, Bridal Bouquets, Cat Lover, Floral Design, Florista, Flowers, Mother, Traveller, Wedding Flowers Suffolk
/