Shopping Basket
Your Basket is Empty
There was an error with PayPal
Click here to try again
Thank you for your business!
You should receive an order confirmation from Paypal shortly.
Exit Shopping Basket
How we React to Things...

​​I recently had a situation happen to me that comletely knocked me for six, floored me, upset me beyond belief and there was absolutely nothing I could do about it. Nothing.

My website provider switched my site builder from one day to the next, completely reformatting my website. The first I knew about it was when I clicked on my site and thought it didn't look right and definitely not how I left it last time.. Different fonts, mis-aligned text, different colours...

All the hours of SEO work that I'd learnt how to do had gone. Nothing there. Removed. Blank sheet. From 21st October 2020 this was, effectively, a new site on the net. Old stats gone. Tools I'd relied on since first building my site in 2008 gone. Just gone.
About two months ago I did receive an email about upgrading the site at some point. No date given and no communication whatsoever since. No heads up on the change over date - nothing. I had no chance to screen shot info or key words and there's no tutorial on how to use the new builder. Do you laugh because it's nuts or do you cry... I cried.

I felt like I'd lost a huge part of me - a bit silly maybe but there you go, that's how I felt. I liked to look back to see what visits I'd had from where and see how my site had done over the years. I was really proud of the 80% SEO mark I'd managed to get by tweaking a word here, adding a different phrase there, making some words plural and others not... all these little things make the difference and it was a fair bit of a learning curve for me - I've got none of them saved , of course..

So... Anyways... Deep breath...

I recently treated myself to a lovely book - The Boy, the Mole, the Fox and the Horse by Charlie Mackesy. A truly beautiful book.

On one of the pages it says " One of our greatest freedoms is how we react to things ".

So very true..

Can I live without all that archived data? Yes, of course..

Can I learn how to use this new builder? Yes...

Will it take me hours to re-do the SEO work? Yes!!! :(

But can I do it? Oh yes...
Um... Is it easier to write this blog post in the new builder format...? Yes.
Does my website now have that lovely little secure padlock icon? Yes.
Might I learn to love this new builder? Oh probably...
There's a cherry in here somewhere - I just have to find it...

And find that pesky, invaluable SEO analyser... now where on earth has that gone???

Best get Coffee and Carry On

Happy Sunday Everyone

Catch You Next Time x

| | |
| --- | --- |
| Posted on 20 May, 2018 at 6:45 | |
Sounds like a Book I should write someday…
Hi Everyone!! Long time no Blog but, but, it IS the wedding season y'know ha! Bear with me on this okay…
So – did we all watch the Royal Wedding yesterday? How gorgeous was that and sooo lucky with the weather. I thought the flowers created by Philippa Craddock were totally stunning, the scale of them took my breath away. Just Gorgeous. I kept going right up to the tv so I could see what flowers she'd used - if anyone else had been here I'd have been getting right in their way ha!
Anyways, enough of all that, let me tell you what's been happening here…
Our Lilly Cat is doing GREAT but she does, at every given opportunity, like to point out that she did  have to have blood tests done and she did  have to have her fur shaved… See the little footy foot pointedly pointing forward? Just so's you know and don't forget says Lilly….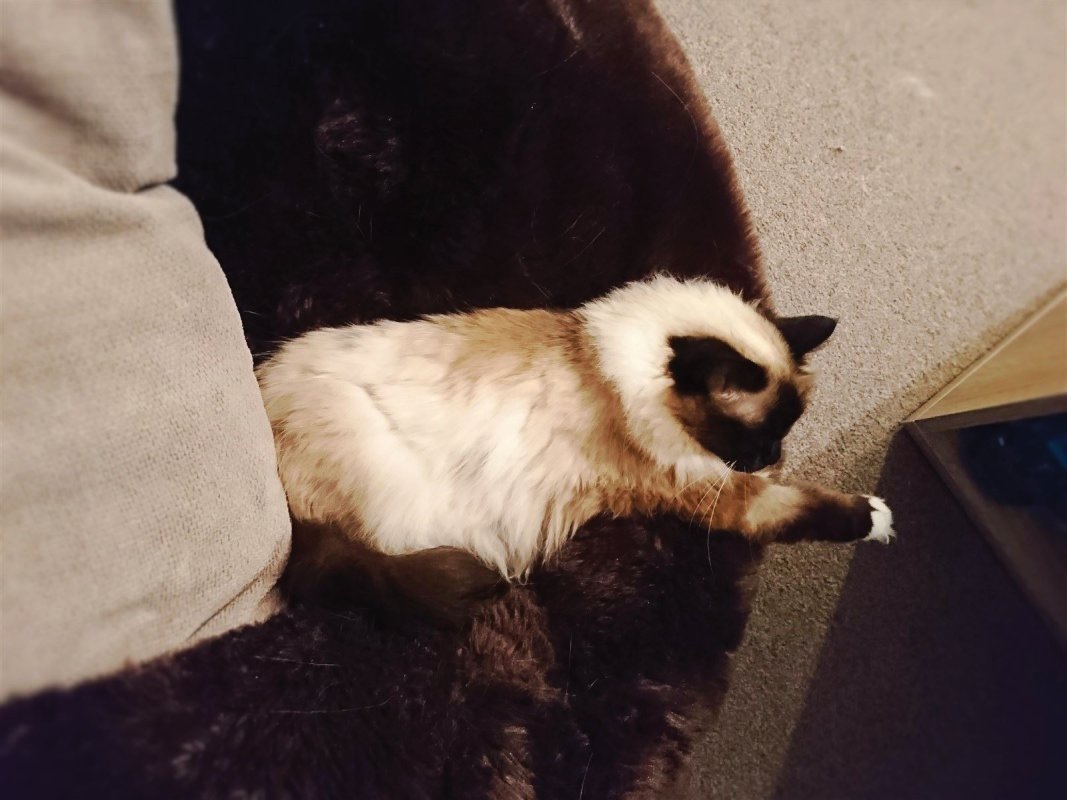 She's found her favourite overnight spot is on our James's Deluxe Chocolate Fur Beanbag funnily enough…
During the day both Harls and Lils head rapidly for the first unmade bed they can find ( which isn't difficult in my house this time of year ha! ) and make themselves comfy.. especially Harley…nothing like a cool wall, in hot weather, is there eh for coolin' yer bits and bobs….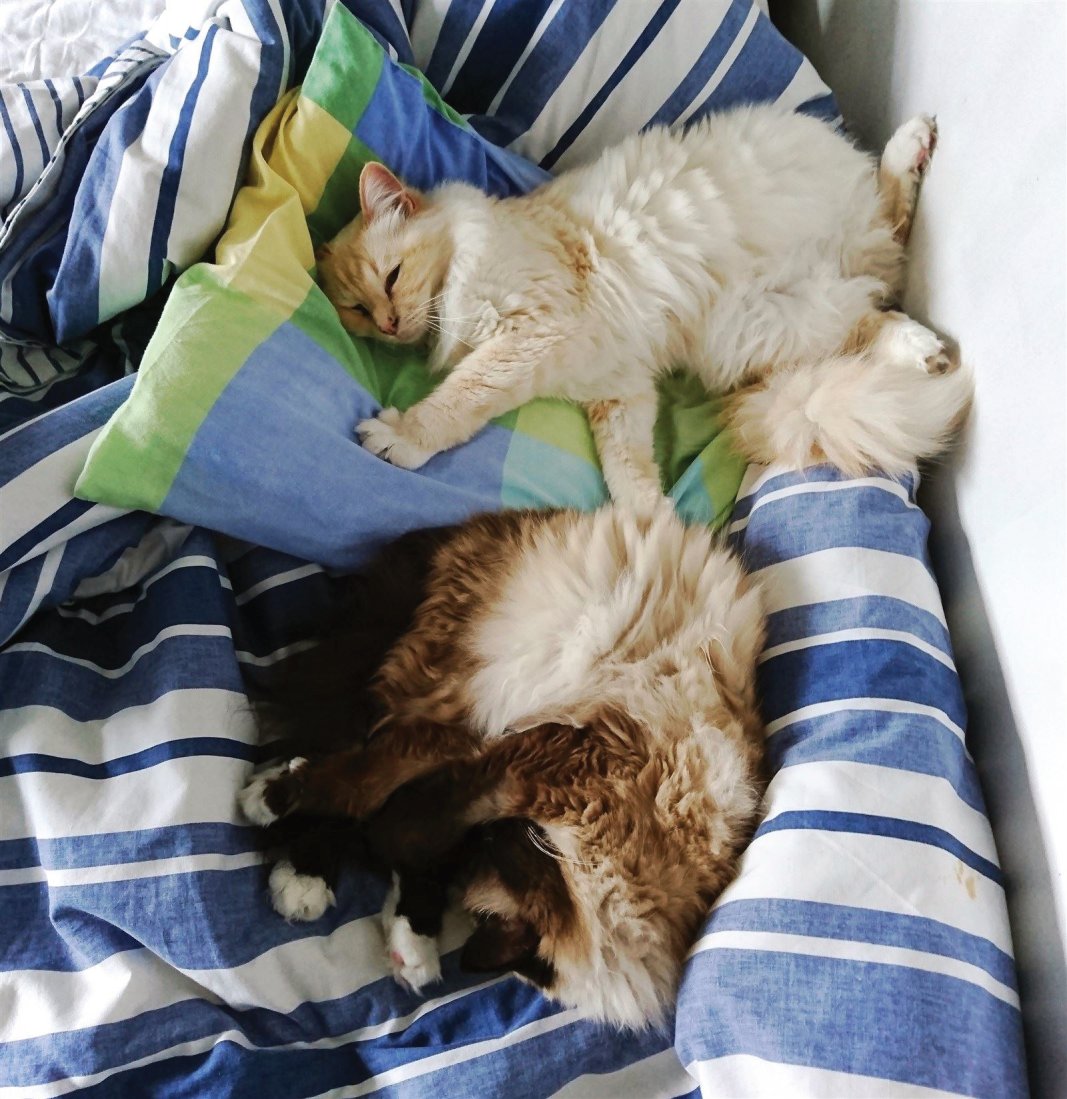 And when the cushion gets a bit too warm, just fluff up a spare Birman and use that instead…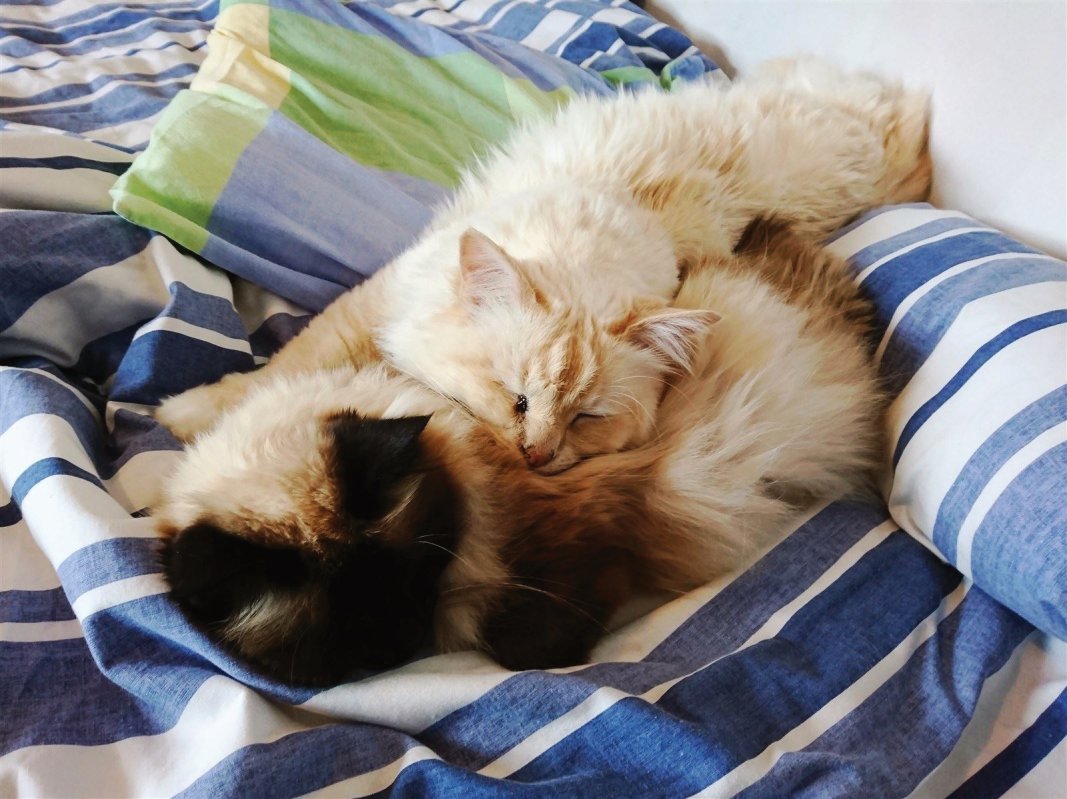 On the Florista side of things I've been ordering in lots of new items – everything from Beaded Lace Trims from the States ( ooh Yum! ) and Natural Plant Dyed Silk Ribbons artisan made in the UK (Oh LUSH ! ) through to extra vases, tealights and wood slices. There's been a lot of labels to soak off but at least the sun's been shining and I have a lovely view from the window :)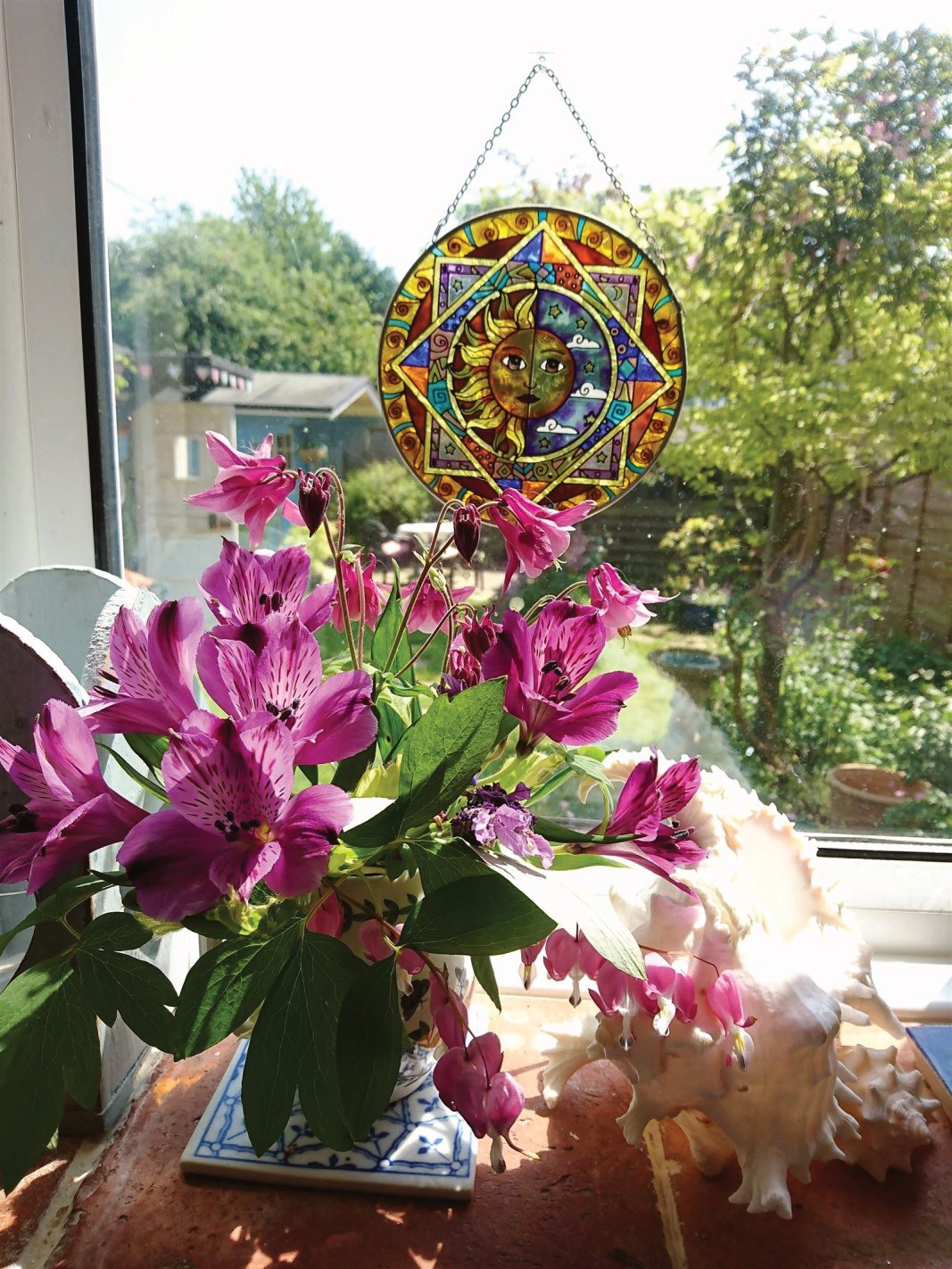 I sat outside after one long vase-label-washing-off session with a cup of tea and a few Oreo's, as you do, and thought to myself that I could do with a few more plants for the garden…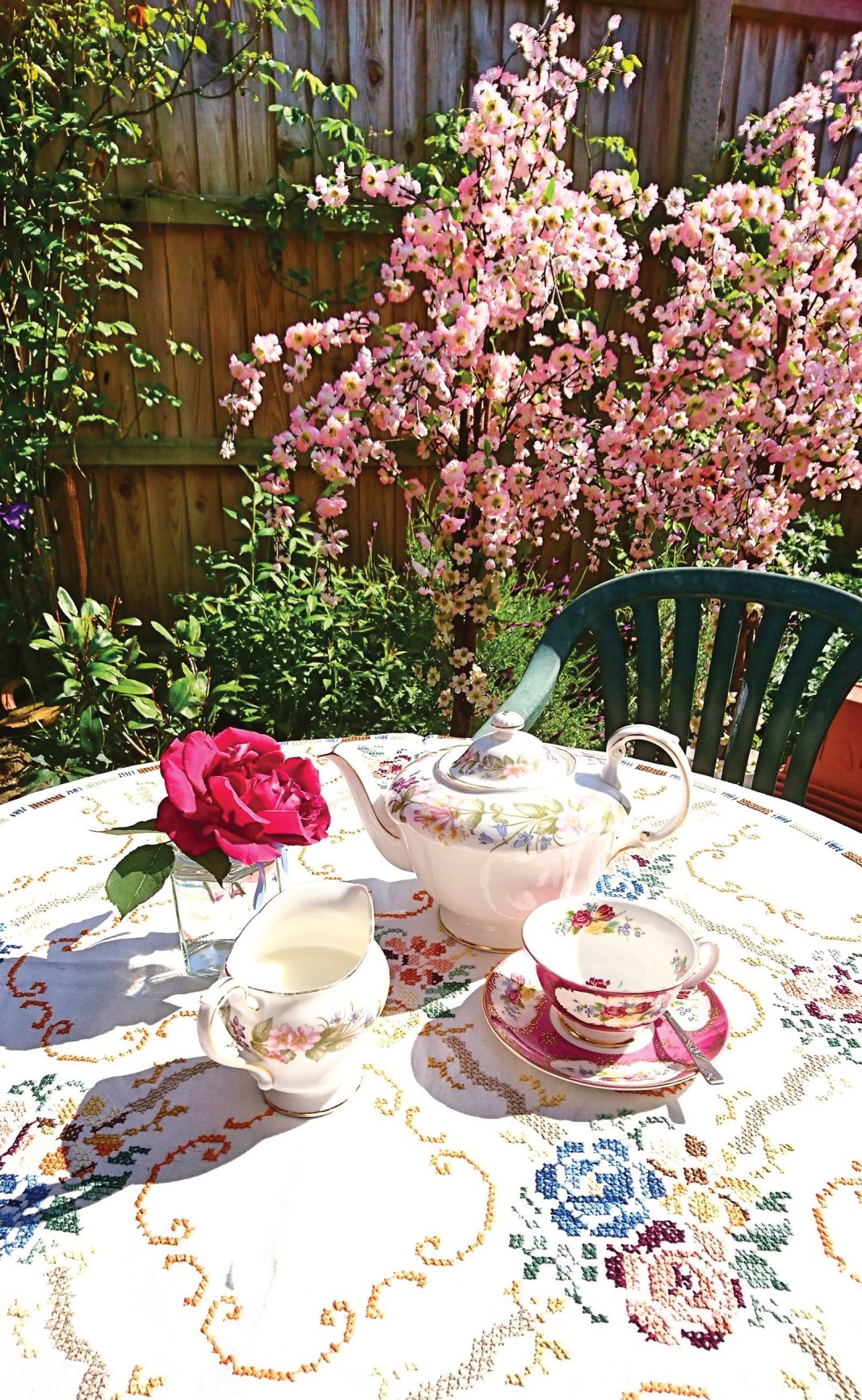 So I popped to the local Garden Centre where I had a bit more thinking to do over a coffee, in the sunshine, about what I was going to buy...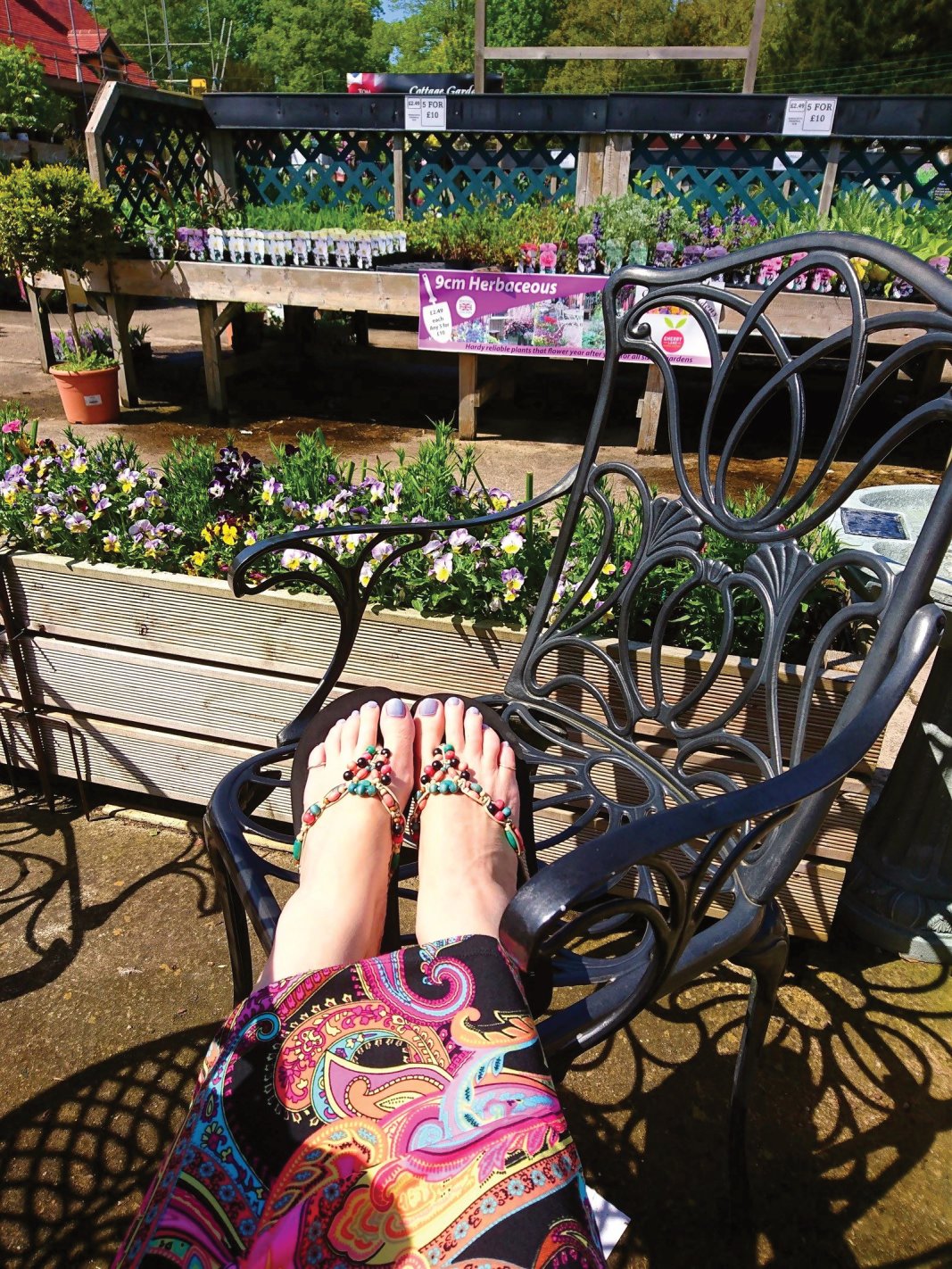 And how gorgeous the flowers were. And how I want to use more rooted, living flowers in my floral works this year. It's something I've always done but I'm really thinking I could up the balance a bit more between cut stem flowers and living plants. I did a wedding a few years ago where we used rooted Clematis plants in full flower in a balcony display. They looked fabulous and the couple got to take them home afterwards and plant them in the garden. Love it.
Now, back to my garden…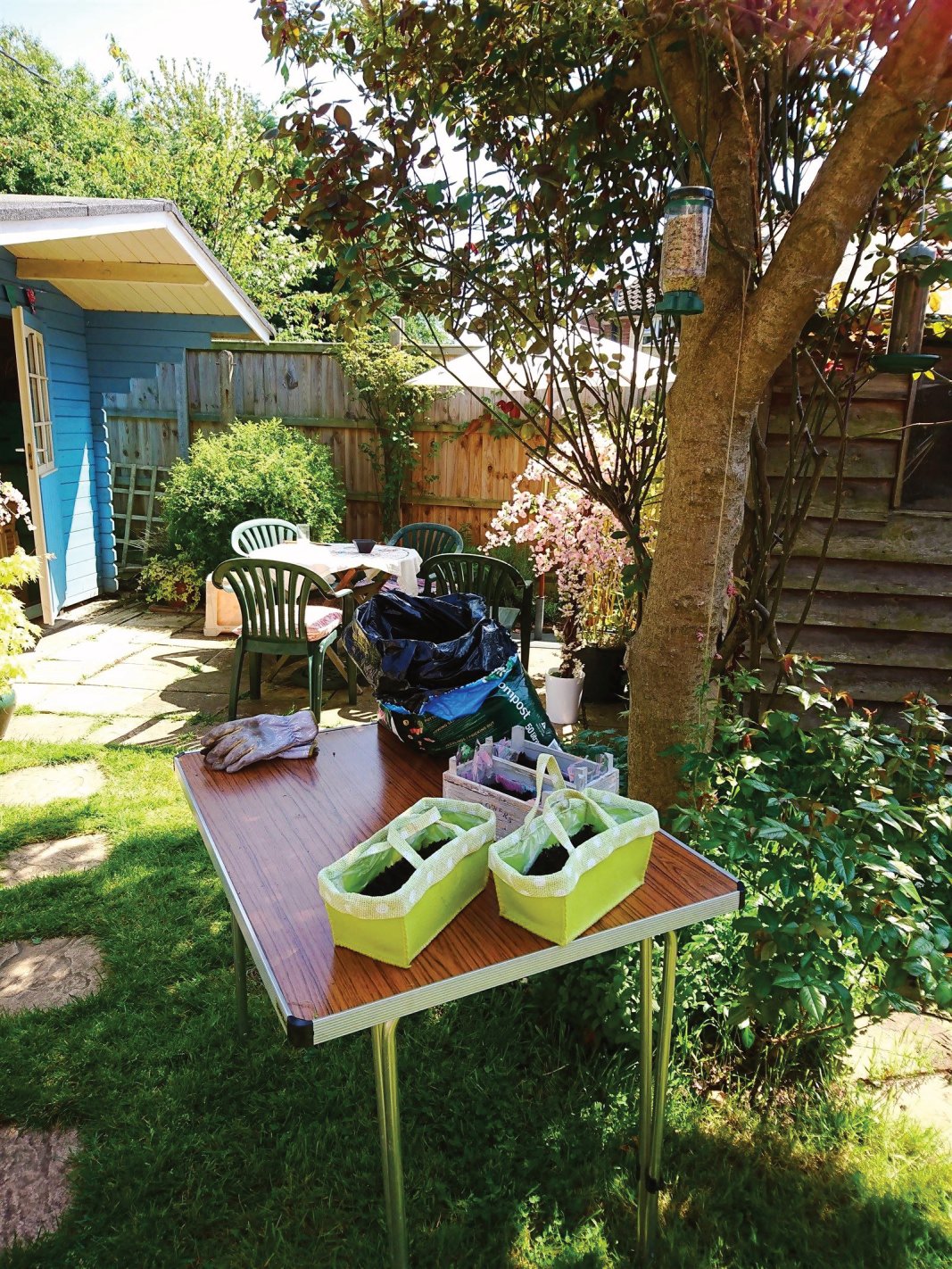 A good afternoon was had potting up and planting out and we thought we'd get out the parasols for the first time since last year as it was so hot… The Husb bravely delved into the depths of the small shed ( I won't go there, too many SPIDERS urgh!! Yuk!!! ) and got them out… Opened them up… And aah.. oh… um.. ( by this stage we are Grumpy Husb )… We've had a bad attack of the Mousies! Oh lol, haha, well never mind, I quite like that little patch of blue sky up there…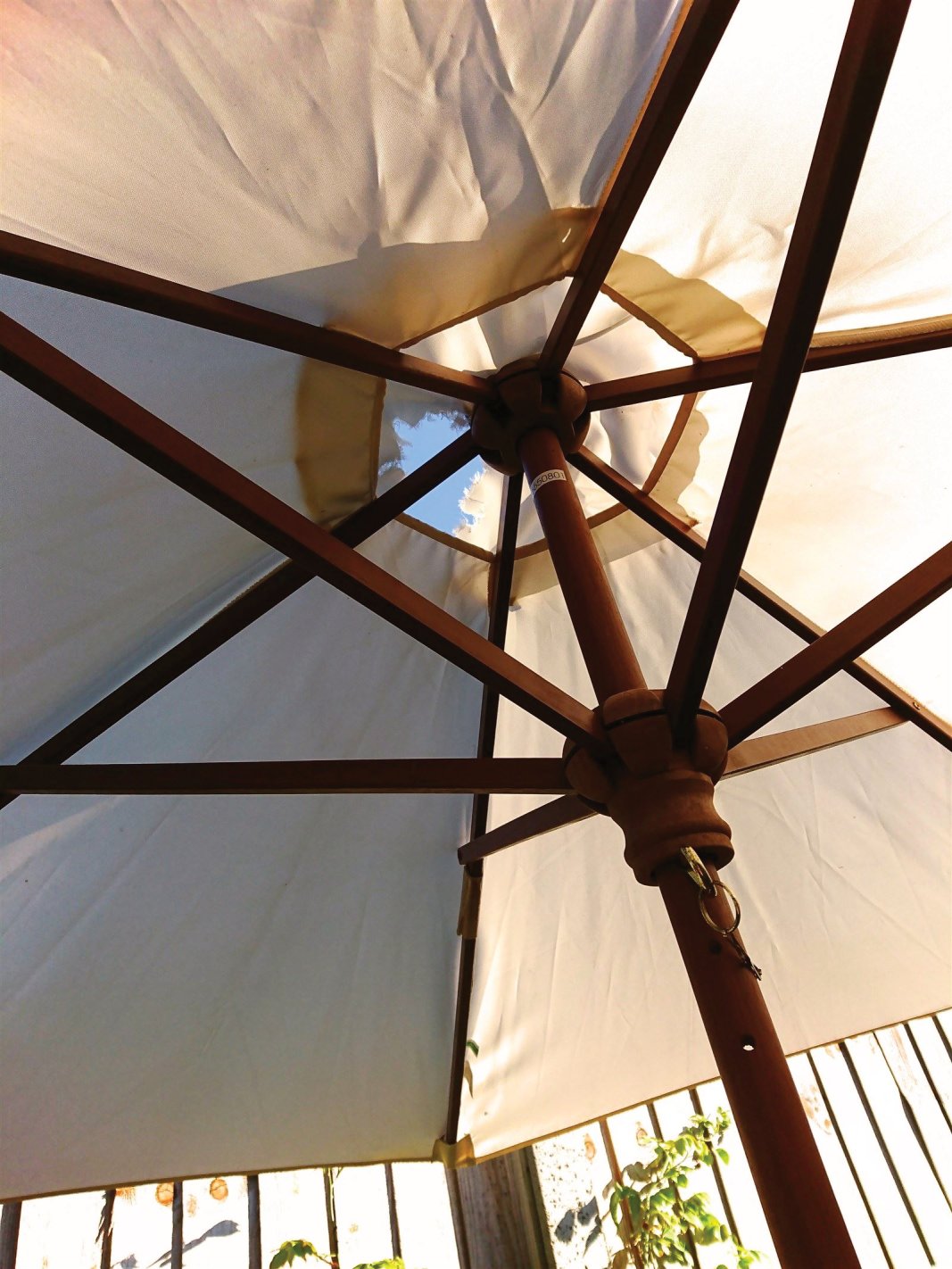 So…while all this has been going on a certain Big Blonde has found his way into Studio 2…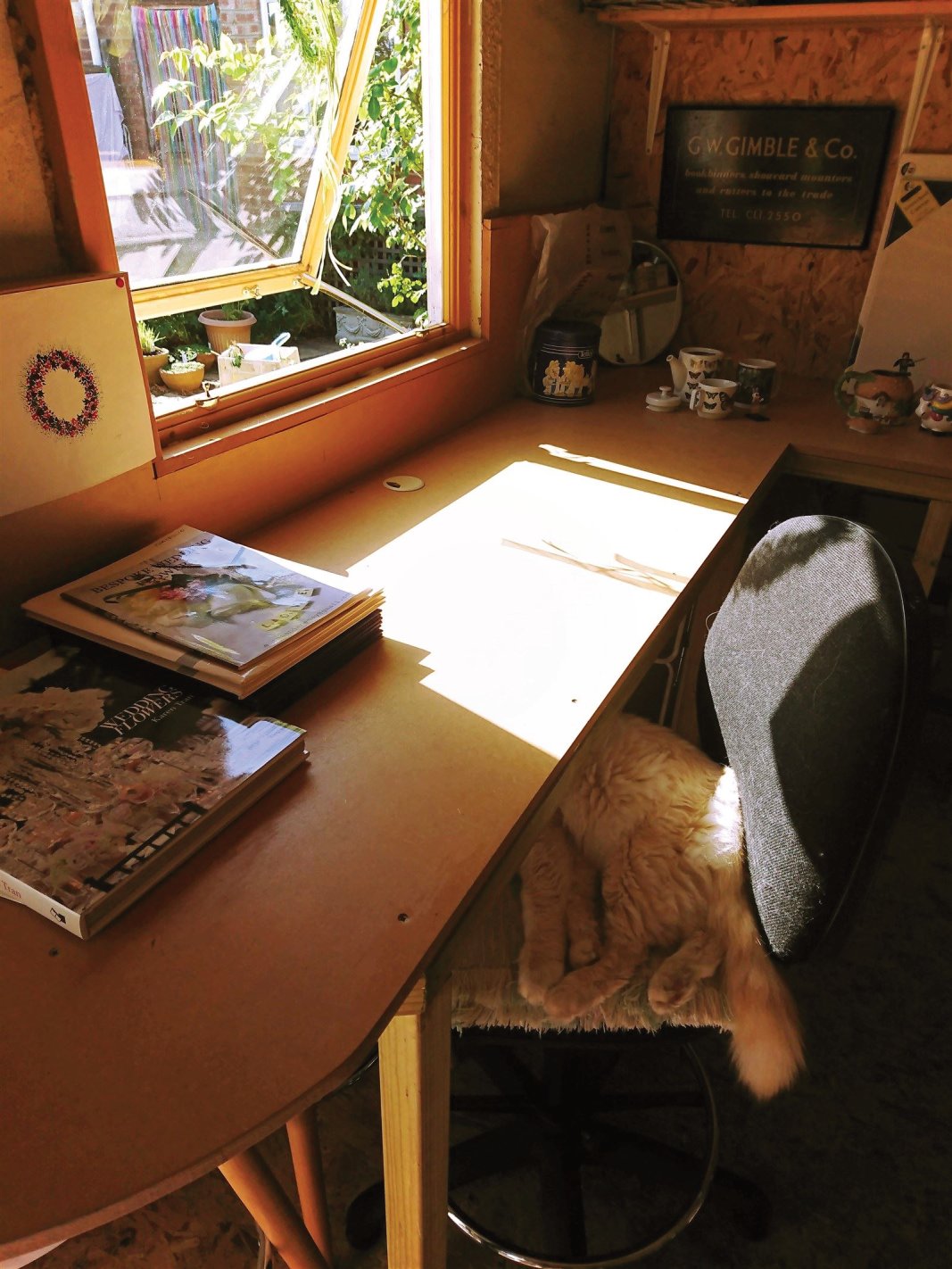 And made himself at home on my chair…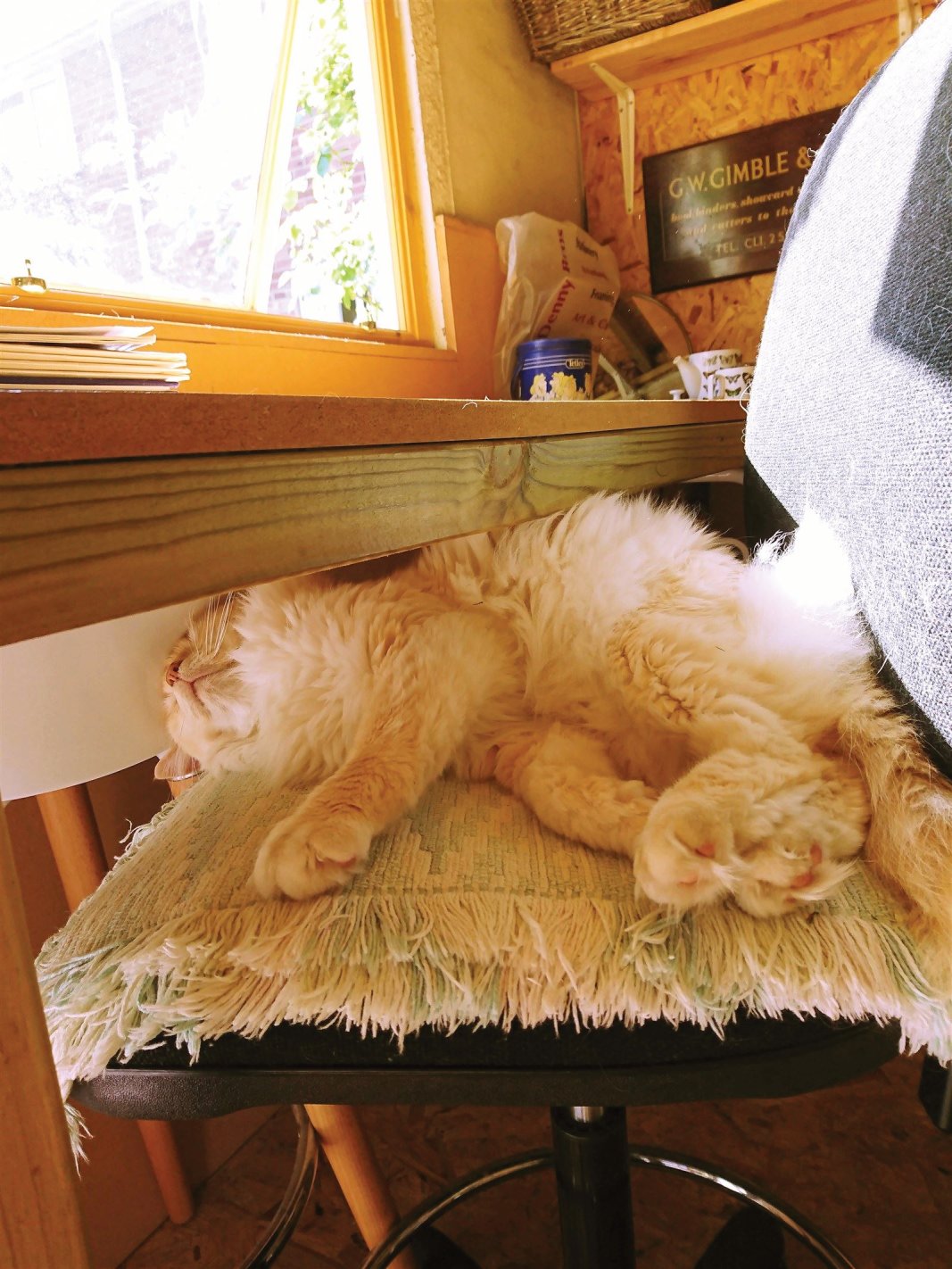 Moving himself around now and then to catch the breeze…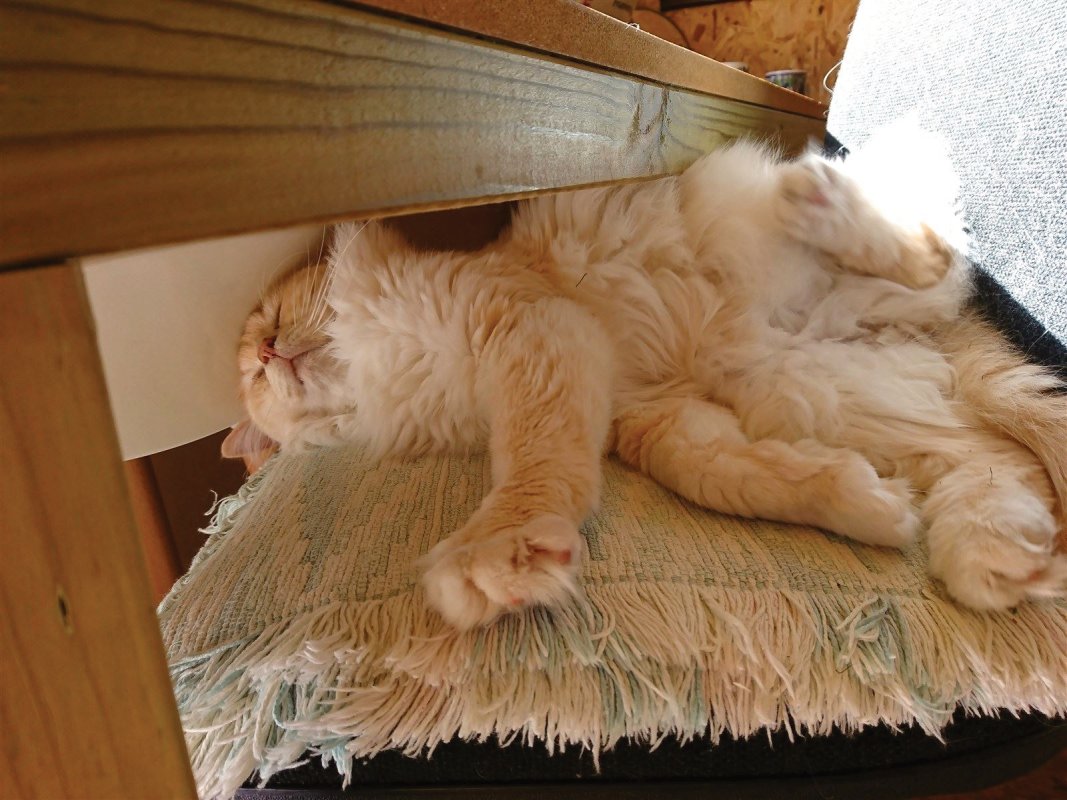 And just look at that little face…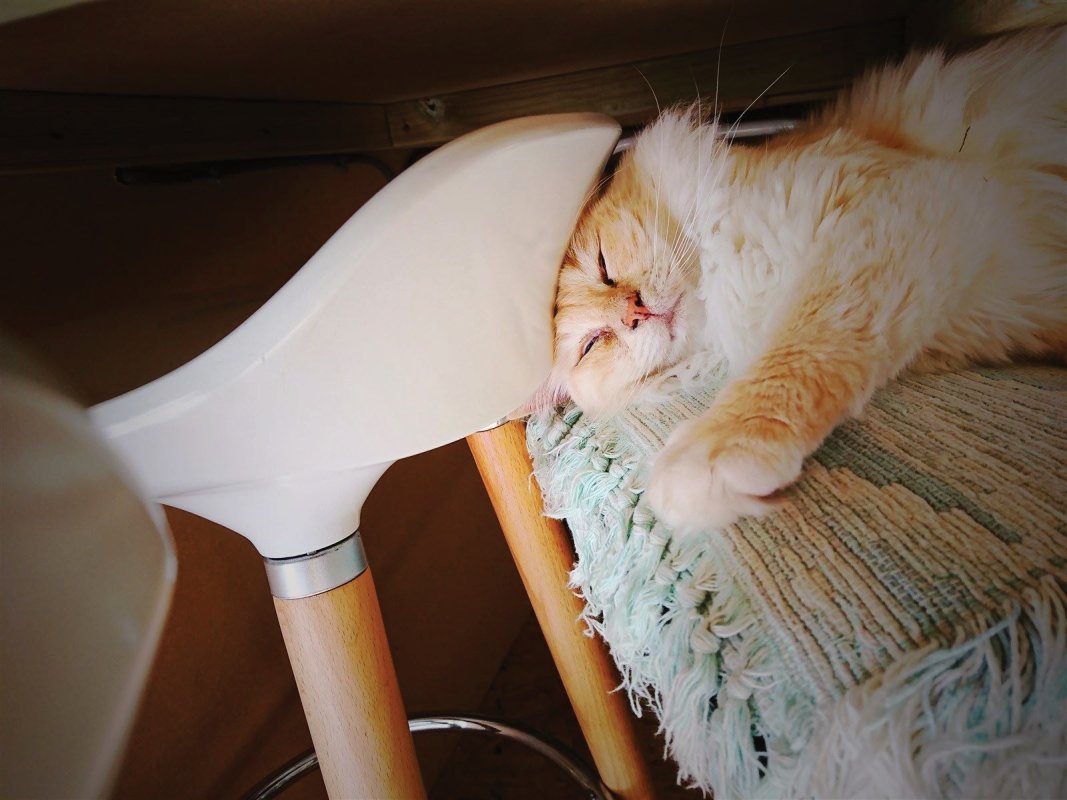 Is it just me or does he look a bit Napoleon Bonaparte-y? Ha ha! 
Happy Days :)
xx Have a  GLORIOUS SUNDAY  Everyone ! xx
Categories: Artist, Bespoke Wedding Flowers, Cat Lover, Floral Design, Florista, Flowers, Mother, Traveller, Wedding Flowers Suffolk
/