Shopping Basket
Your Basket is Empty
There was an error with PayPal
Click here to try again
Thank you for your business!
You should receive an order confirmation from Paypal shortly.
Exit Shopping Basket
How we React to Things...

​​I recently had a situation happen to me that comletely knocked me for six, floored me, upset me beyond belief and there was absolutely nothing I could do about it. Nothing.

My website provider switched my site builder from one day to the next, completely reformatting my website. The first I knew about it was when I clicked on my site and thought it didn't look right and definitely not how I left it last time.. Different fonts, mis-aligned text, different colours...

All the hours of SEO work that I'd learnt how to do had gone. Nothing there. Removed. Blank sheet. From 21st October 2020 this was, effectively, a new site on the net. Old stats gone. Tools I'd relied on since first building my site in 2008 gone. Just gone.
About two months ago I did receive an email about upgrading the site at some point. No date given and no communication whatsoever since. No heads up on the change over date - nothing. I had no chance to screen shot info or key words and there's no tutorial on how to use the new builder. Do you laugh because it's nuts or do you cry... I cried.

I felt like I'd lost a huge part of me - a bit silly maybe but there you go, that's how I felt. I liked to look back to see what visits I'd had from where and see how my site had done over the years. I was really proud of the 80% SEO mark I'd managed to get by tweaking a word here, adding a different phrase there, making some words plural and others not... all these little things make the difference and it was a fair bit of a learning curve for me - I've got none of them saved , of course..

So... Anyways... Deep breath...

I recently treated myself to a lovely book - The Boy, the Mole, the Fox and the Horse by Charlie Mackesy. A truly beautiful book.

On one of the pages it says " One of our greatest freedoms is how we react to things ".

So very true..

Can I live without all that archived data? Yes, of course..

Can I learn how to use this new builder? Yes...

Will it take me hours to re-do the SEO work? Yes!!! :(

But can I do it? Oh yes...
Um... Is it easier to write this blog post in the new builder format...? Yes.
Does my website now have that lovely little secure padlock icon? Yes.
Might I learn to love this new builder? Oh probably...
There's a cherry in here somewhere - I just have to find it...

And find that pesky, invaluable SEO analyser... now where on earth has that gone???

Best get Coffee and Carry On

Happy Sunday Everyone

Catch You Next Time x

So  I thought I'd do a little blog post today about - amongst other things - what's happening at the Flower Studio....
 Because there's still the nasty Covid out there and the studios aren't that big, I've decided to keep them closed to the public for now. But I am currently taking orders, either for local delivery or safe collection from here, for flower tributes or smaller weddings that just need bouquets and buttonholes and maybe Top Table flowers. I'll be open for these kinds of orders for the rest of September and all of October, closing again once the clocks go back. 
For now there are still some gorgeous, Summery flowers to be had and the weather is kind enough that they're happy to open beautifully in the natural light of the studio. Last week I had a special tribute to make and used some stunning Meijer Four Seasons Roses combined with a lovely purple/blue Clematis and some deep blue Gentian - a really lovely mix of Country Garden style flowers. This, I have to say, is my favouritest colour palette in the whole world...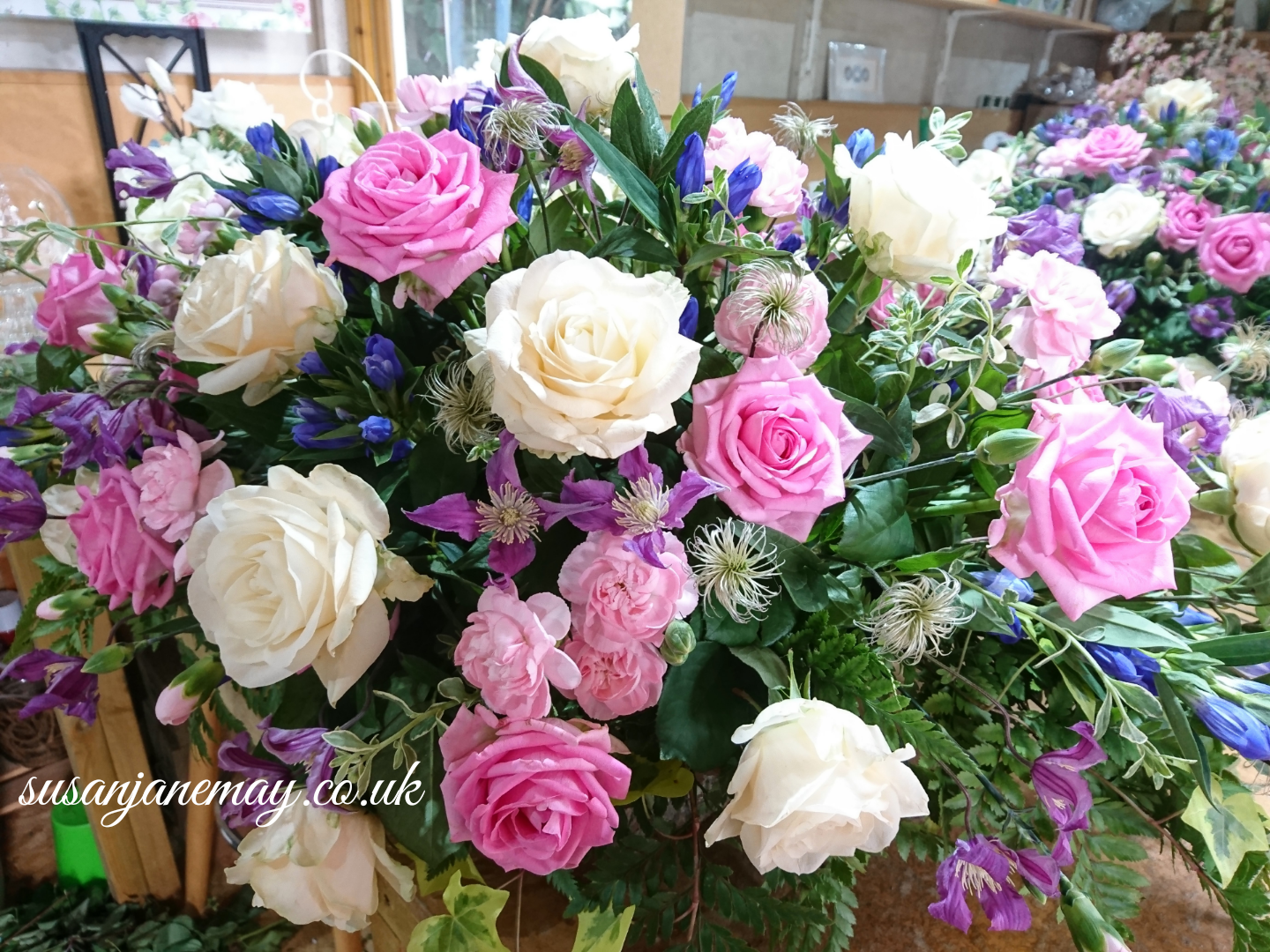 On the art side, I've managed to get some of my finished tapestry wallhangings listed in both my Etsy and Folksy shops - and I've popped photos of them on my website too. Admin - it can take a while - especially when 'help' arrives.... Would you just look at the size of that paw stretched across the keyboard! There was no way Harls was wanting me to be doing what I was doing right then - he wanted attention!!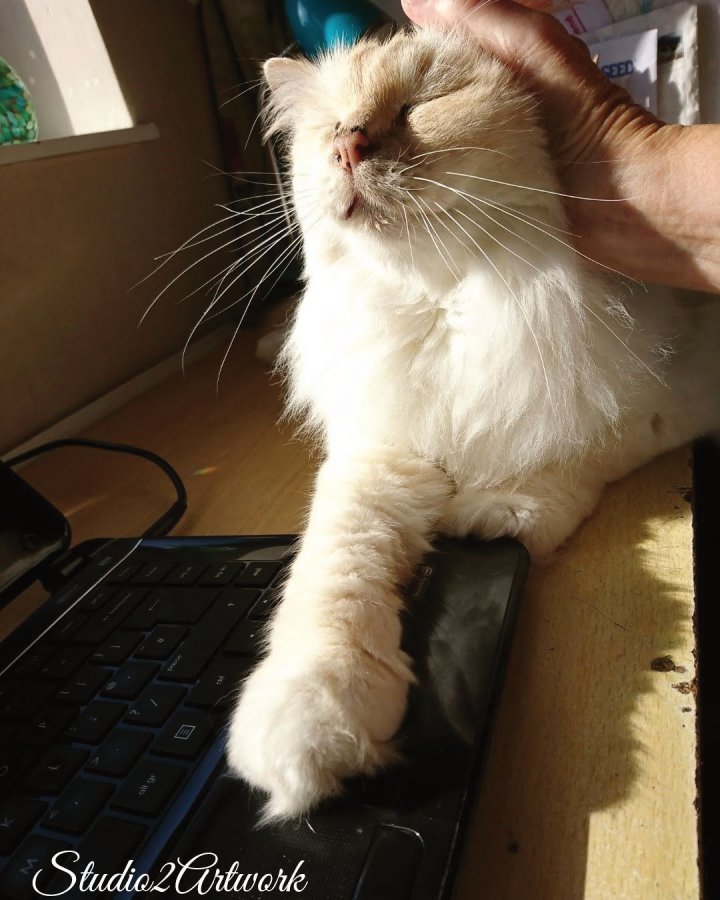 And I've started a new weave - this time it's a Maroochydore sunrise inspired wallhanging. The colours are incredibly vibrant and I've been spinning a fabulous, naturallyTurmeric dyed, Merino Wool & Tussah Silk blend to add to the sunrise colours. The majority of yarns I weave with I now spin myself - wool, silk, egyptian cotton, Ramie (nettle fibre) and, very soon, Alpaca.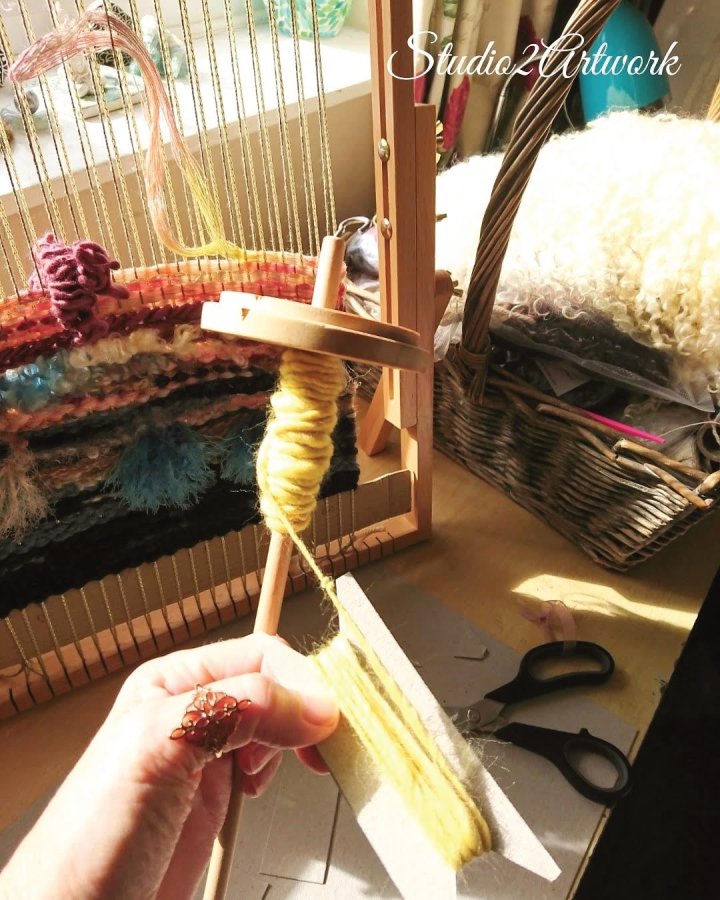 I also managed to get hold of the most beautiful raw fleece from a Teeswater sheep whose name is Amethyst - it's now hand washed and dried and the locks are just perfect for this weave..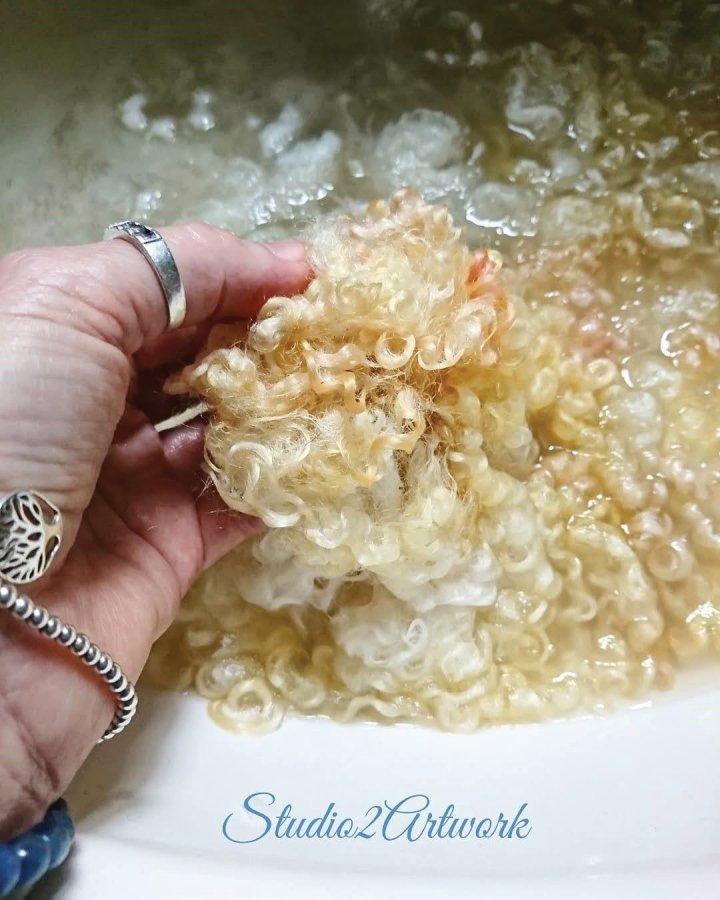 You can see just how beautifully it works with the colours in the pic below ... and there's the inspirational photo in there too, "borrowed" from an Insta post put up by Laurel Resin Art (who you can find at the Eumundi Markets, QLD - and you know how much I love that place!)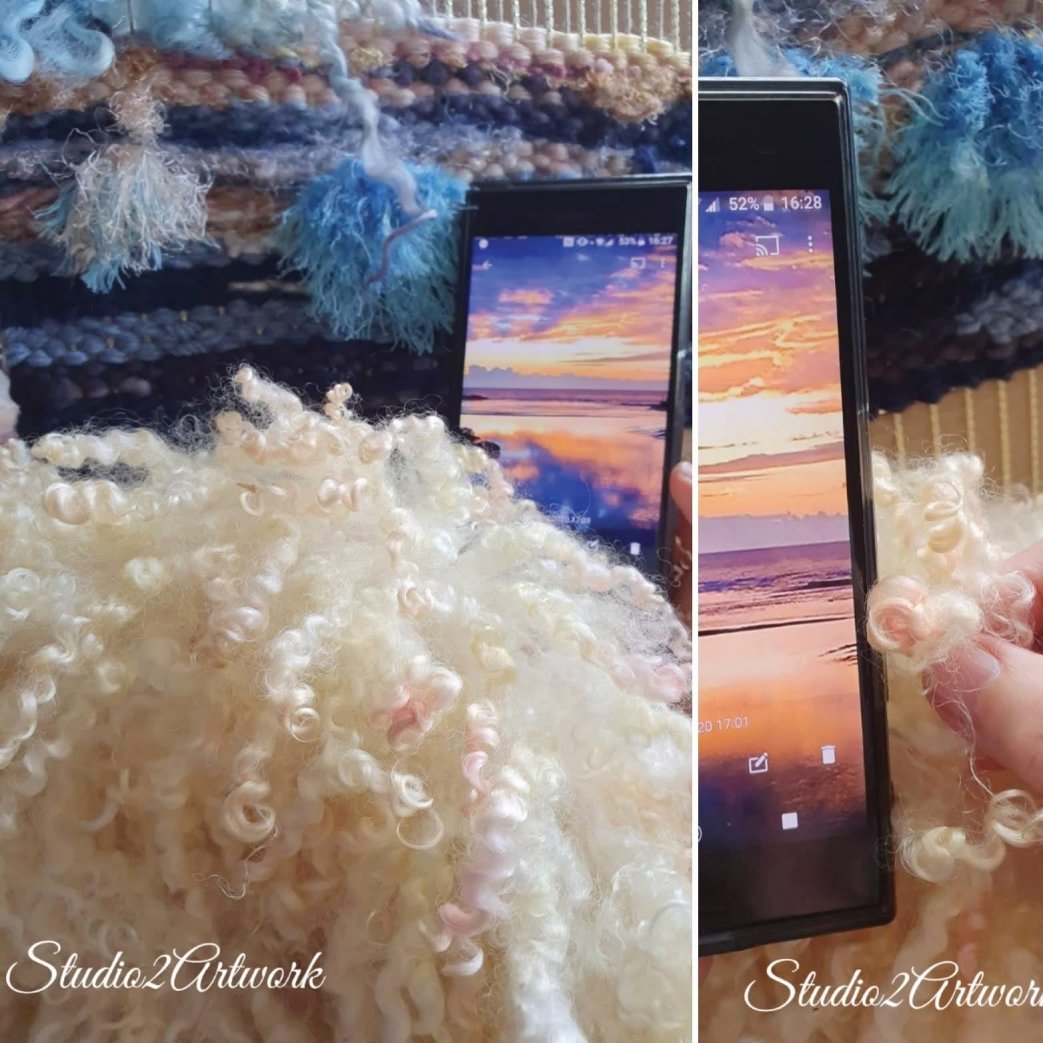 If you want to see how this weave is coming along then have a look at my Insta page or the Studio2Artwork Facebook page - there's links to both on my website's home page.
Have a lovely weekend! 
PS. Any comments with links in are now, without exception, being rejected before they're even published. 

And so another week has passed here in the blink of an eye!
Whenever did time get to move sooo swiftly?
I've had a Fab day today meeting, amongst others, a February wedding couple over at Hengrave Hall, Bury St. Edmunds to discuss amazing flowers…and Trees… ooh, I Love those!
Soo looking forward to this one – there's Lots of creative collaboration going on here! Can't wait! xx
xx
So, now, back to the present…
Our Lilly… well she's a whole lot better Hooray! Back to the AHT tomorrow to see the neurologists but…
She's been jumping up onto the small sofa again all by herself –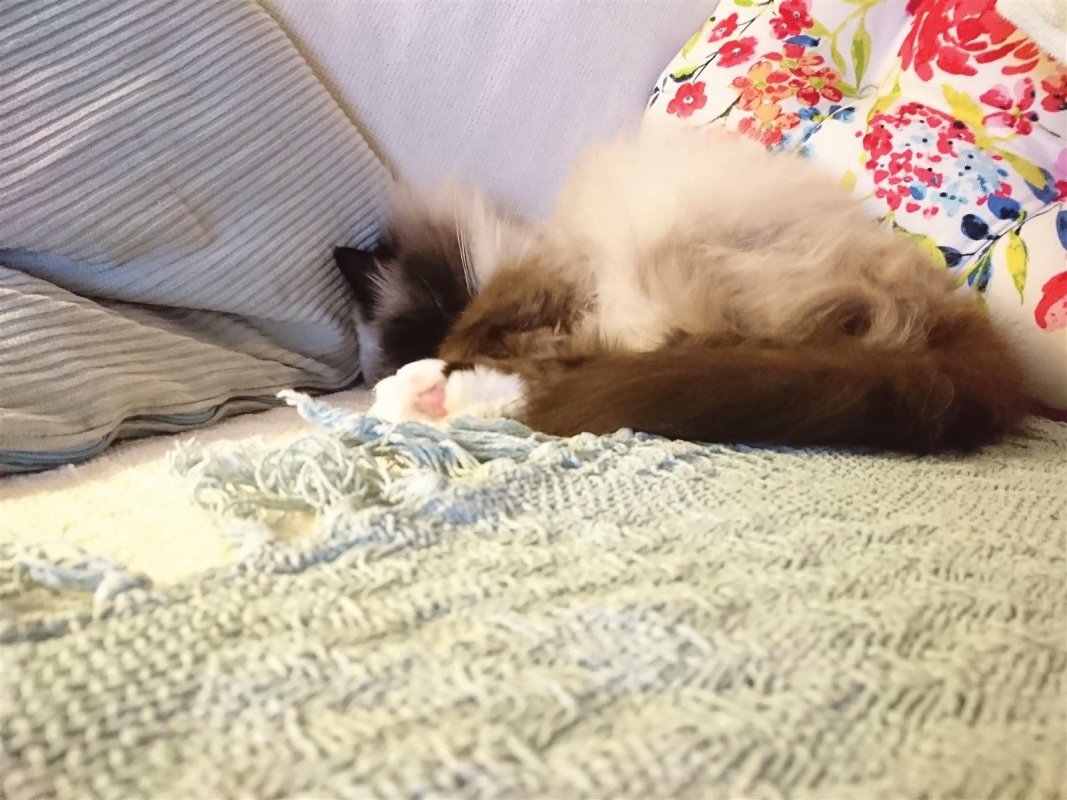 And…
Enjoying snuggles on the bed (alright…which she can't quite jump up onto by herself but, hey, can now get down from with no trouble bless..)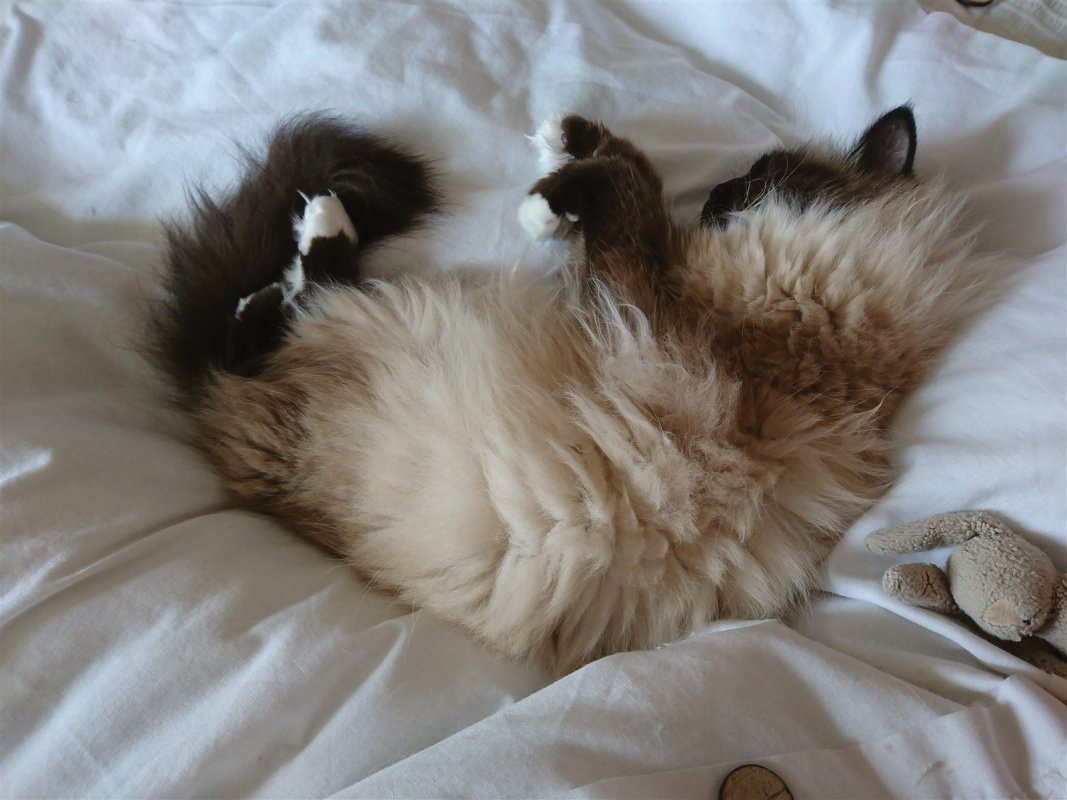 And Harls??
Well he's been REAL busy here this week… as you can see…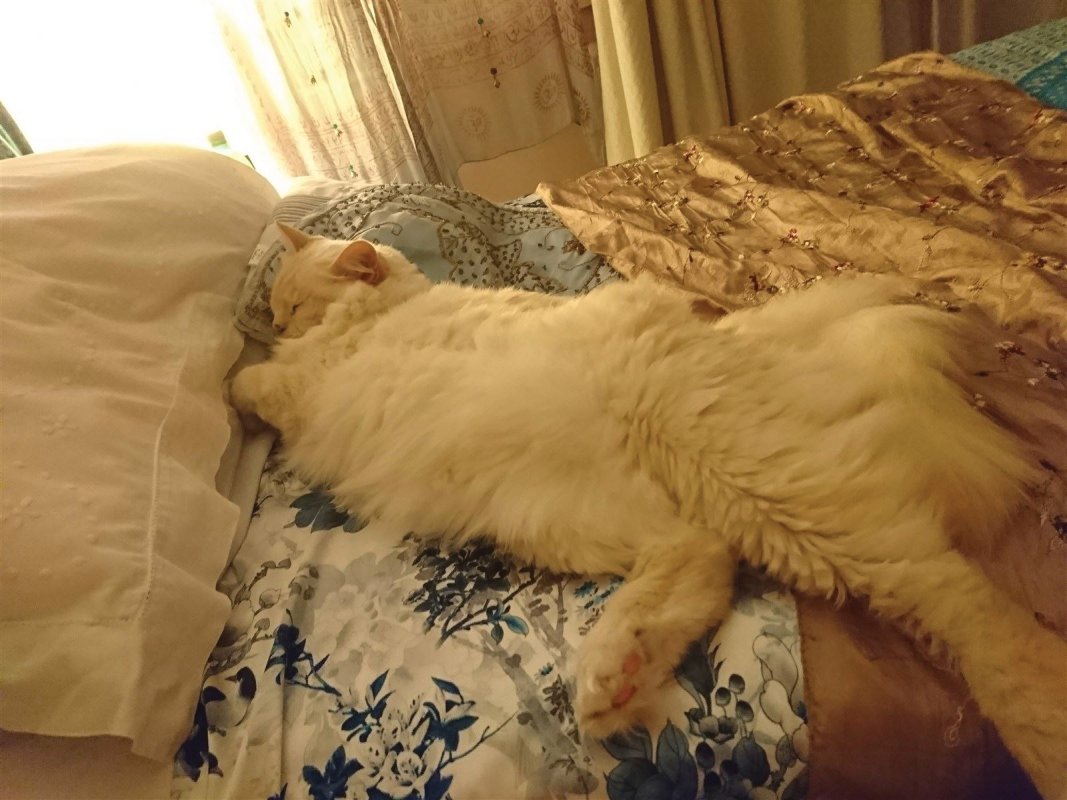 #ChilledBirman   # Workinghardintheoffice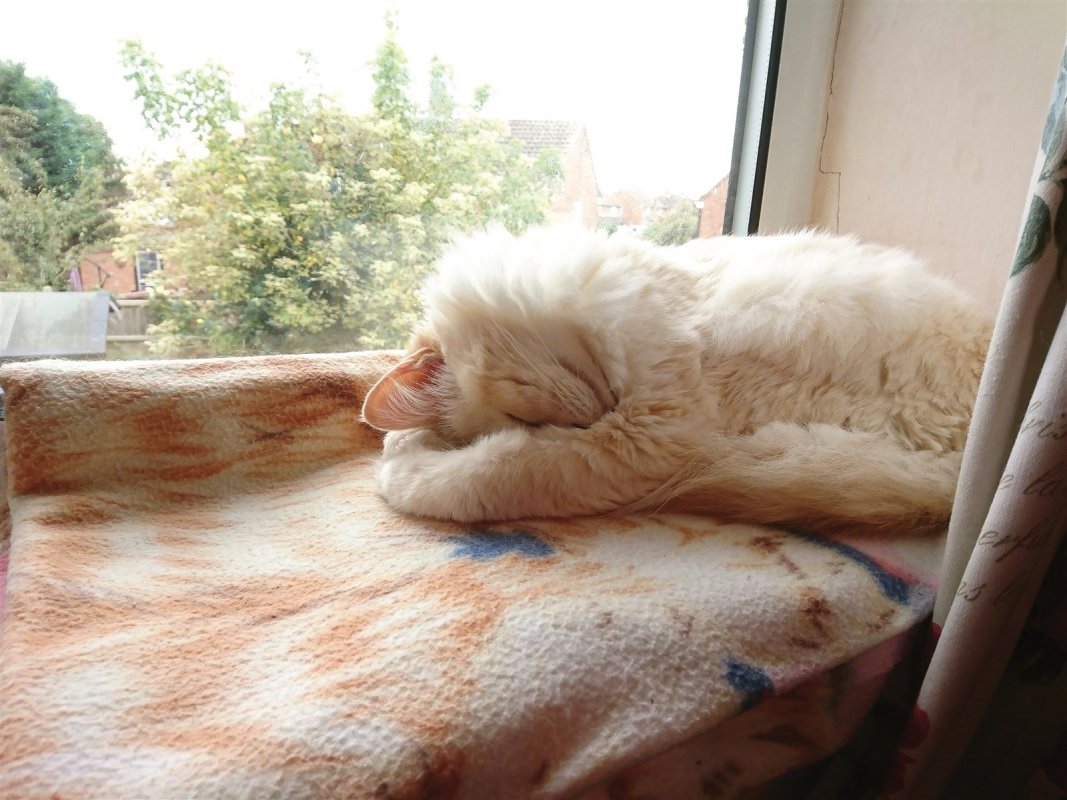 #Sundaymorningsnoozing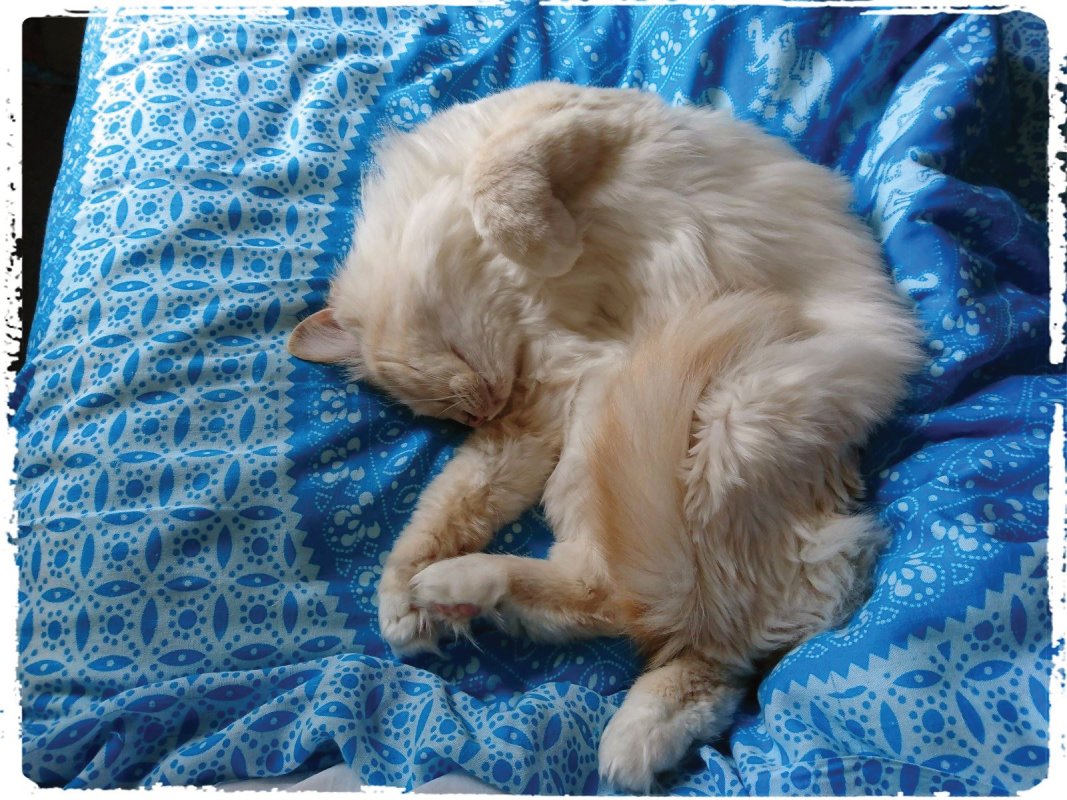 I think I might be in agreement with #WinstonChurchill here and decide to come back as a cat ha!
And talking about cats… So sorry, I can't get this pic to go the right way round! ...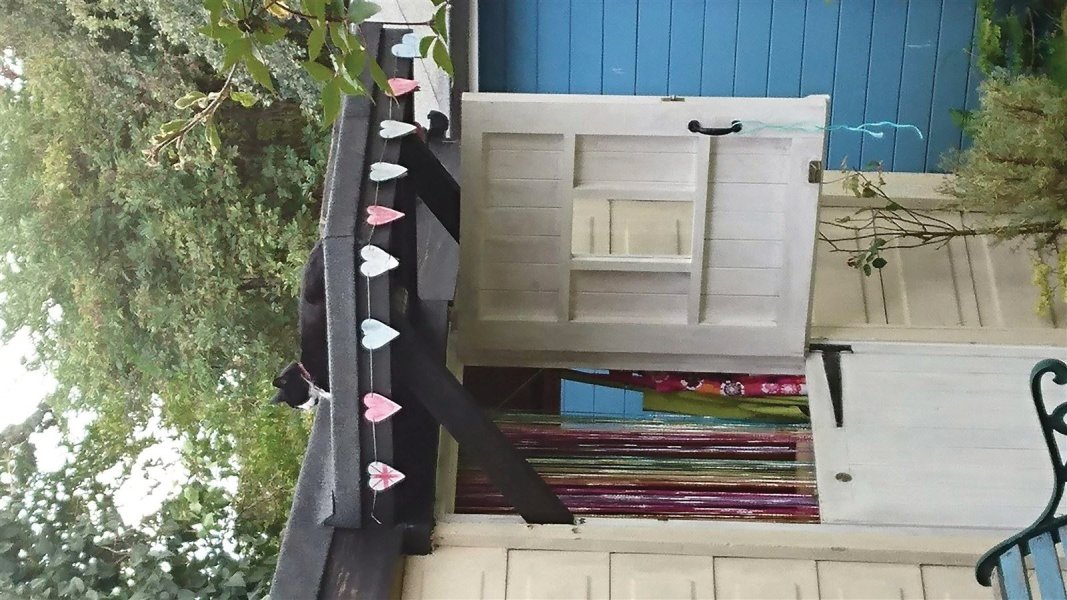 We have a local pussycat who's just lovin' the studio vibes at the mo…
And is quite colour co-ordinated too ha!
Lucky for this little puss, our Big Blonde has never mastered the art of fence or tree climbing… (Yep, I know, it's an indoors-mainly- temple-cat-Birman-thing)
So if he snuggles up on the warm roof QUIETLY Harls never knows he's there… Shhh…
And me? Well here's what I've been up to on the Floristry side of things…
Bouquets and Buttonholes…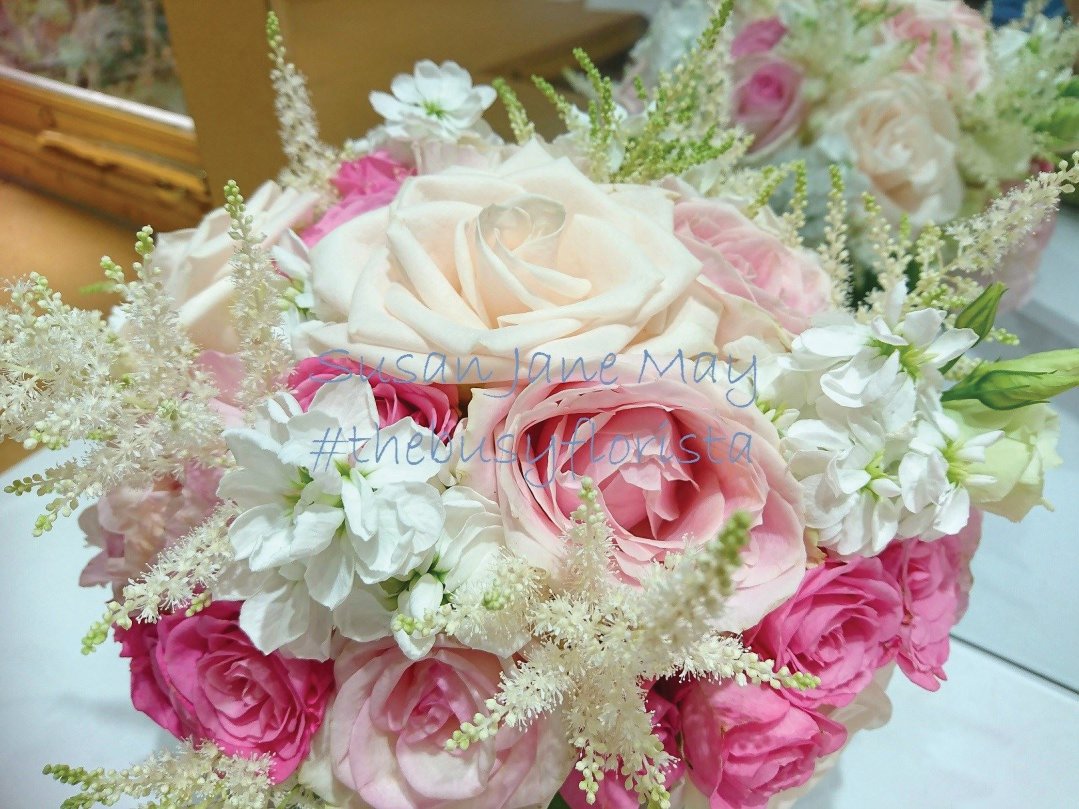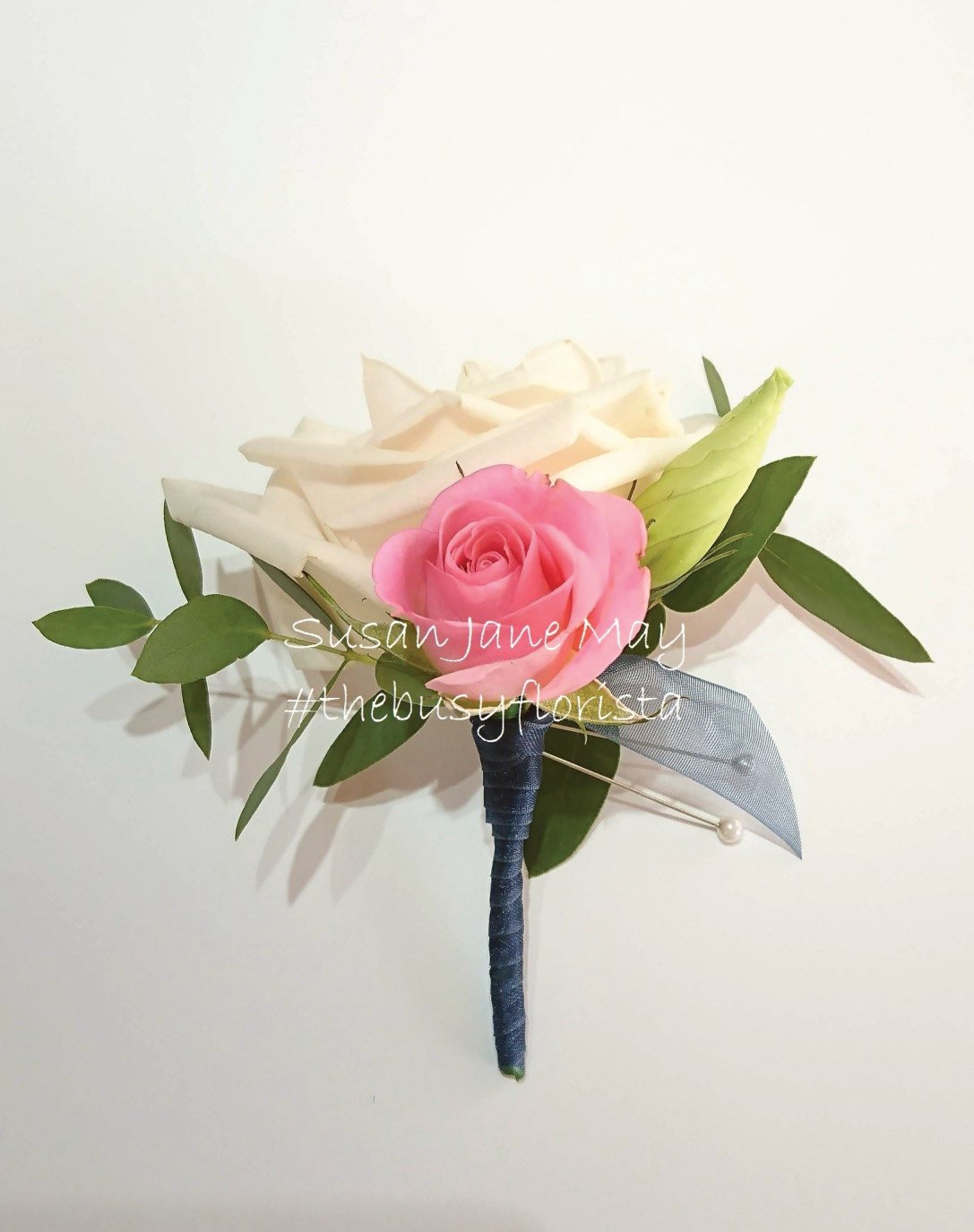 Tackling thorny, but Gorgeous, Vendela Roses….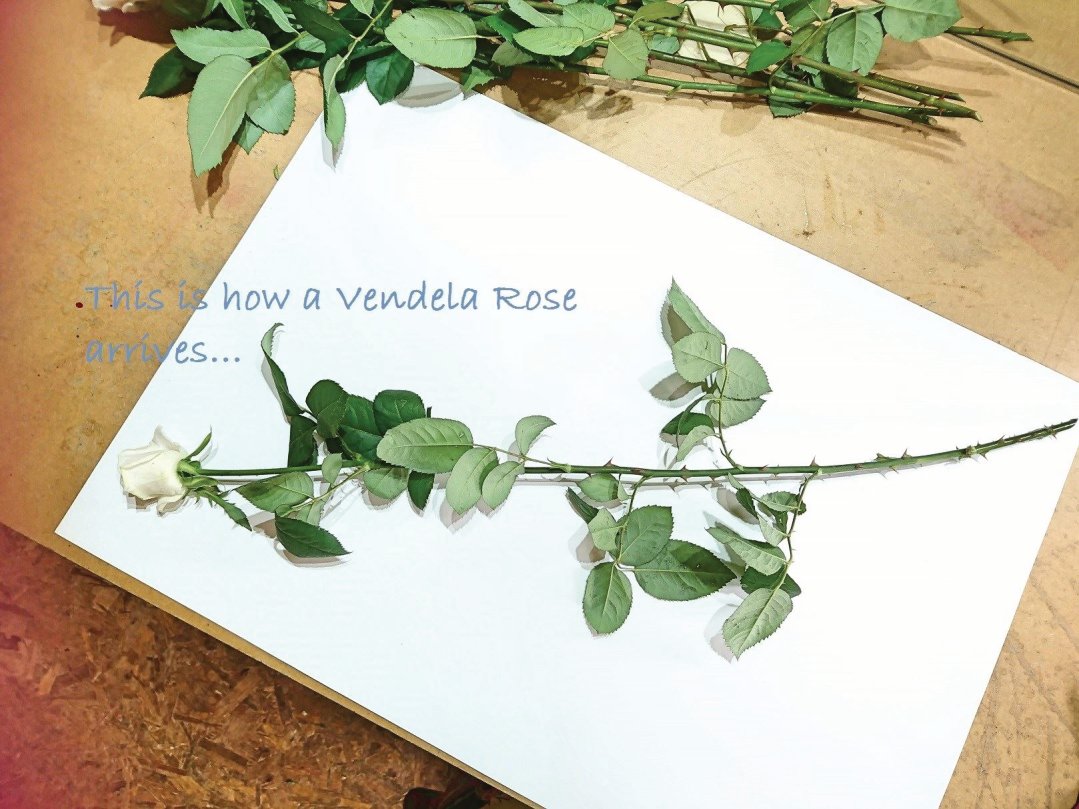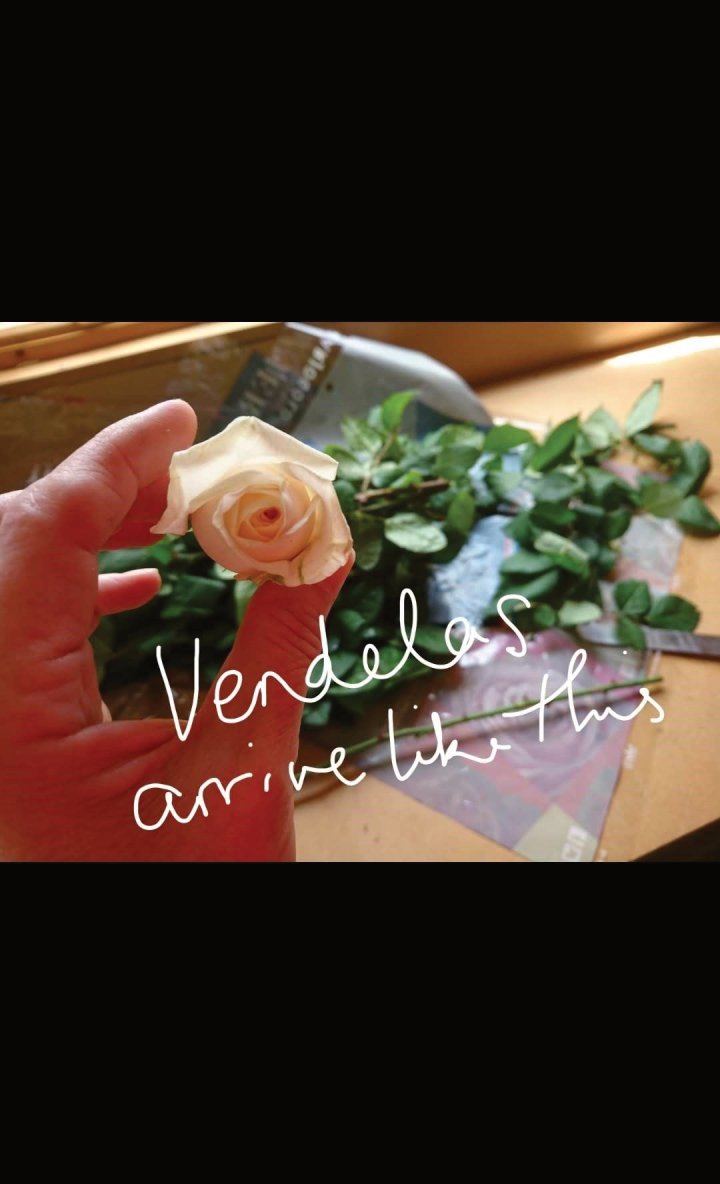 And getting very excited about creating new designs for Indian Wedding and Celebration Garlands…
And prepping for a Day Off!! HOORAY!!
Tomorrow I'll be giving myself some new Henna Tattoos…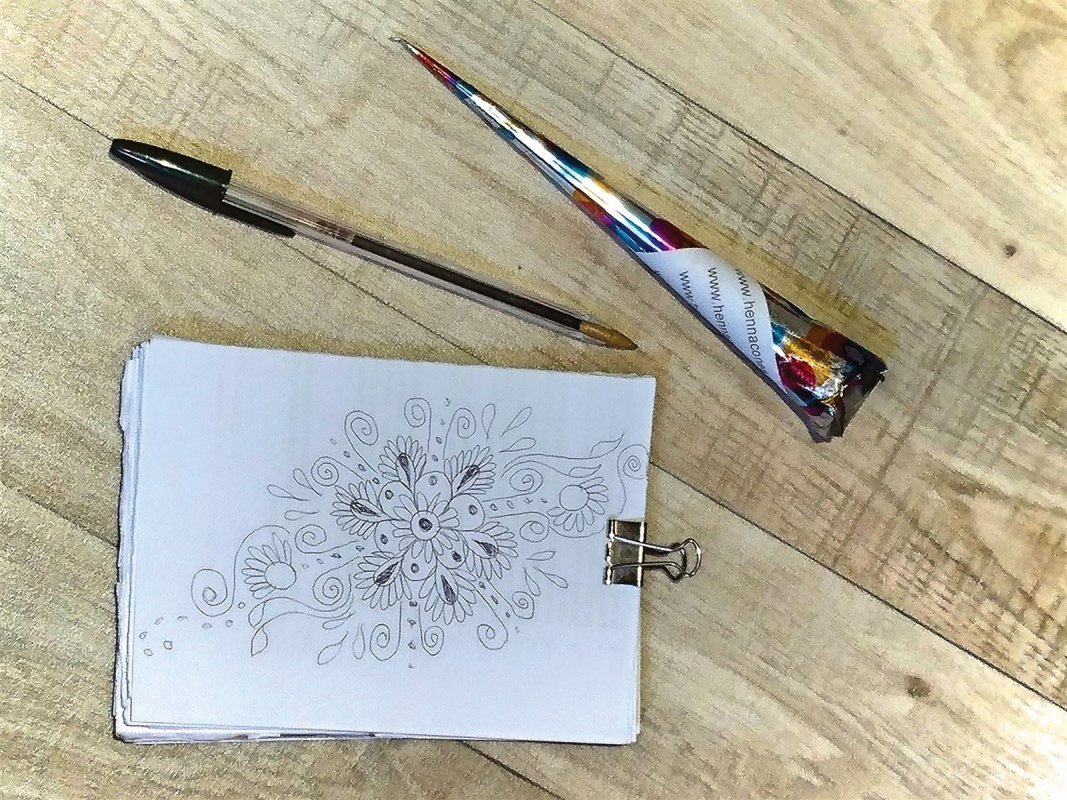 When you work all weekend, Mondays are off right?
xx Happy Monday Everyone xx
Well here we are – we are here!! We are the other side of the peak-time of an incredibly busy Wedding Season and we have survived Hooray!!
How are you all?
Hasn't the weather been Glorious? I've absolutely Loved it here being an Oz-weather-loving kind of person – hot, sunny, hot-hot – ooh Yes Please…
So we've had two fans on the go in the studios and Loads of chilled water bottles in the fridge and have basked in the gloriousness of the warmth of it all. Thank you Lord for a fabulous Summer x
And the flowers have all been fine too, conditioned up to their necks in cold water professional solution... There were several days I nearly put my feet in there with them ha!
The only casualty we had was some Astilbe which, bless it, just evaporated every drop of moisture into thin air and looked more like a dried flower than a fresh one from one day to the next.
So… here's a bit of a catch up on what's been happening "at the ranch"
( PS. I'm a HUGE fan of The Pioneer Woman… )
Harley's had a great Summer – gone blonder than ever – and has perfected how to block that rather annoying lamp light when he wants to settle down…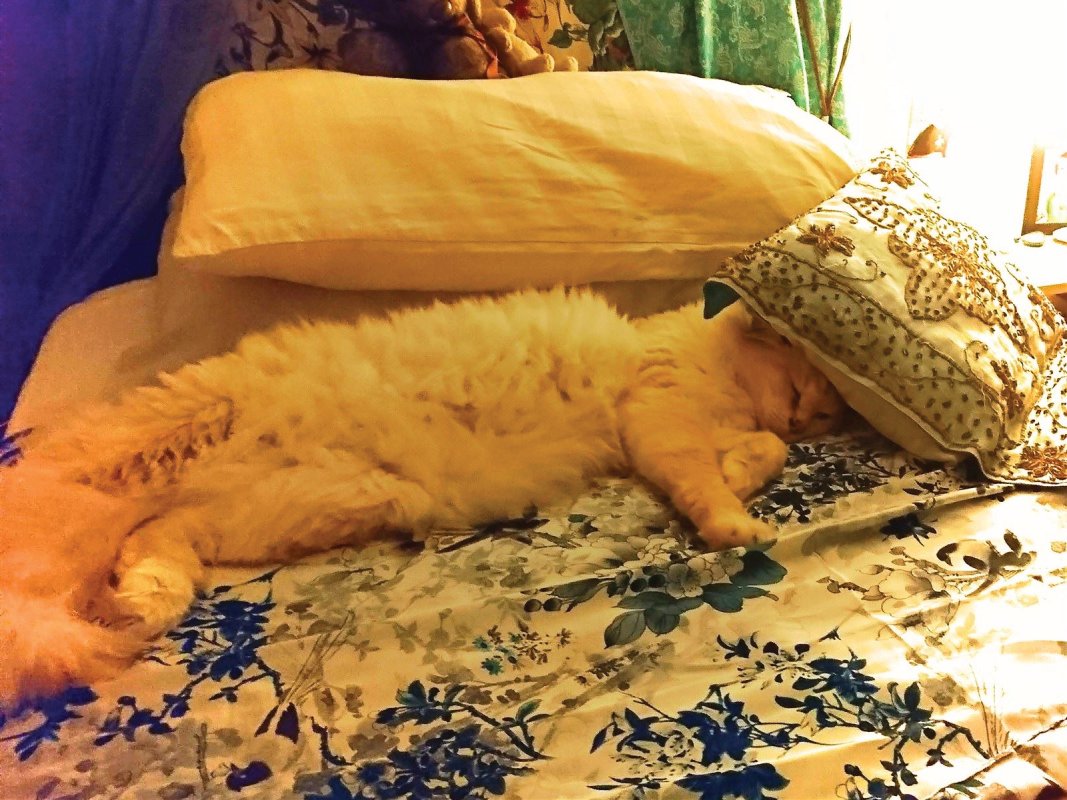 Lilly's had a lovely Summer too and has been practising her Ninja moves. She carries out frequent stealth-attacks, circum navigating Harley's routine and scheduled nap times and thereby claiming the Prime Position on the preferred bed for herself… Go girl!!!  And just look at those fluffy paws… Gorgeous or what? #justloveher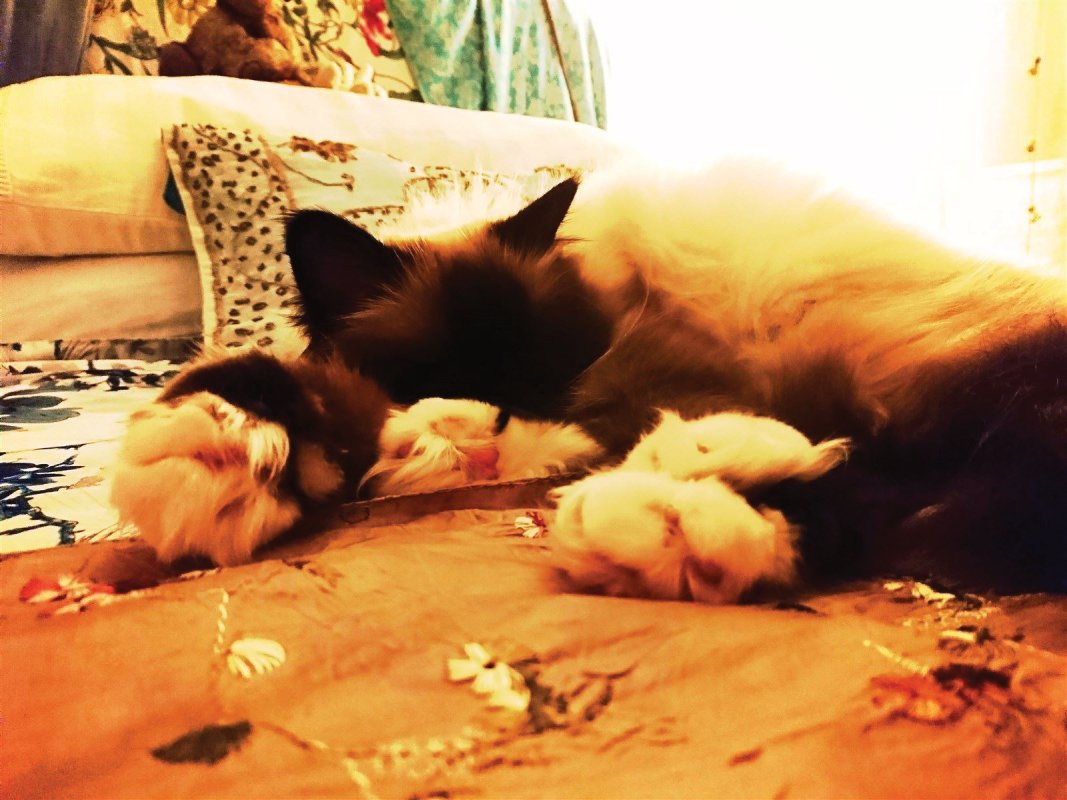 She's had a bit of a relapse lately but she'll be okay – she's off to the Animal Health Trust with me tomorrow for some tests. She's the one-in-several-million-cats that has no immunity to Toxoplasmosis. A few years ago very nearly killed her. Thank heavens for the AHT and their experts there.
She has relapses – especially after her annual jabs – and that's what's happened this time. We have medication to hand but she's not responded as quickly as usual so it's off to the Neurology Dept. we go…
Bless her, she's such a little fighter xx
Here she is looking Gorgeous in Studio 1 amongst the Blossom Trees a few weeks ago…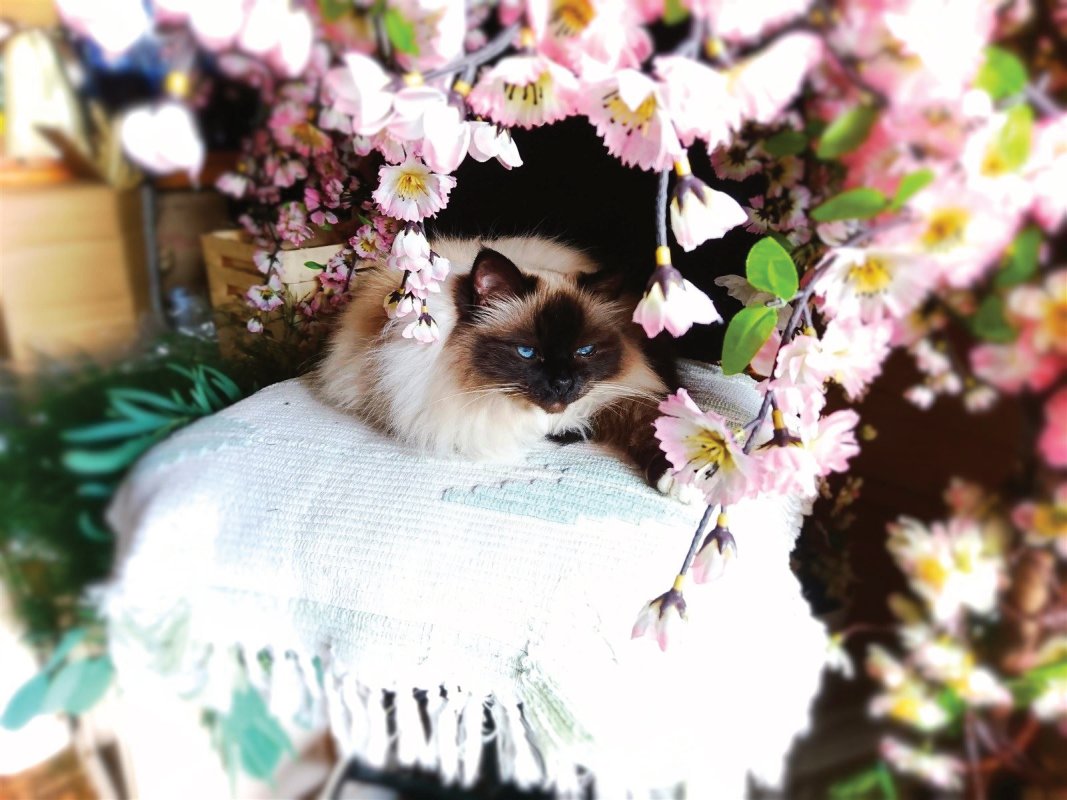 And #thebusyflorista has been doing this and that…
Starting every day for ages with a bit of a boost ha!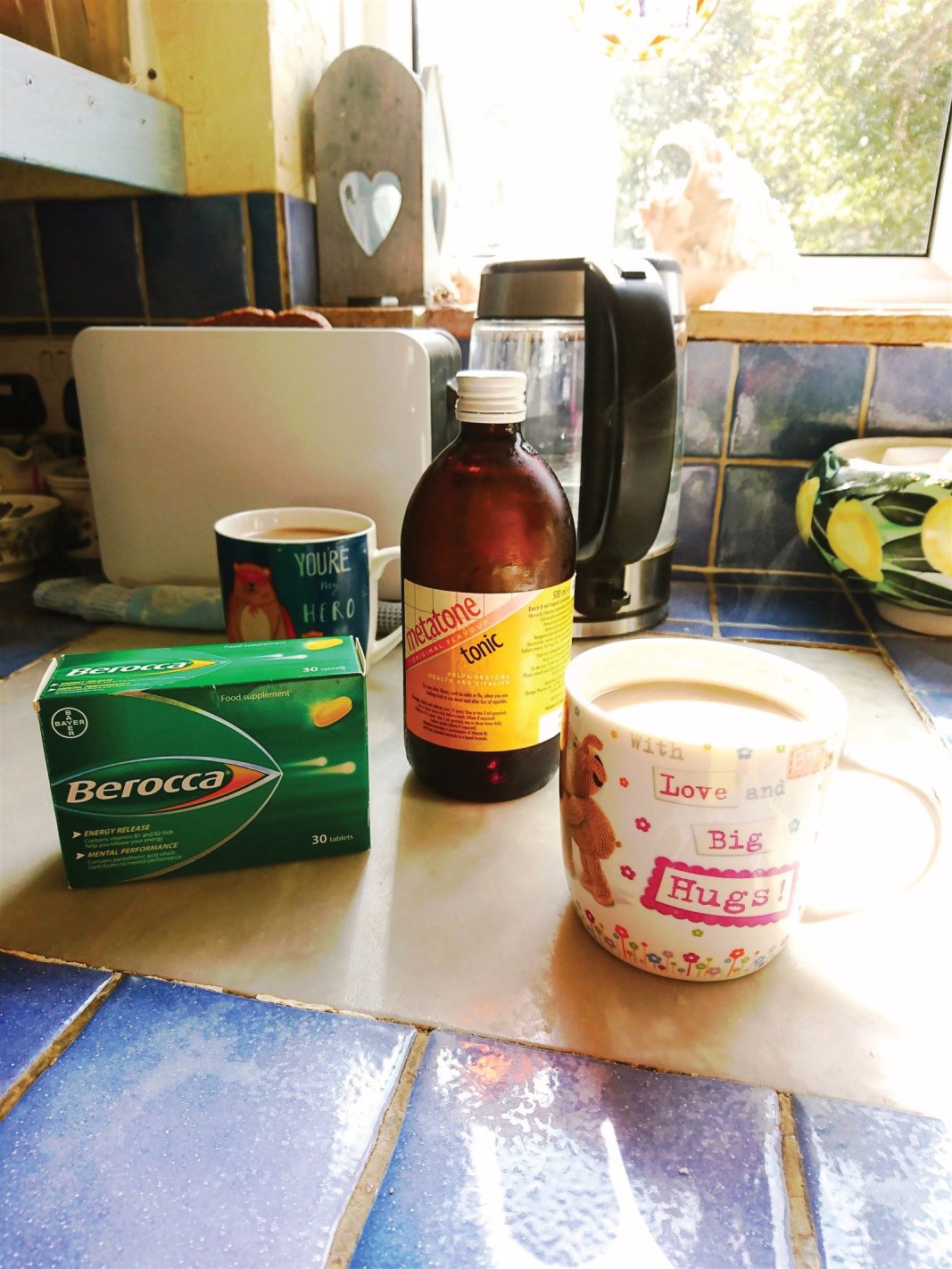 Conditioning, prepping and looking after Thousands of stems of flowers over the Summer…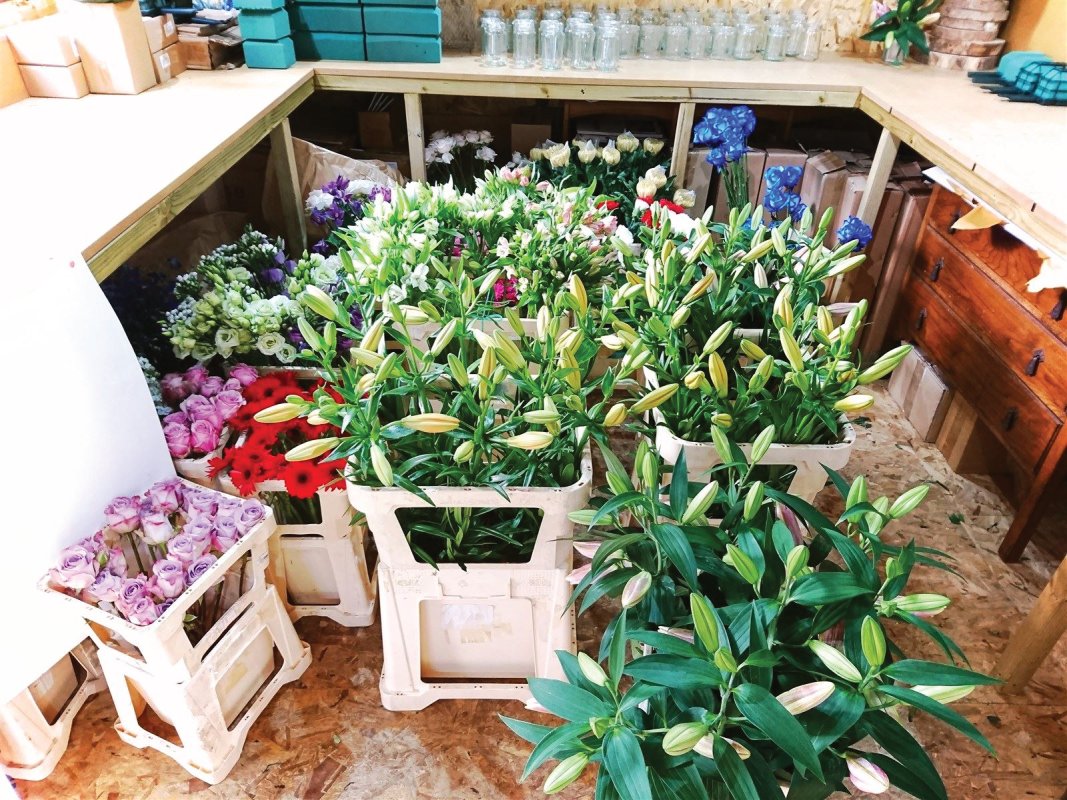 Having the-most-amazing August Bank Holiday weekend FULL of Weddings!!
One of which was a fabulous Indian Wedding – full of Vibrant Colours and a myriad of Flowers...
We decorated the Mandap…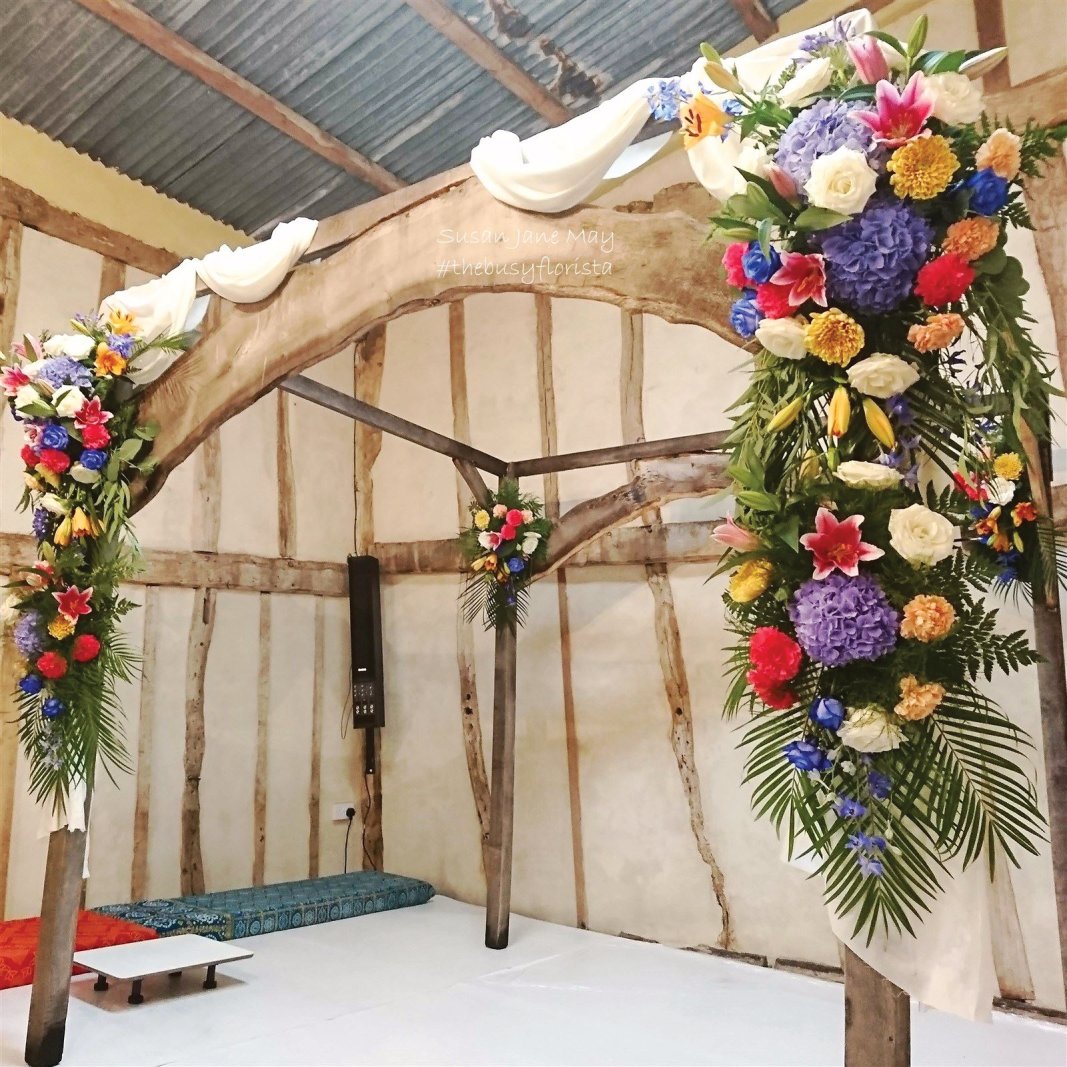 And created 25ft of Woodland-Style Ceiling Garlands…
Which required the going up and coming down, and going up and coming down and…well, you get the idea…of ladders…
Which were at quite an acute angle I can tell you…
Cable tying 4-5ft sections of Beech to poles… Adding flower groups along the way…One hand on the ladder, one holding the foliage… balance at the top…Position… Cable tie…
Don't let anyone ever tell you being a Florist isn't a physical job, and that all they do all day is play around indoors with pretty flowers…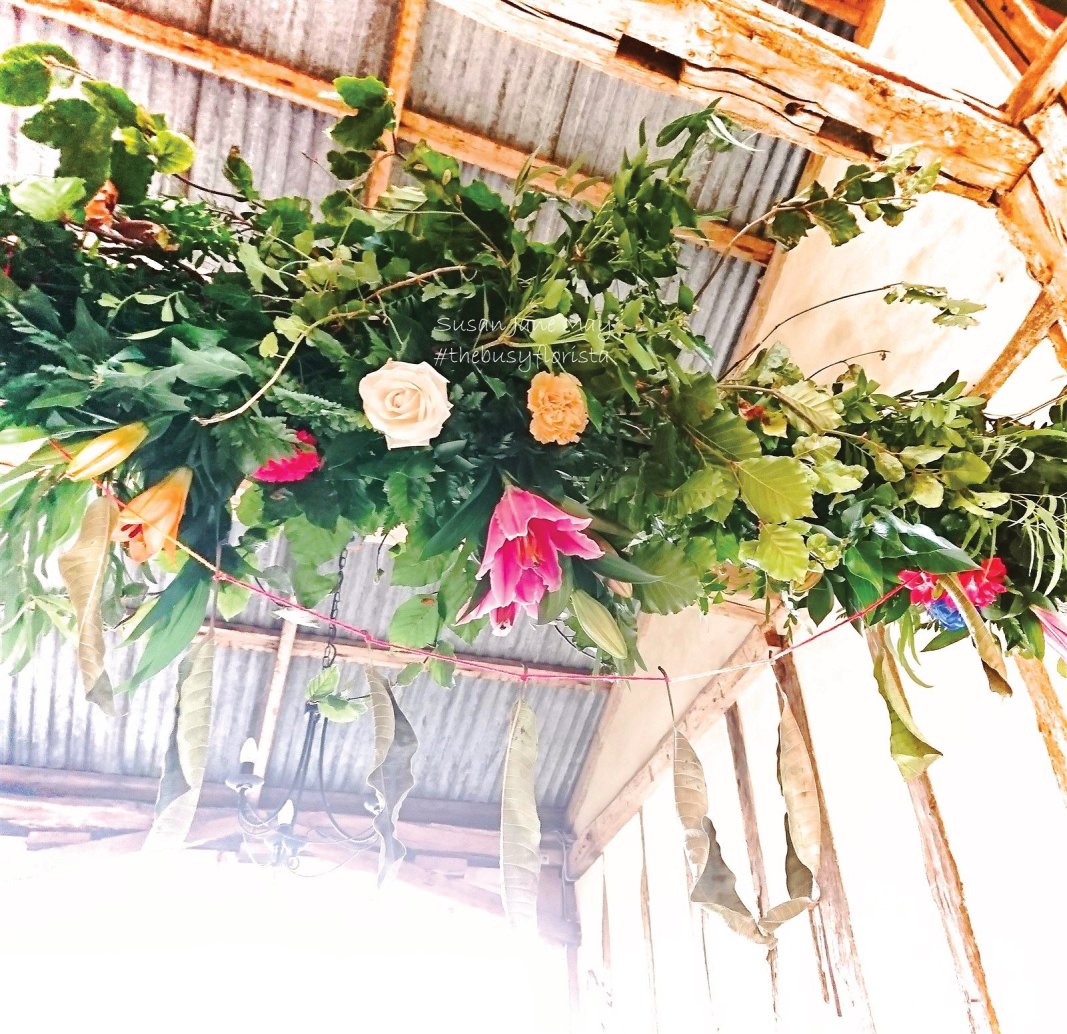 I had my dear friend and long standing work colleague Jane with me and we soon worked out that we both had to climb up the sides of the 'A' frame ladder provided at the same time or it would wobble terribly. There were a couple of "Whoop Whoops!!" from poor Jane when I stepped off my side a few times without thinking bless - haha!! You need to be Brave to do this job… and fit…
After setting up for this wedding all afternoon my feet were not the happiest bunnies that's for sure. Hot, red and glowing just doesn't do them justice ha! I'm sure Jane's were just the same… #hotfeet #notaprettysight #ouchyouch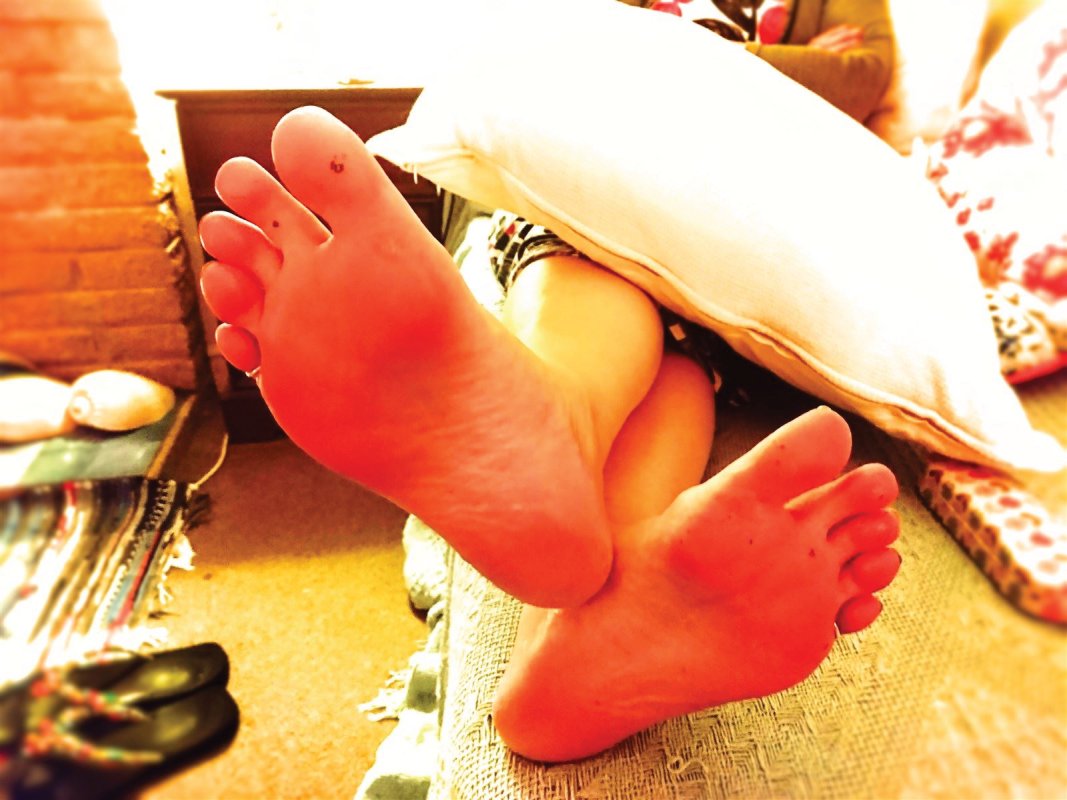 Early the following morning – Bank Holiday Monday – I was in the studio creating the Wedding Garlands. I loved making these, they're such a special part of the ceremony.  I'm about to promo them for ordering via my website…
And my feet? Well they were given some major TLC and new tats and are feeling much better!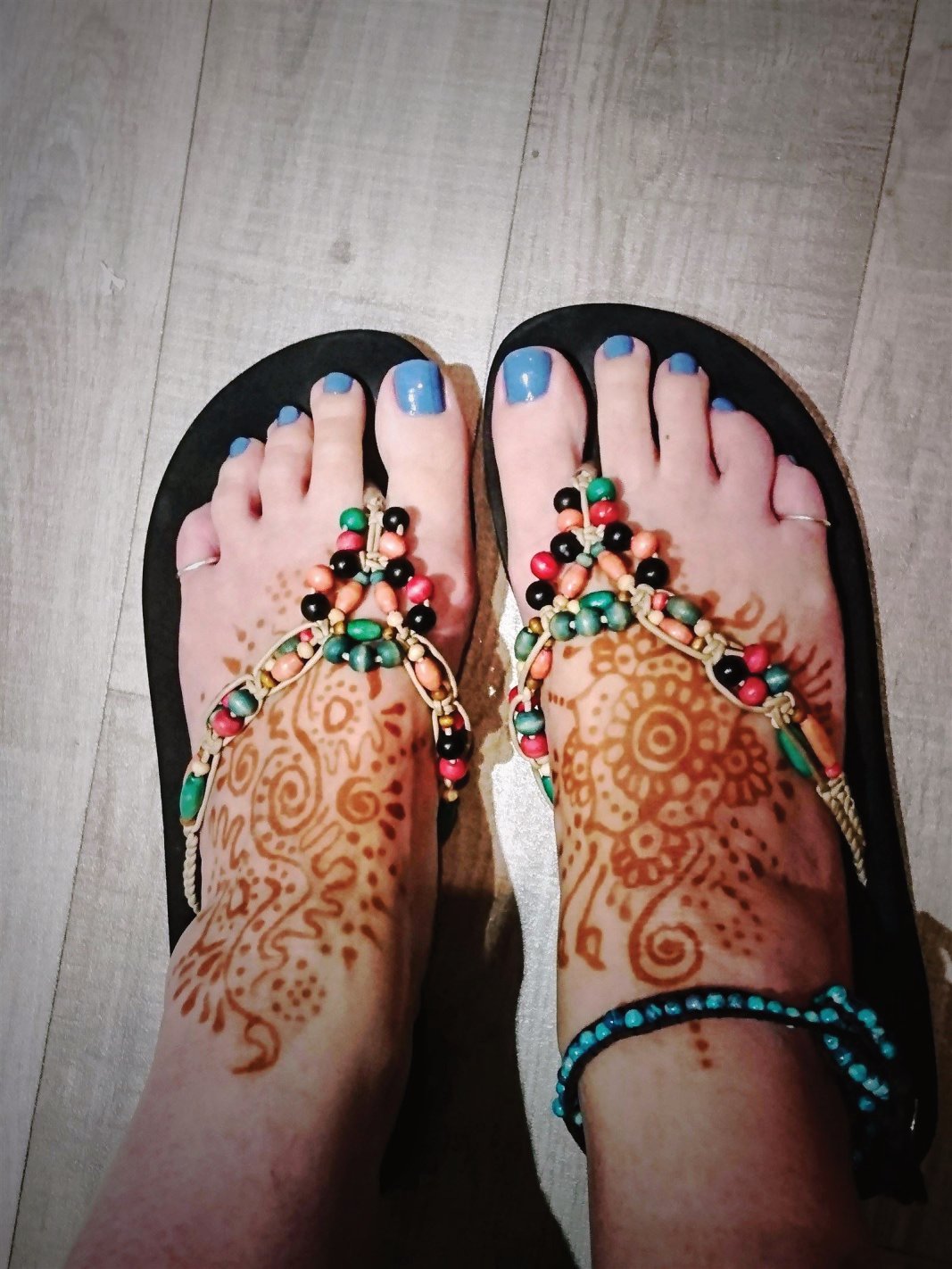 And I treated myself to some well-earned indulgence at my long standing and totally Favourite Hair Salon and had a wonderful experience with their new range of colours from the States – and a cut and style too.  So a BIG Thank You to Michelle at M Hair & Beauty in Long Melford – you nailed it girl!! Made me feel like a million dollars Xoxoxo
And last but not least at the end of a busy day I have a hug and lots of purrs from my Harls…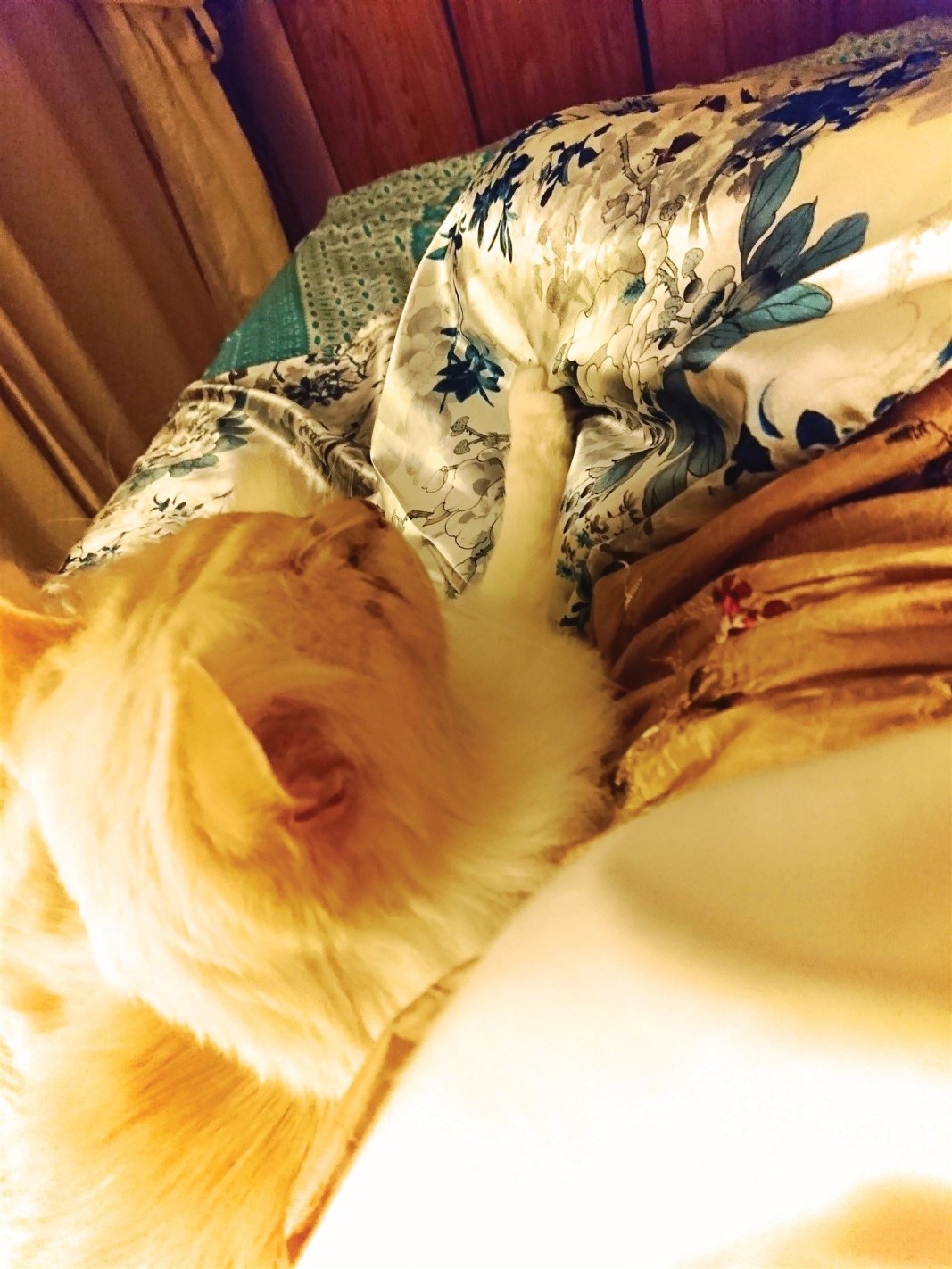 Happy Sunday Everyone xx
Hi Everybody!
How are we all Enjoying this Fabulous weather? 
We're just lovin' it here in the House of Floristas..
It's been such a joy opening up the stable door early morning and 
looking out at the garden and the Studios and seeing Blue Skies and Sunshine!
However... we have had some Hotty-Footy-Moments when a
certain Florista wanted to pop her feet into the Buckets
along with the Flowers...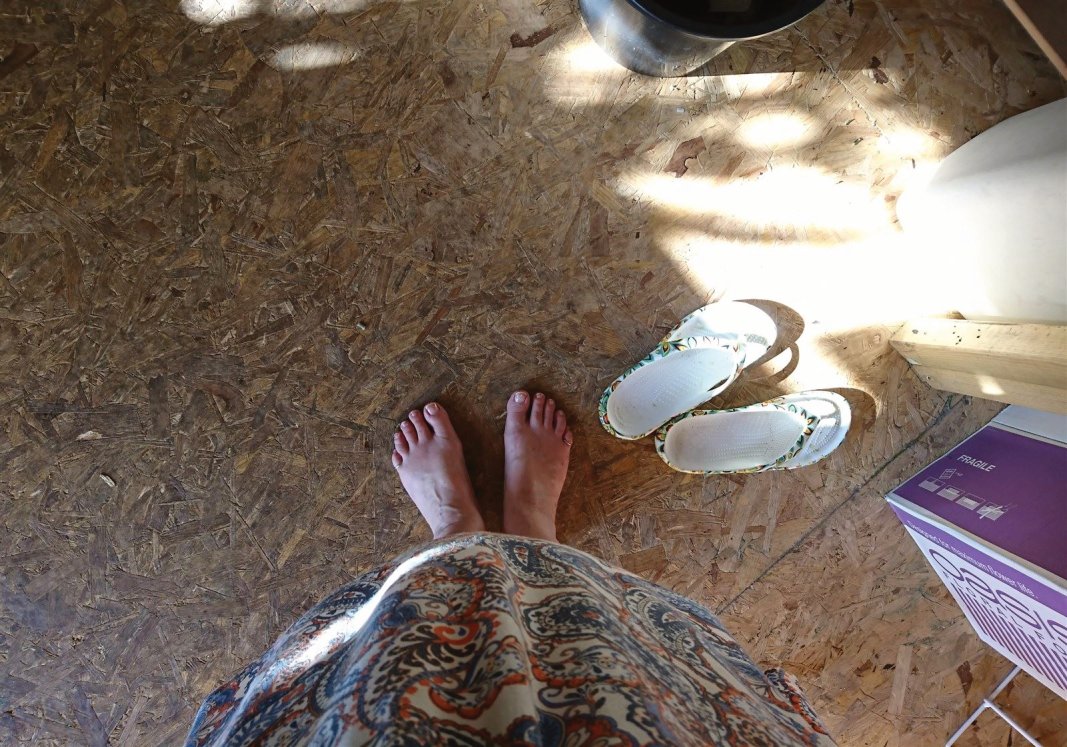 And then me and Harls had a bit of a long-hot-day-melt-down the
other day...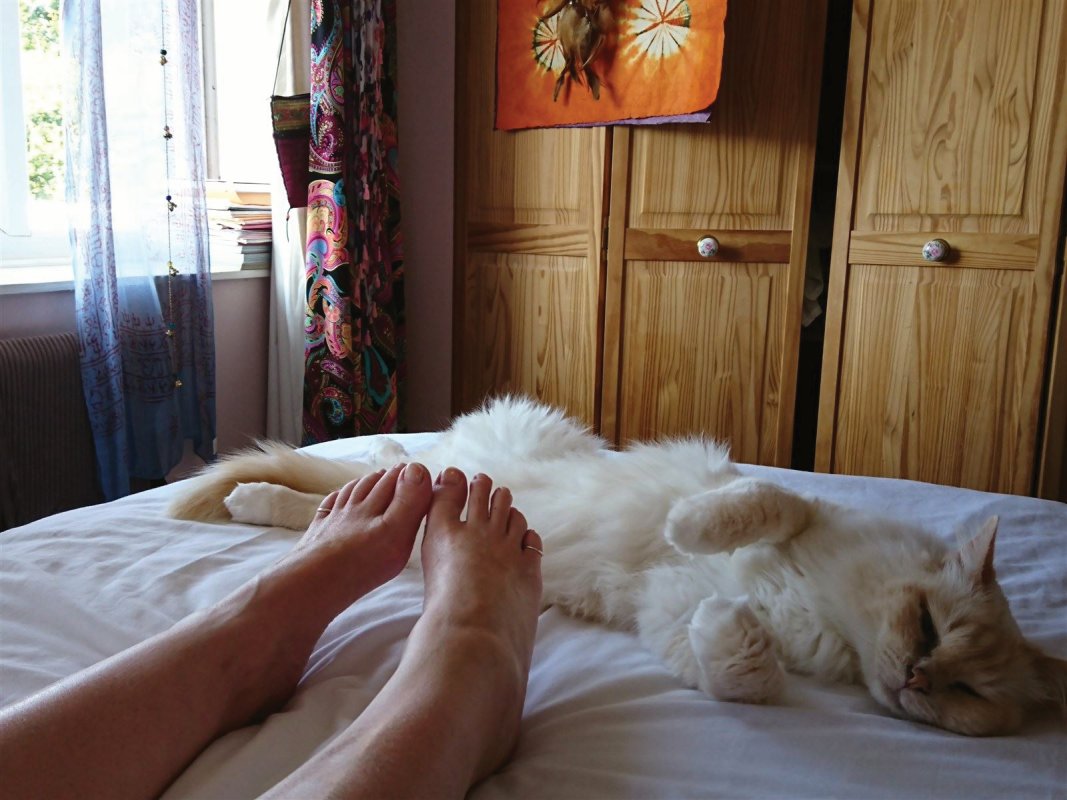 Ooh, Yeah - you an' me babe - just chillin'...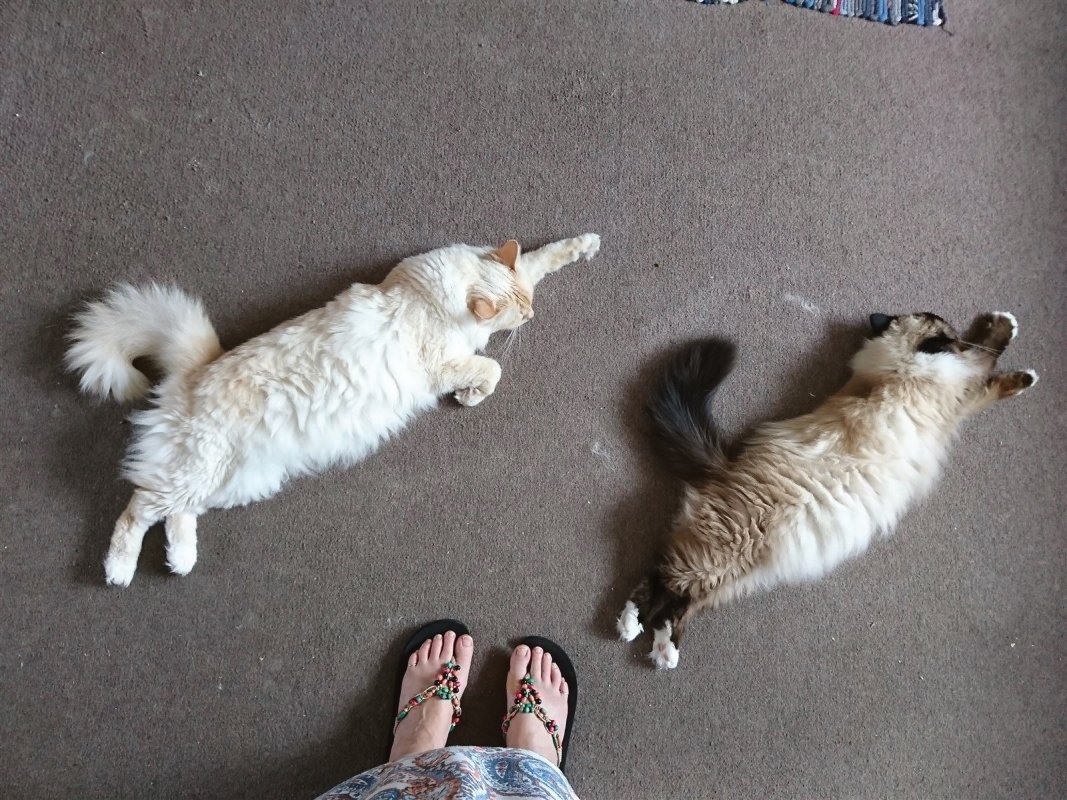 And as for the Double Bir-flops due to the heat...
 (It's a well known phrase amongst all the Birman-owning humans 
out there Ha! ...) Well, what can I say?
#Lillycat'sgottafabtailpose  #HarleyPussisrockin'agoodcurve...
I've been doing a lot of this...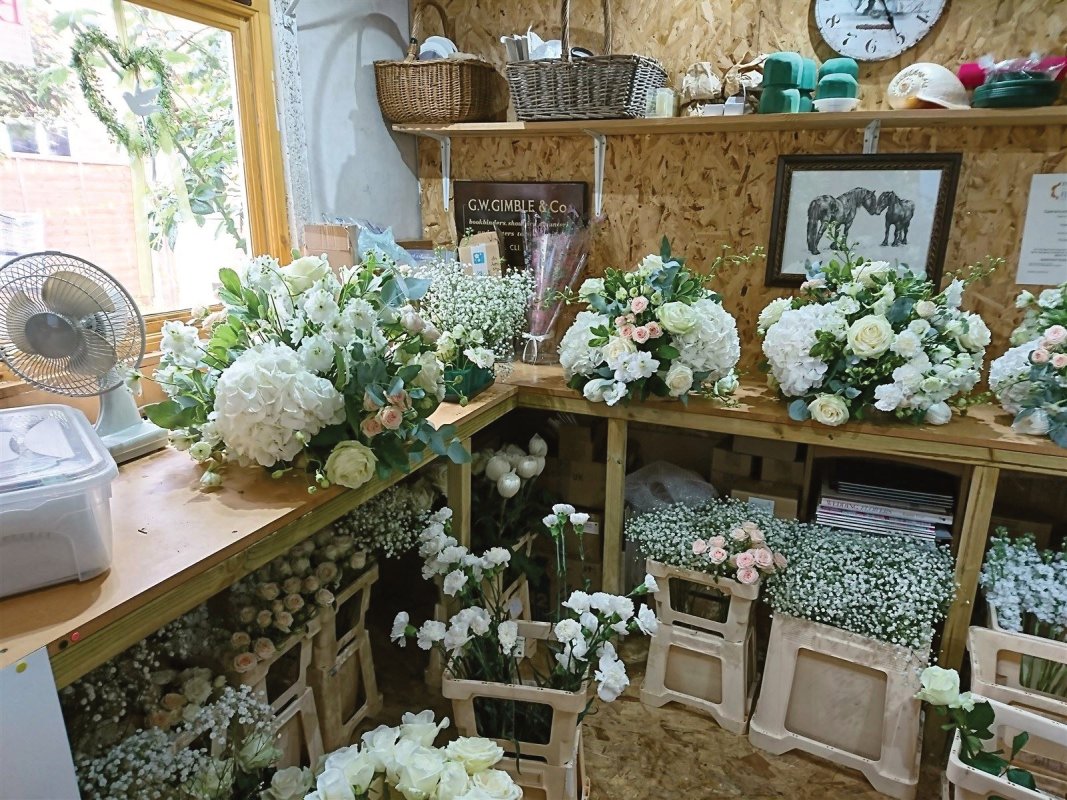 Resulting in a lot of that...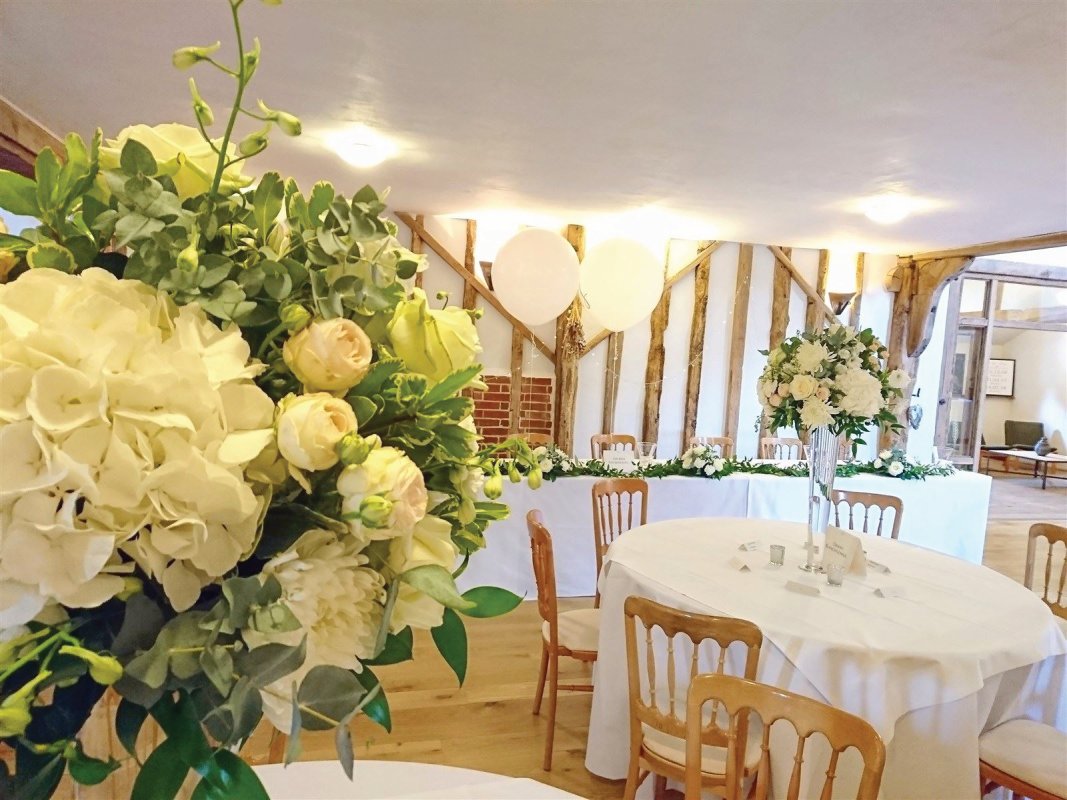 And a touch of this too...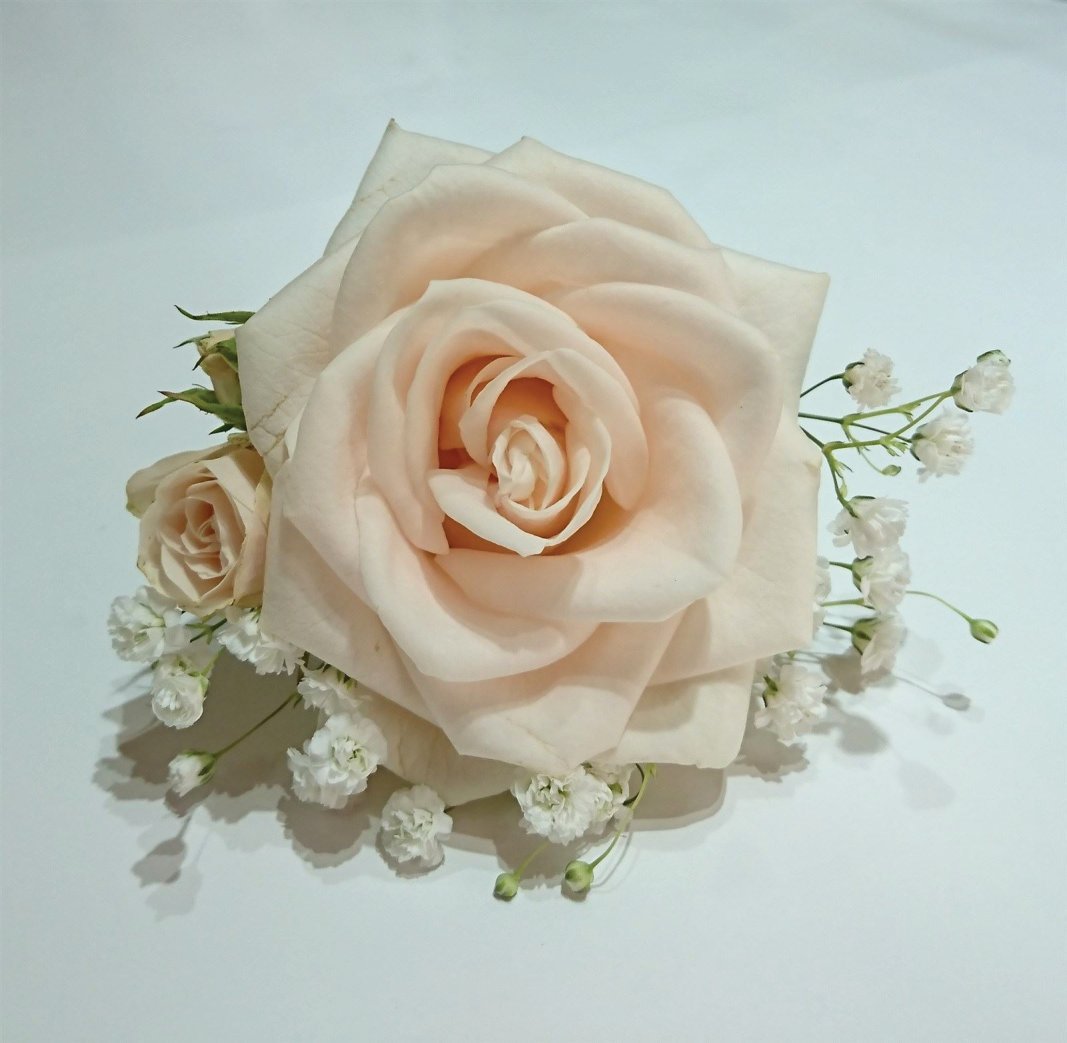 And... Poor old Mousie???
Well, our Lillycat's been lookin' after him nicely, thank you,
in all this Heat... Ha!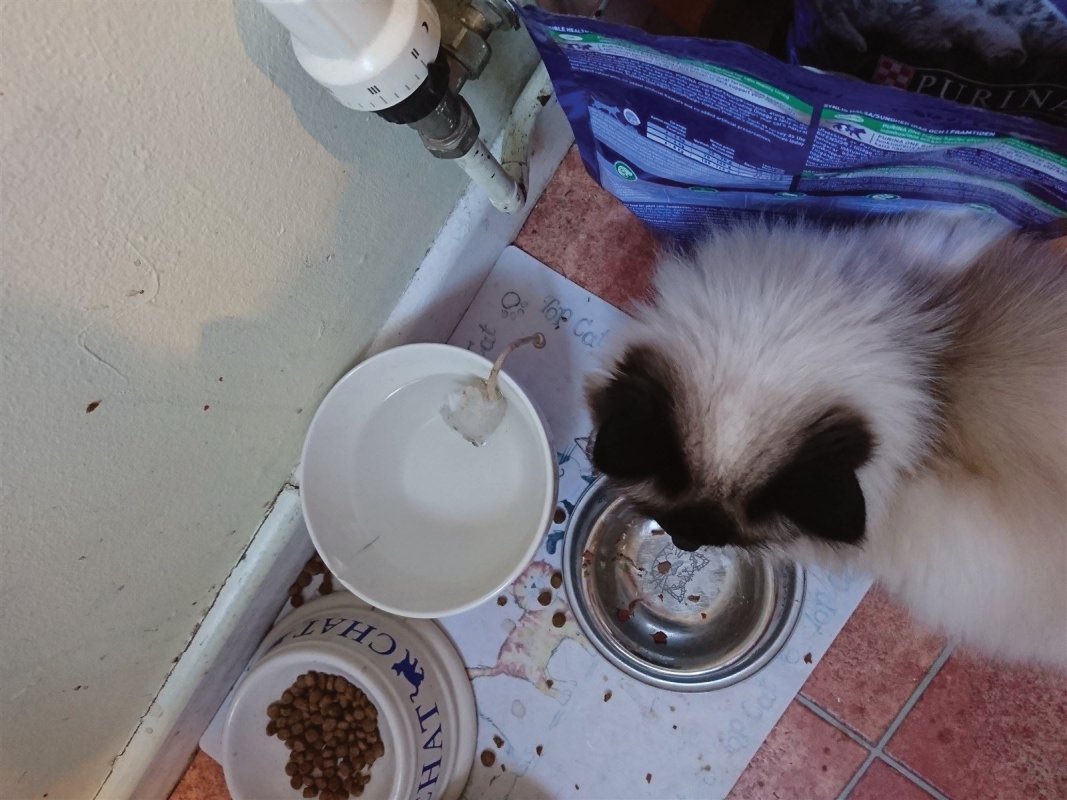 HAPPY SUMMER TIME!!
PS. I'm Posting this Real Quick before the VP
system 'loses' it ha! #thesnappyflorista xx
I know, I know – l  o  n  g  time no Blog but, really, it's been totally bonkers here for weeks!  It's the WEDDING  SEASON already, okay? And does the rest of my Life stop and Pause a while so I can get on with all my Flowery stuff? Absolutely NOT ha!
So we're doin' the all the normal, everyday Mumma stuff here… The school runs… Teen support….Organising the Husband… Forgetting to defrost Supper… Not Hoovering (as always)… Remembering the family Birthdays (thank God for Moonpig!)... Housey-Washingy stuff… NOT Ironing (haven't done that for almost two decades now ha! #result… Having some fairly major dentistry done (ouchy-ouchy on the £££'s)…  Organising a new Laptop for my son after his old one stopped working, again.. (ouchy-ouch-oucheee on the £££'s #gottahaveaTerabiteofthis #gottahaveani5somethingofthat…
And don't even get me started on the Garden…..
PLUS…
All the Busiest Florista Stuff you can imagine!!... Up early mornings to get on the Dutch websites and get those Flowers.… Fending off the growing Paperwork pile and totally NOT succeeding.… Being there for last minute Bride requests…
Being there for new and excited Brides wanting to book in.…
Going on lovely venue visits with new Brides – Yep – Love that too…
Ordering lots of lovely new stock! I do enjoy that bit but sometimes I get carried away… new ribbons, new wrap, new lace… velvet…satin… Tissue Paper! I LOVE tissue paper… vases and votives… garlands to add to the Silk Blossom Trees…
I could go on but I won't :)
Anyway, let me give you a little pictorial "Catch Up" of what's been happening…
Lilly Cat's been chillin'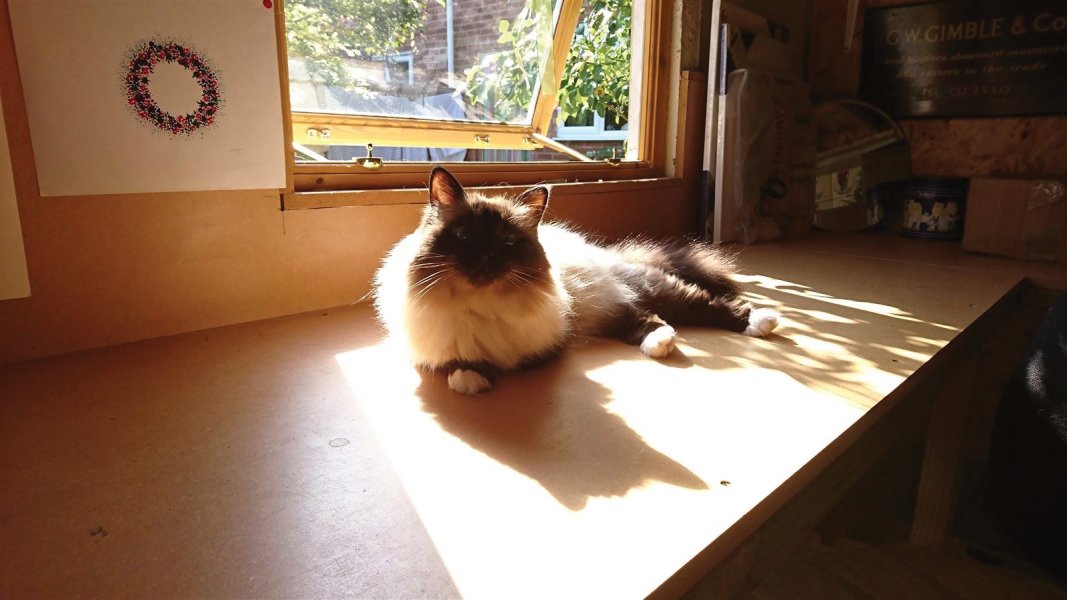 Harley Puss has been chillin' too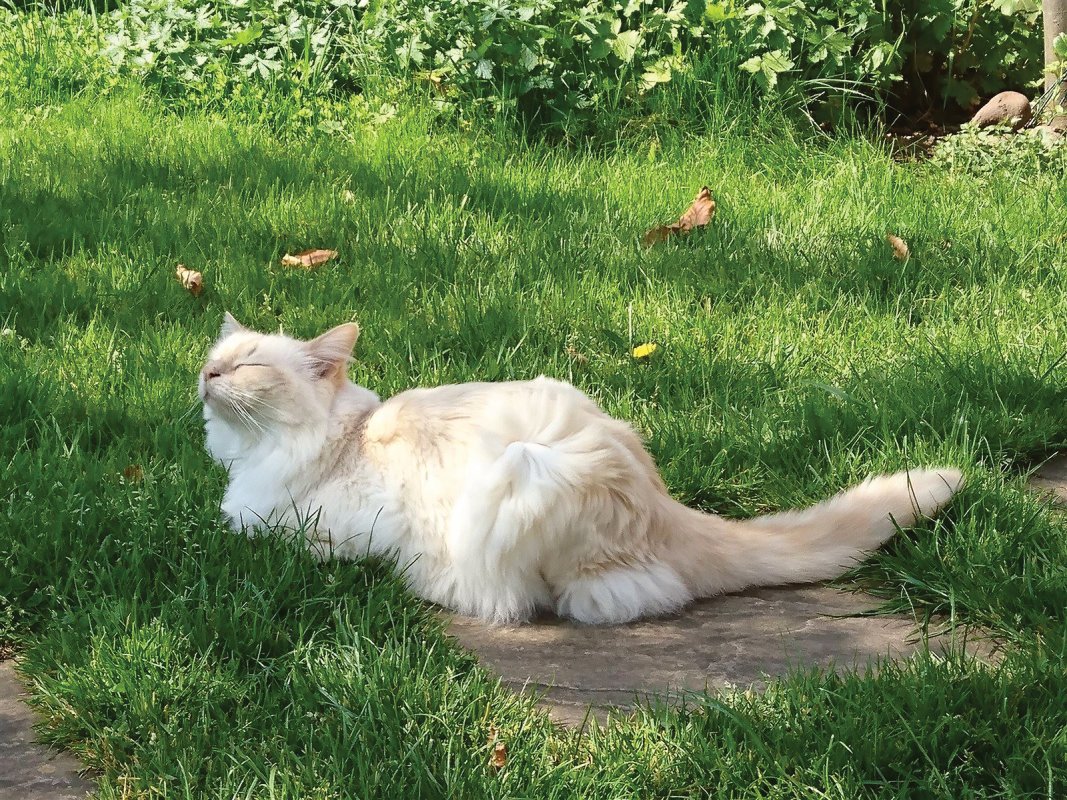 (PS. They don't yet know they've got a VET'S appt for jabs coming up… )
I've been doing a bit of this… #homecooking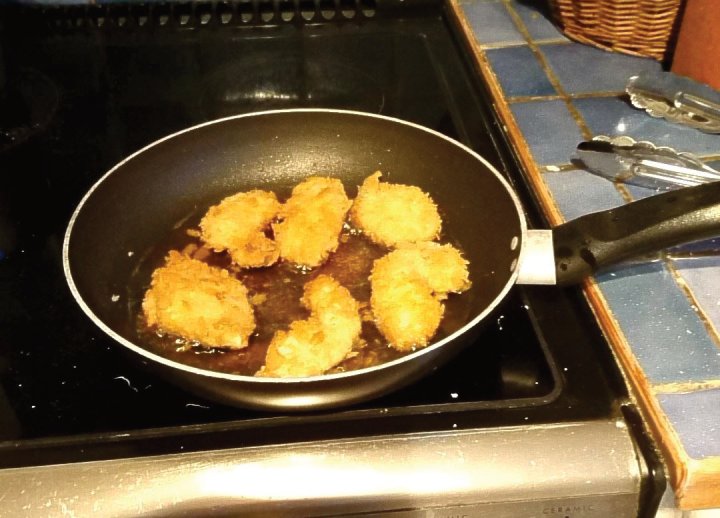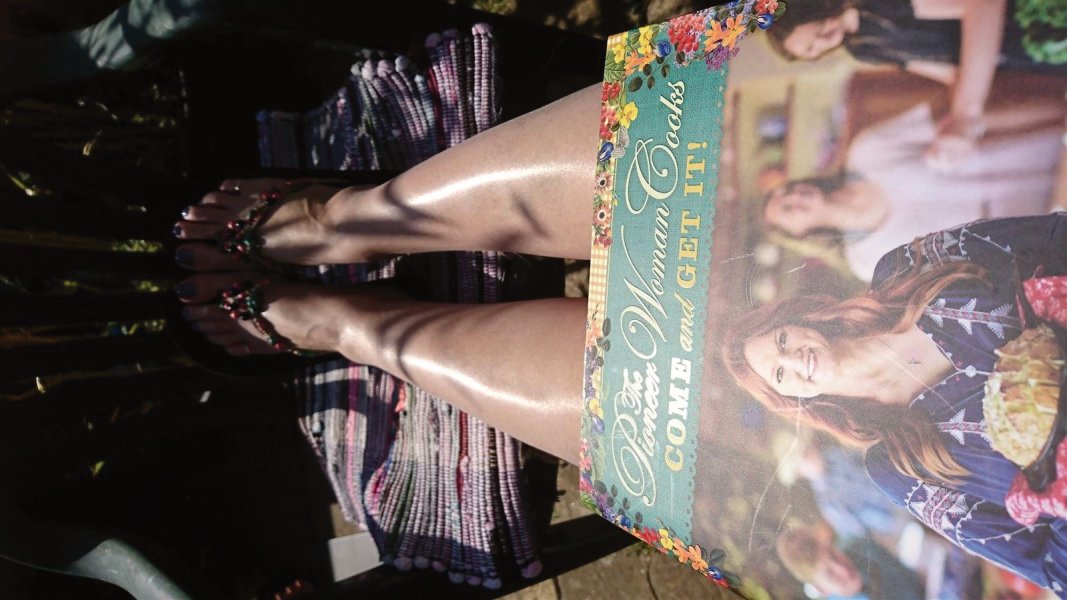 And a bit of that… #afternoontea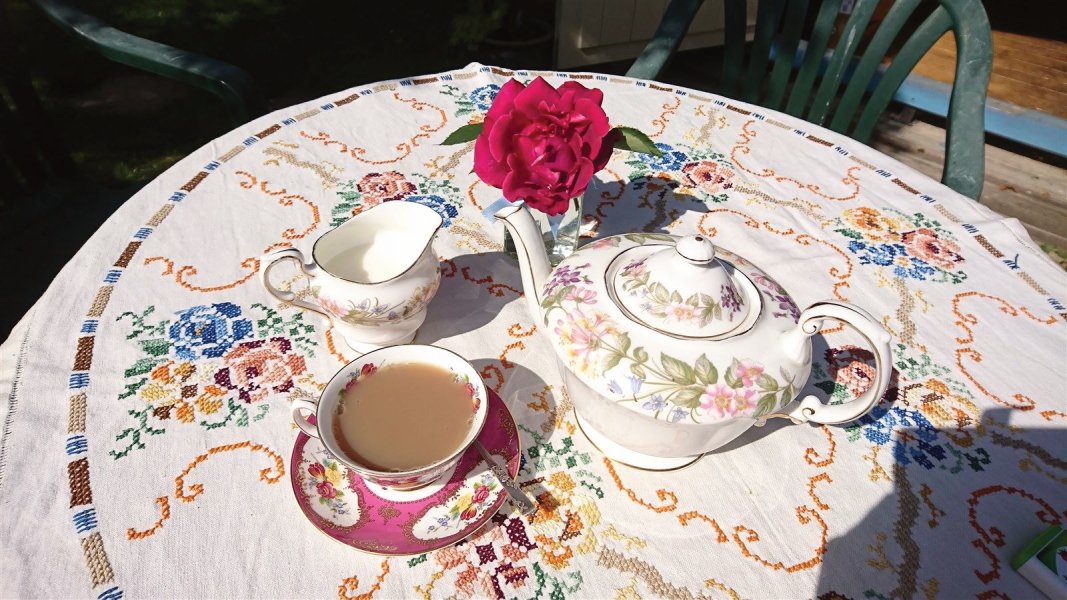 And a lot of this… #thebusyflorista
The Garden's been looking lovely… Well, okay, I have to say early June was FAB but it's been a tad overblown, overgrown and somewhat Blowsy since then ha!
But all my Sage cuttings have survived and we've had Strawberries and I've grown Chives!
 Okay - neither of these want to go round the right way...

Oh and I must tell you – I knew I'd been doing too much floristry prep when I caught myself cutting Broccoli stems one evening at a 45 degree angle ha ha!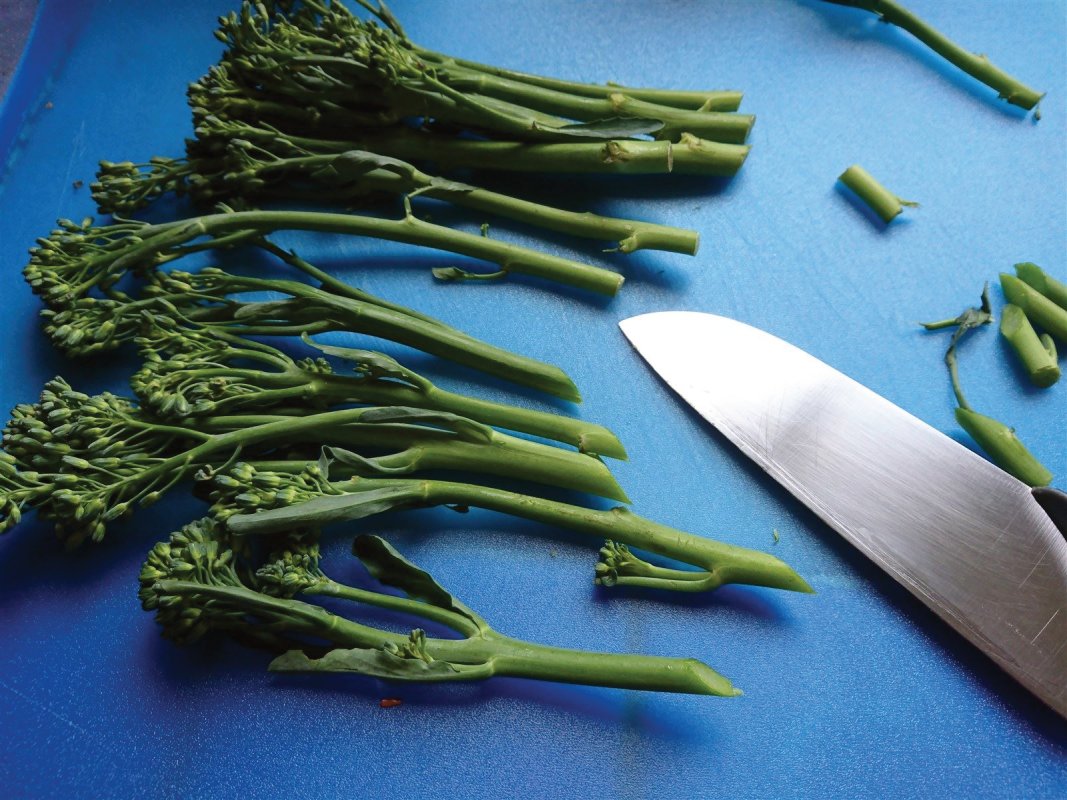 Oh now, I've got to show you this – This is Harls on a hot day…  under the duvet.. Nomad style. What is he like… #gottalovehim
Yep - this pic being difficult too.....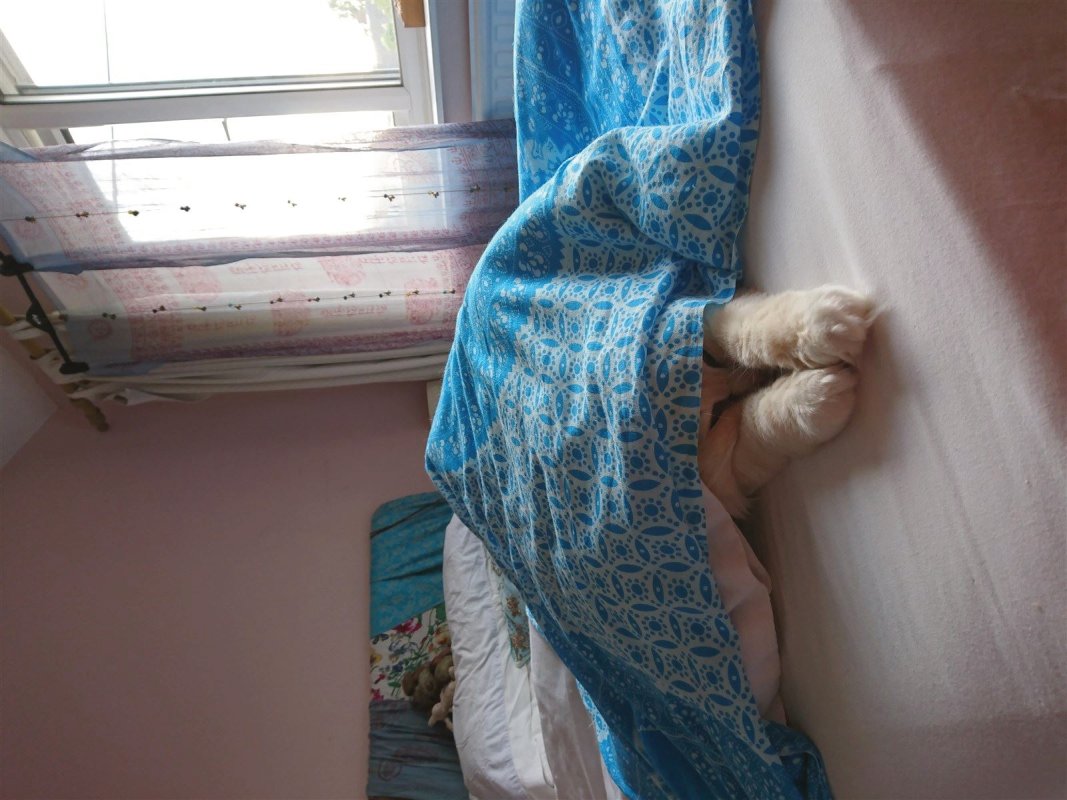 Ps. I've noticed a distinct increase in my use of hash tags since I've been watching Love Island on ITV hub whenever I stop for a bite to eat ..
I know, bear with me on this, I'll be fine again in a few months' time…
But don't tell me ANYTHING okay you guys -  I'm still about 5 days behind everyone else ha!
So, here we go into another full on wedding prep day tomorrow – I've had some of the most Gorgeous weddings to do this year, I mean absolutely fabulous couples and wonderful briefs. Just lovin' it. Love them all – having a super season! Watch out for the Insta posts okay?
And if you're getting married in 2019 or 2020 in Suffolk, Essex, Cambs or Norfolk and would like a Coffee-Biscuit-Consult with me here at the Studios then give me a shout – Love to see you! x
Xx Happy Summer Everyone! Xx
Sounds like a Book I should write someday…
Hi Everyone!! Long time no Blog but, but, it IS the wedding season y'know ha! Bear with me on this okay…
So – did we all watch the Royal Wedding yesterday? How gorgeous was that and sooo lucky with the weather. I thought the flowers created by Philippa Craddock were totally stunning, the scale of them took my breath away. Just Gorgeous. I kept going right up to the tv so I could see what flowers she'd used - if anyone else had been here I'd have been getting right in their way ha!
Anyways, enough of all that, let me tell you what's been happening here…
Our Lilly Cat is doing GREAT but she does, at every given opportunity, like to point out that she did  have to have blood tests done and she did  have to have her fur shaved… See the little footy foot pointedly pointing forward? Just so's you know and don't forget says Lilly….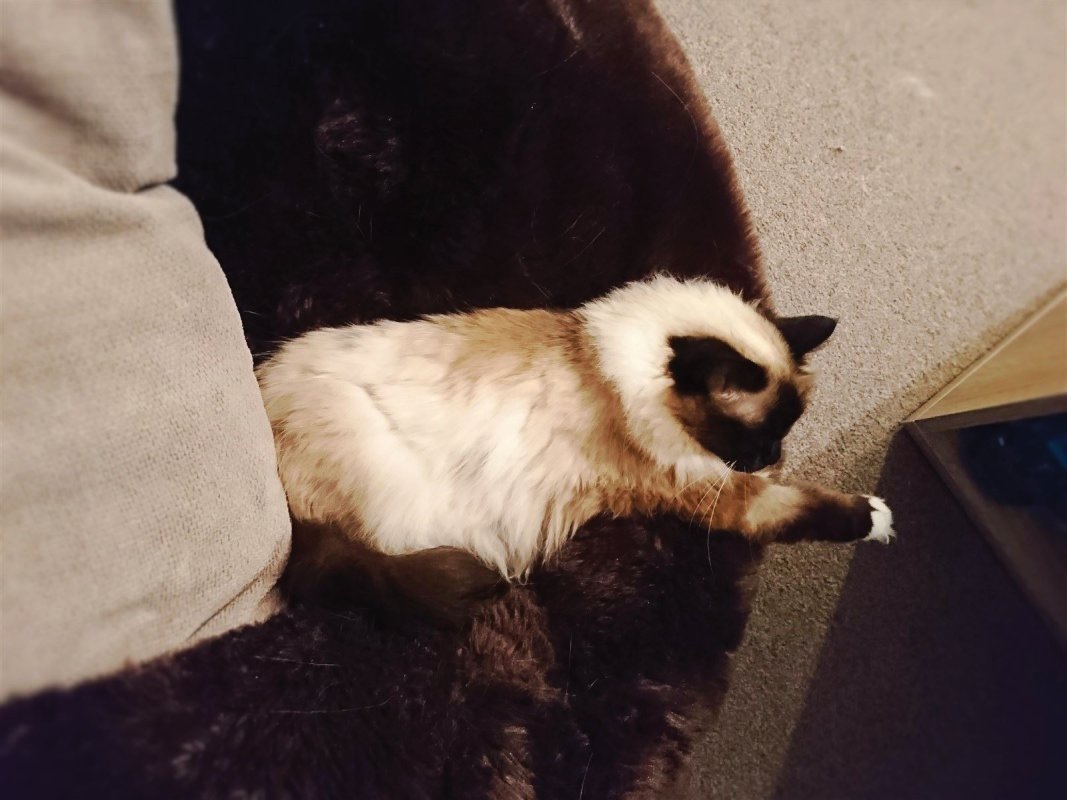 She's found her favourite overnight spot is on our James's Deluxe Chocolate Fur Beanbag funnily enough…
During the day both Harls and Lils head rapidly for the first unmade bed they can find ( which isn't difficult in my house this time of year ha! ) and make themselves comfy.. especially Harley…nothing like a cool wall, in hot weather, is there eh for coolin' yer bits and bobs….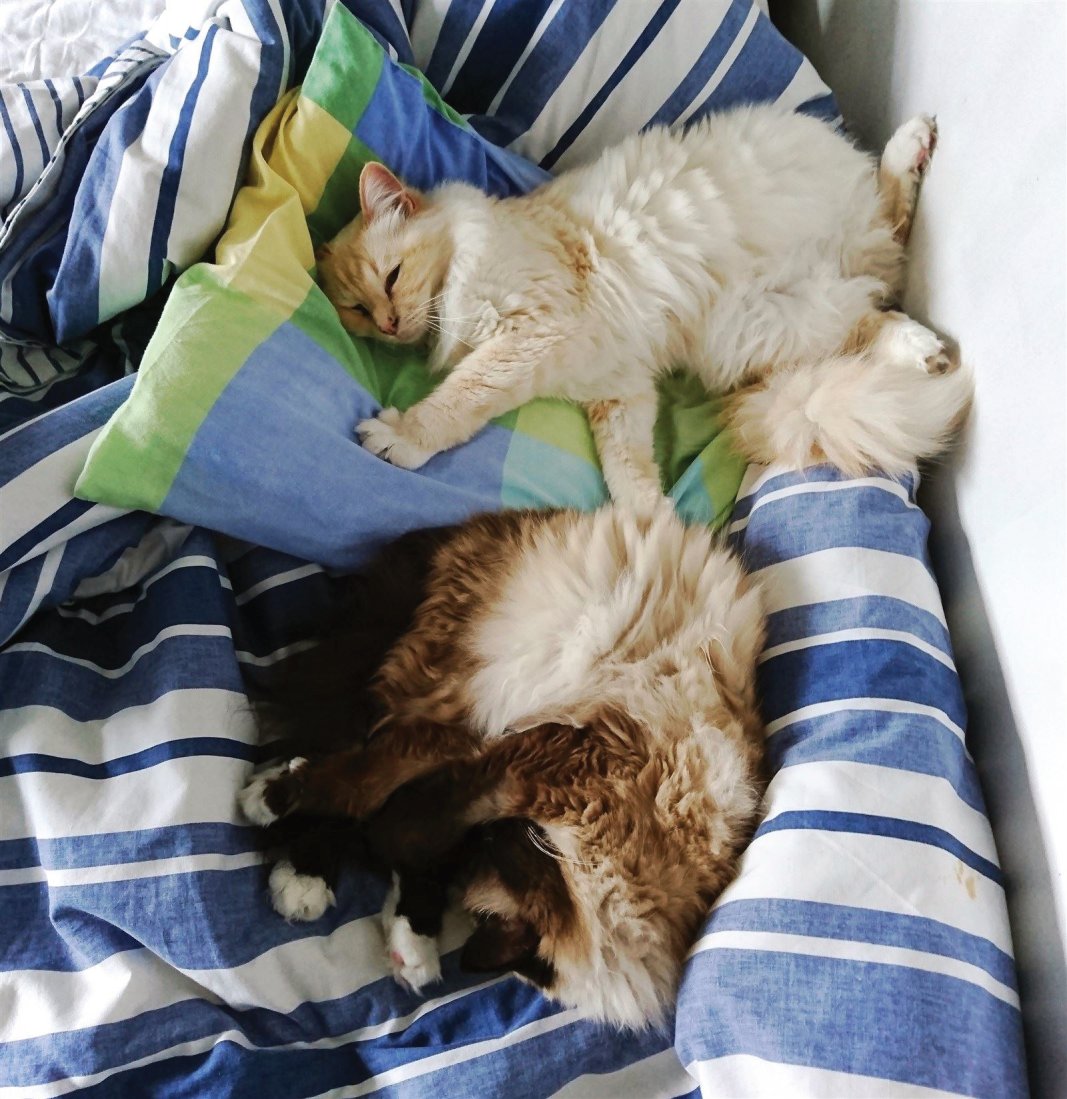 And when the cushion gets a bit too warm, just fluff up a spare Birman and use that instead…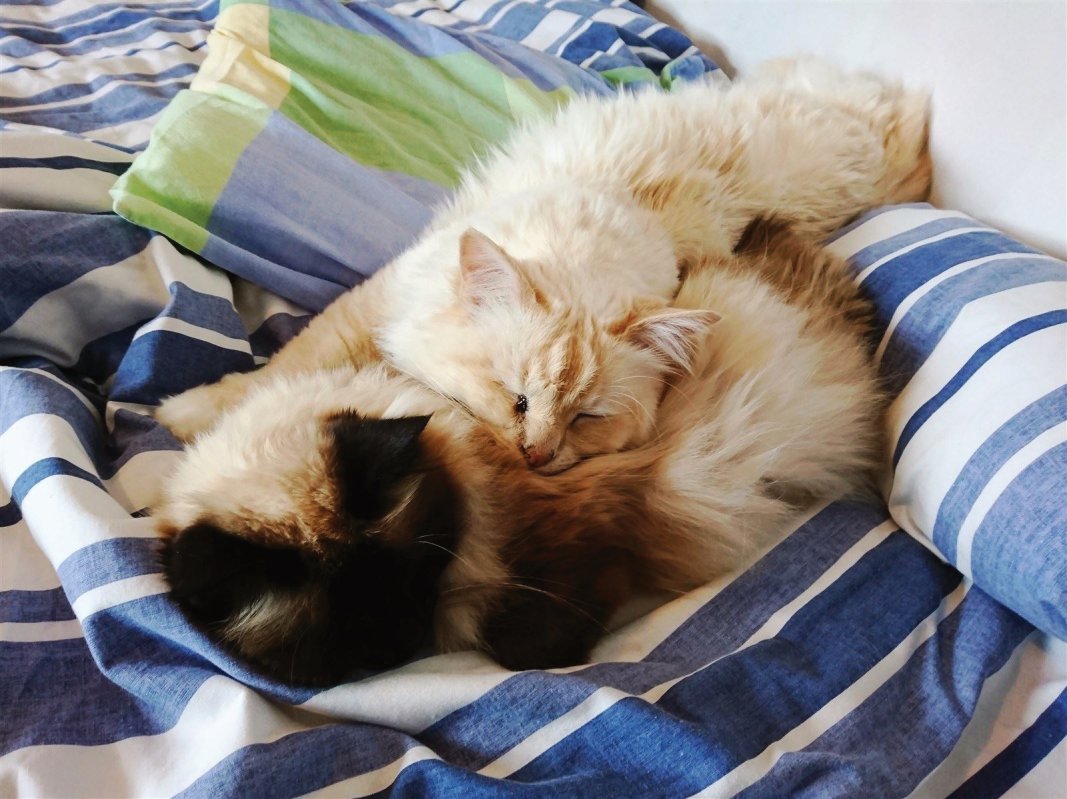 On the Florista side of things I've been ordering in lots of new items – everything from Beaded Lace Trims from the States ( ooh Yum! ) and Natural Plant Dyed Silk Ribbons artisan made in the UK (Oh LUSH ! ) through to extra vases, tealights and wood slices. There's been a lot of labels to soak off but at least the sun's been shining and I have a lovely view from the window :)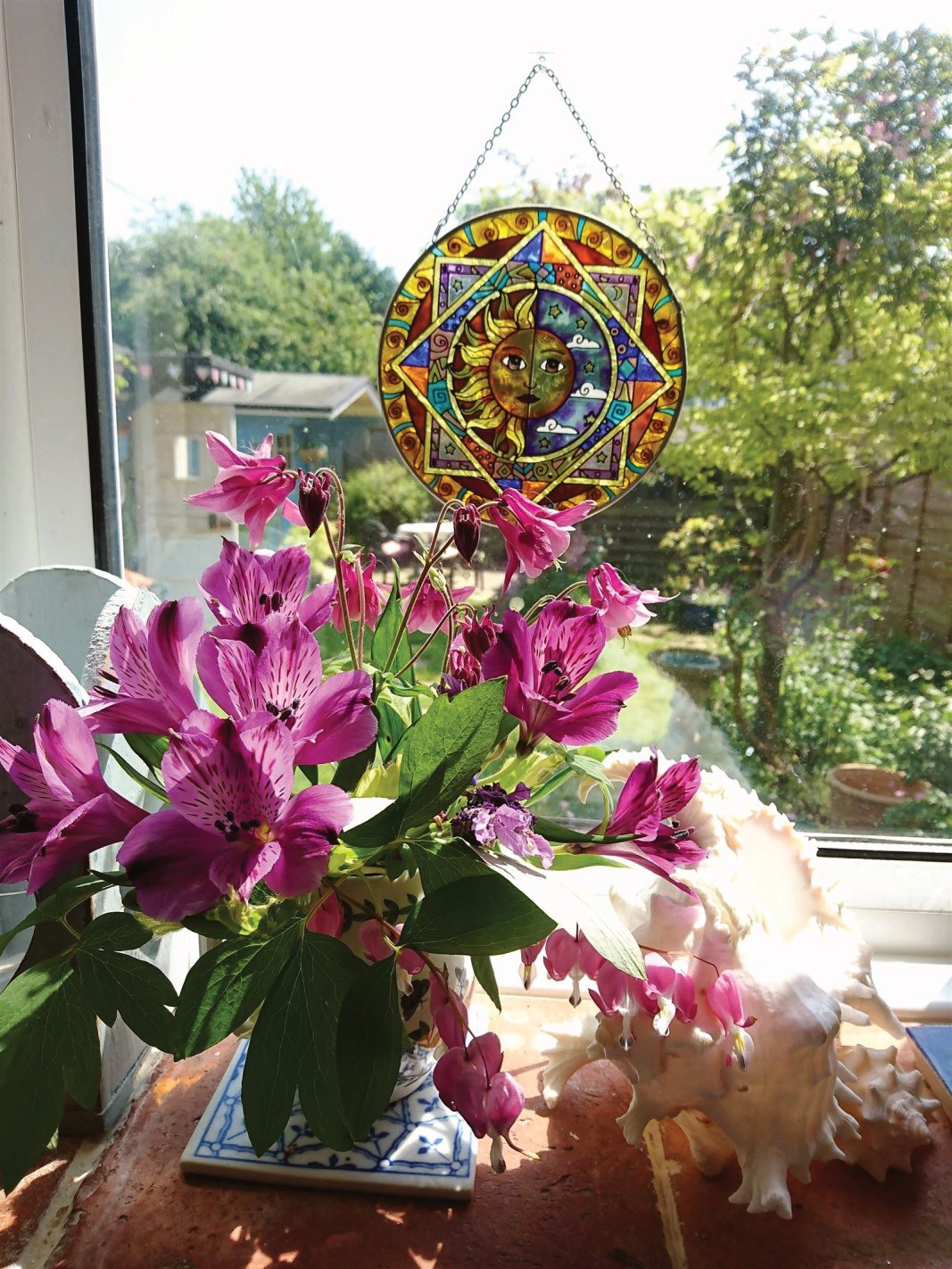 I sat outside after one long vase-label-washing-off session with a cup of tea and a few Oreo's, as you do, and thought to myself that I could do with a few more plants for the garden…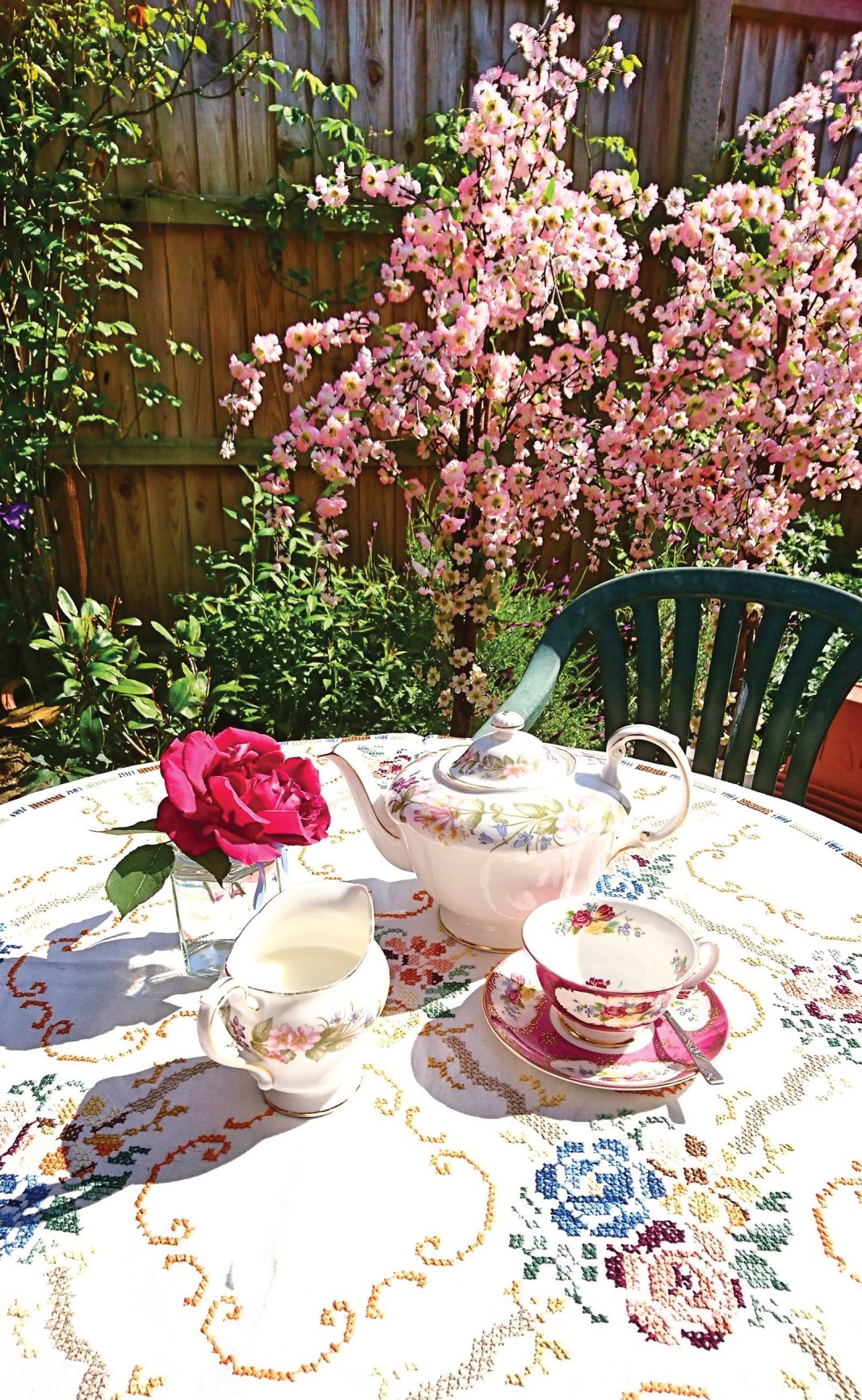 So I popped to the local Garden Centre where I had a bit more thinking to do over a coffee, in the sunshine, about what I was going to buy...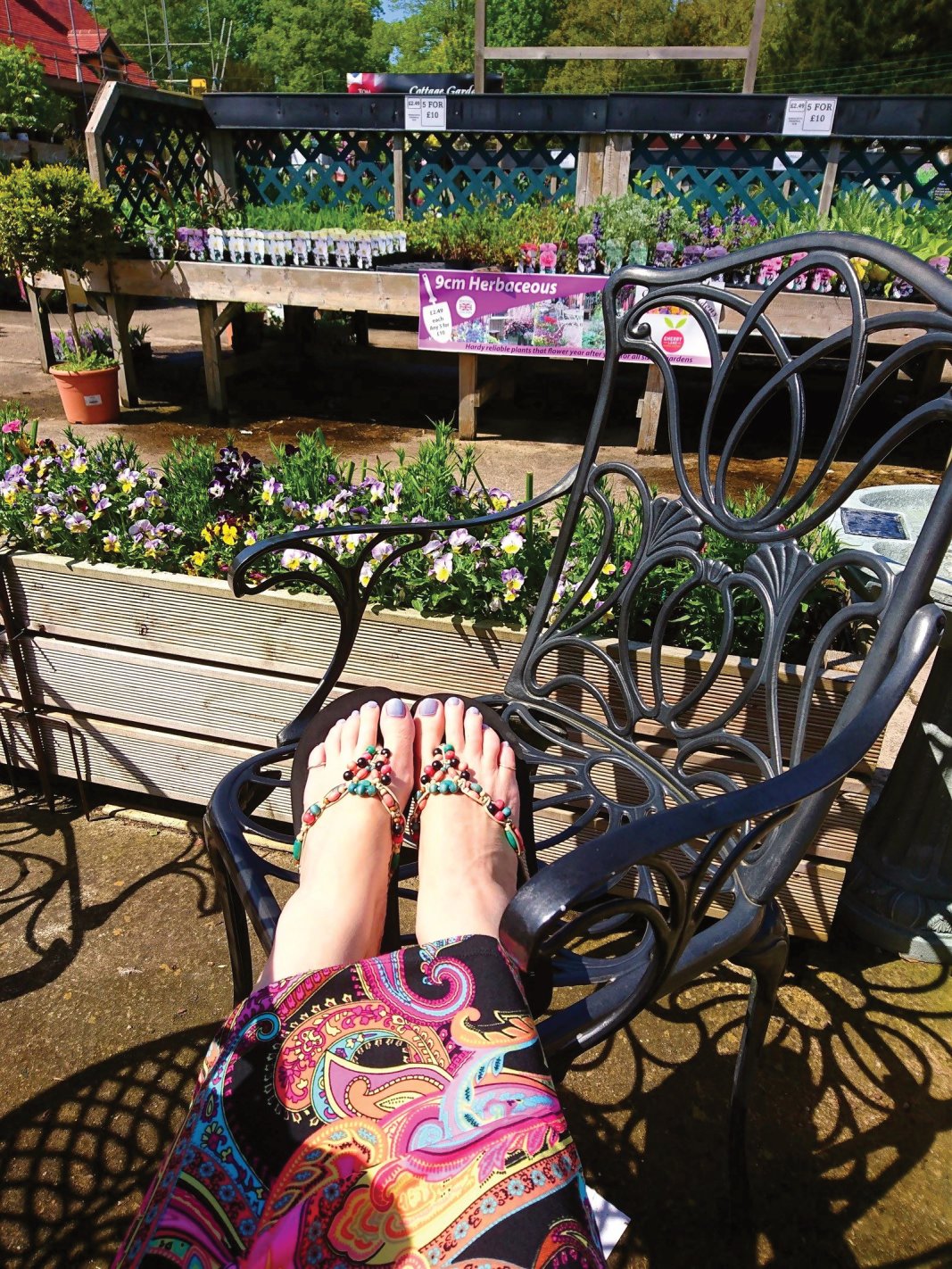 And how gorgeous the flowers were. And how I want to use more rooted, living flowers in my floral works this year. It's something I've always done but I'm really thinking I could up the balance a bit more between cut stem flowers and living plants. I did a wedding a few years ago where we used rooted Clematis plants in full flower in a balcony display. They looked fabulous and the couple got to take them home afterwards and plant them in the garden. Love it.
Now, back to my garden…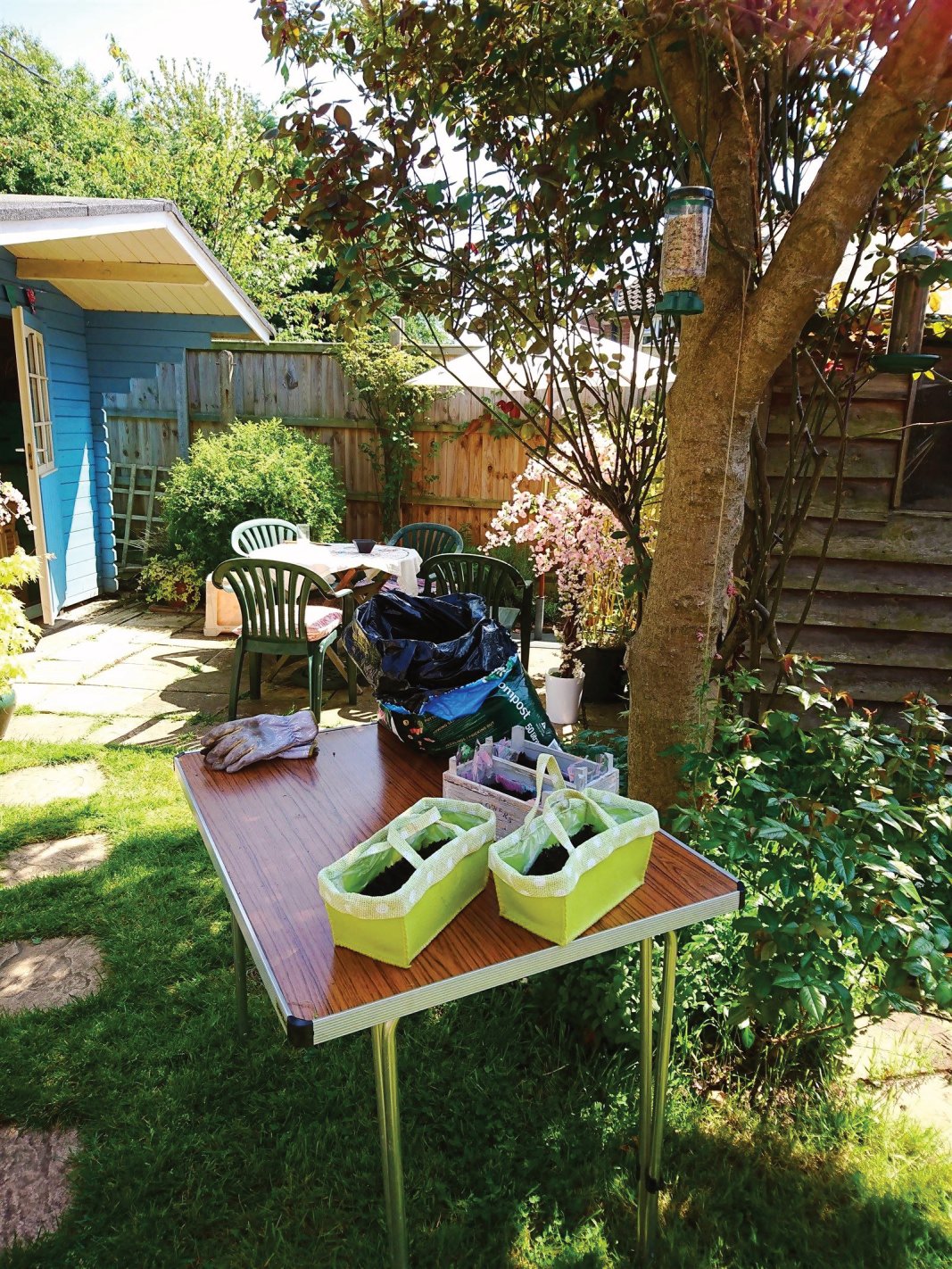 A good afternoon was had potting up and planting out and we thought we'd get out the parasols for the first time since last year as it was so hot… The Husb bravely delved into the depths of the small shed ( I won't go there, too many SPIDERS urgh!! Yuk!!! ) and got them out… Opened them up… And aah.. oh… um.. ( by this stage we are Grumpy Husb )… We've had a bad attack of the Mousies! Oh lol, haha, well never mind, I quite like that little patch of blue sky up there…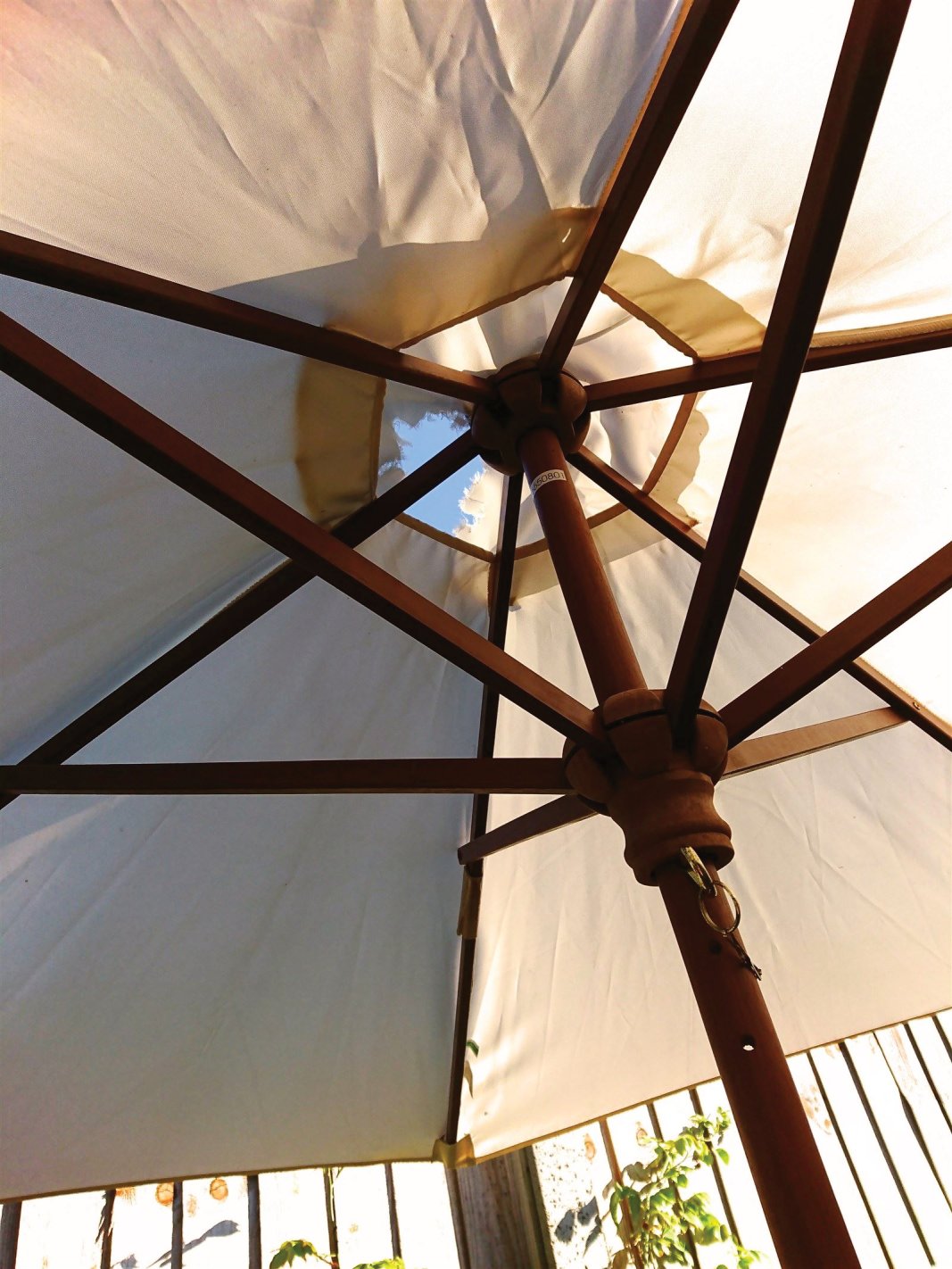 So…while all this has been going on a certain Big Blonde has found his way into Studio 2…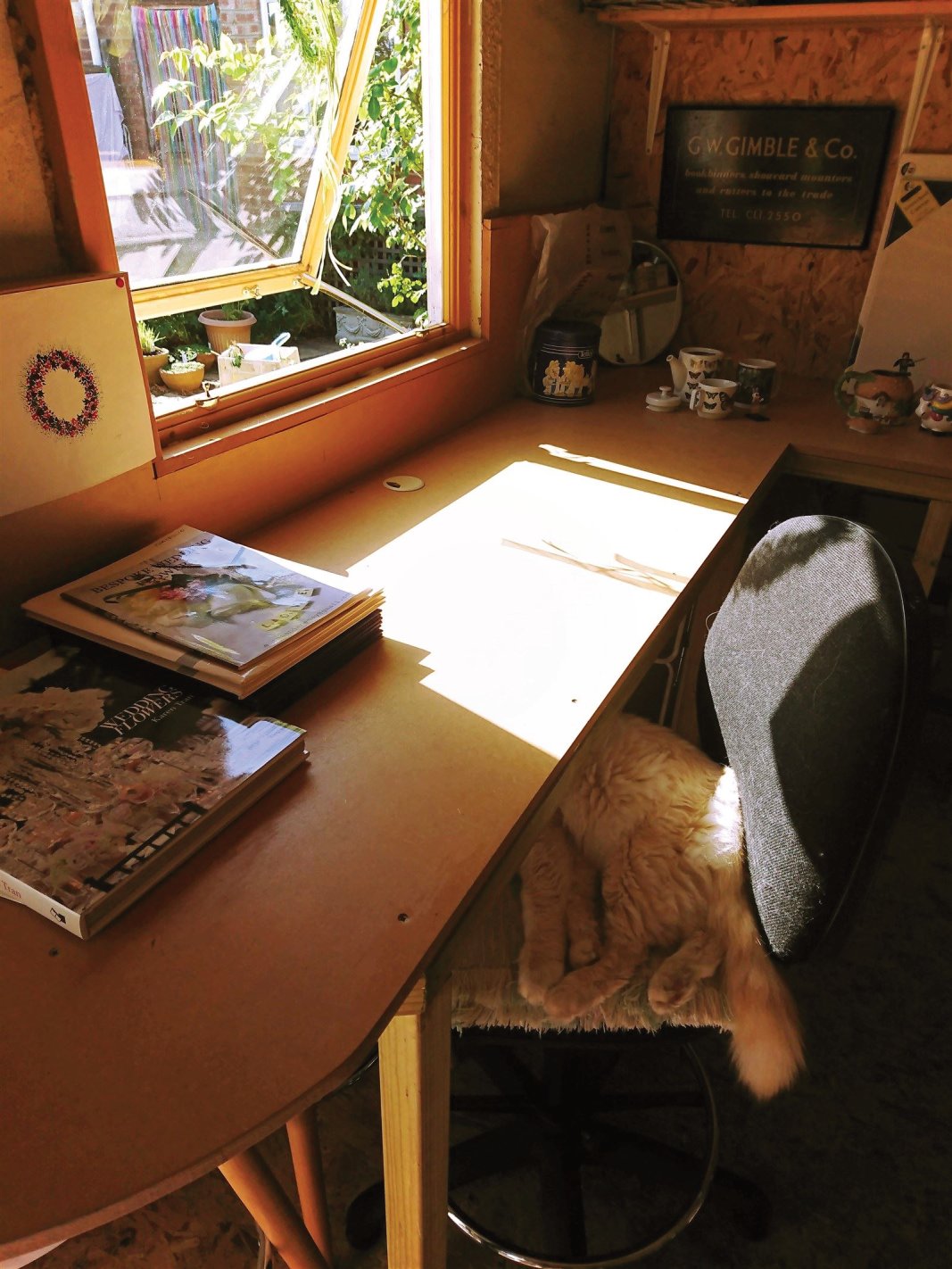 And made himself at home on my chair…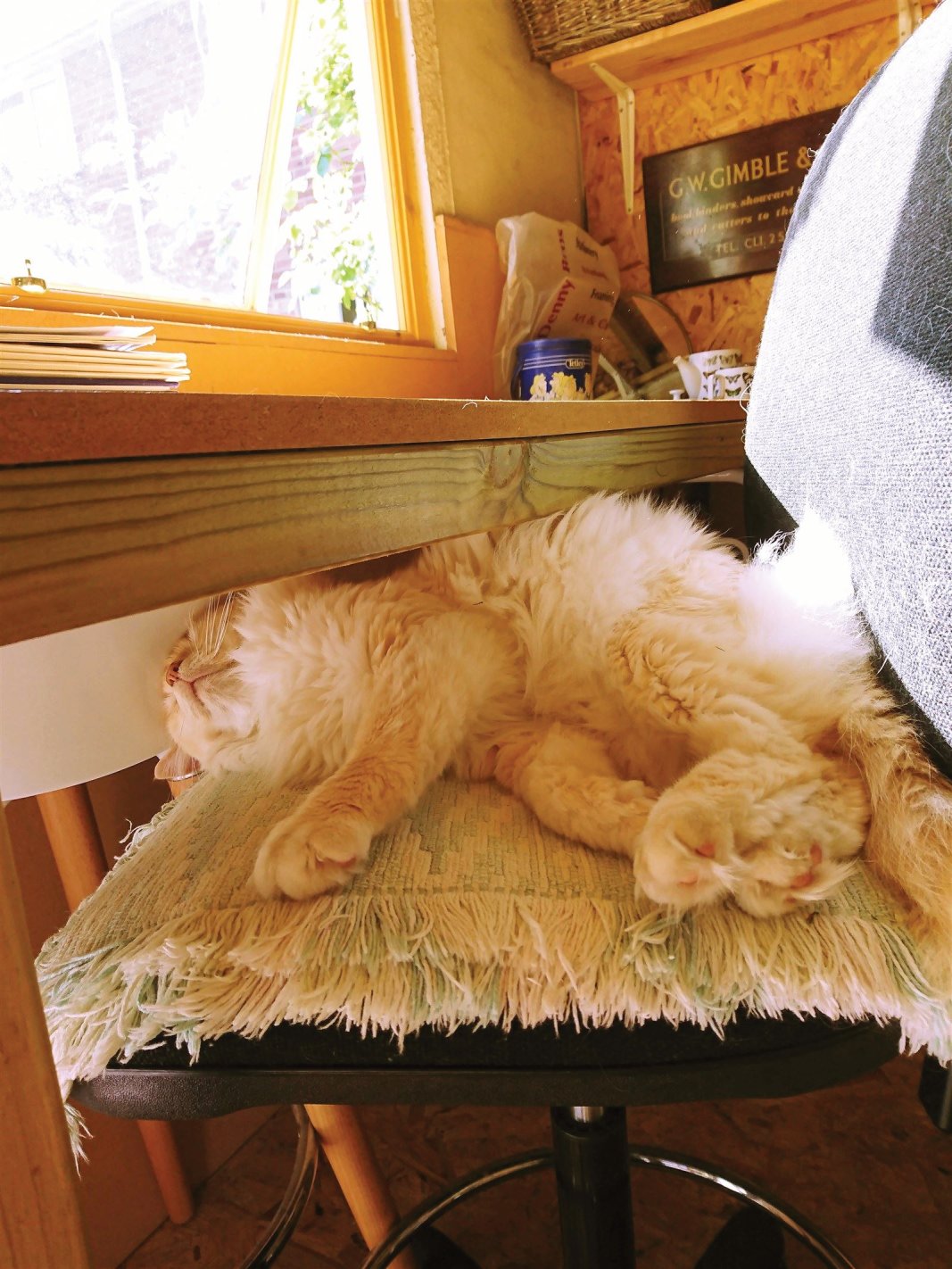 Moving himself around now and then to catch the breeze…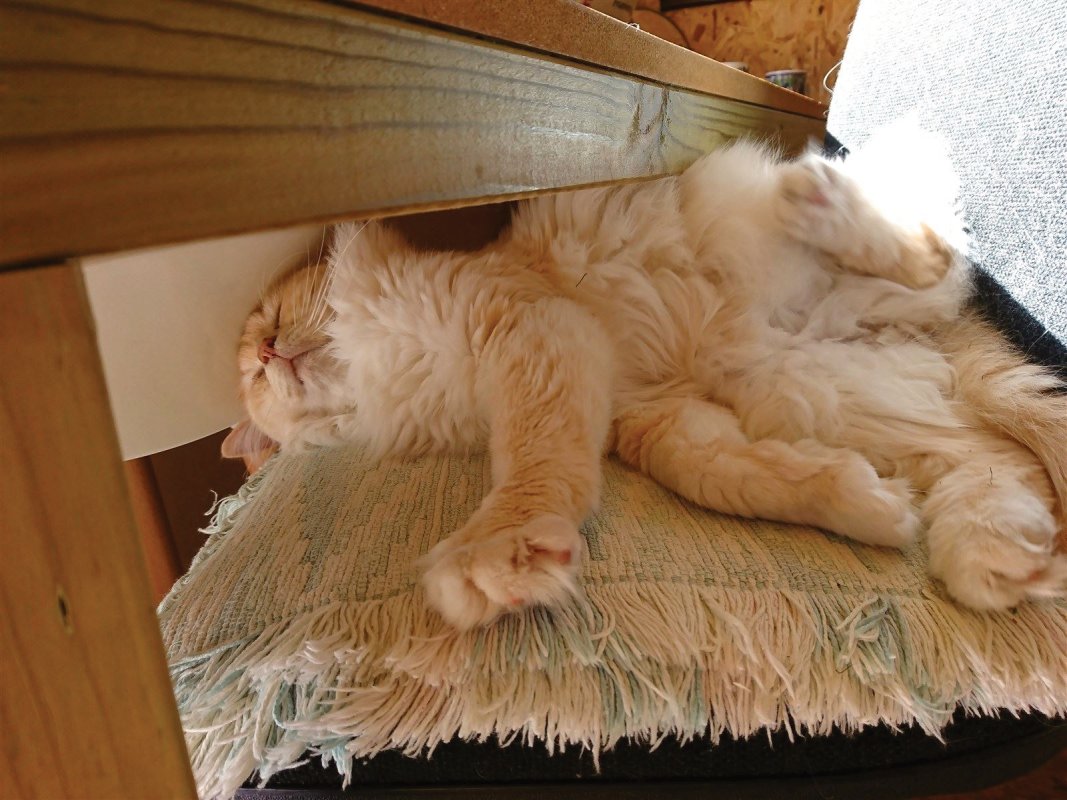 And just look at that little face…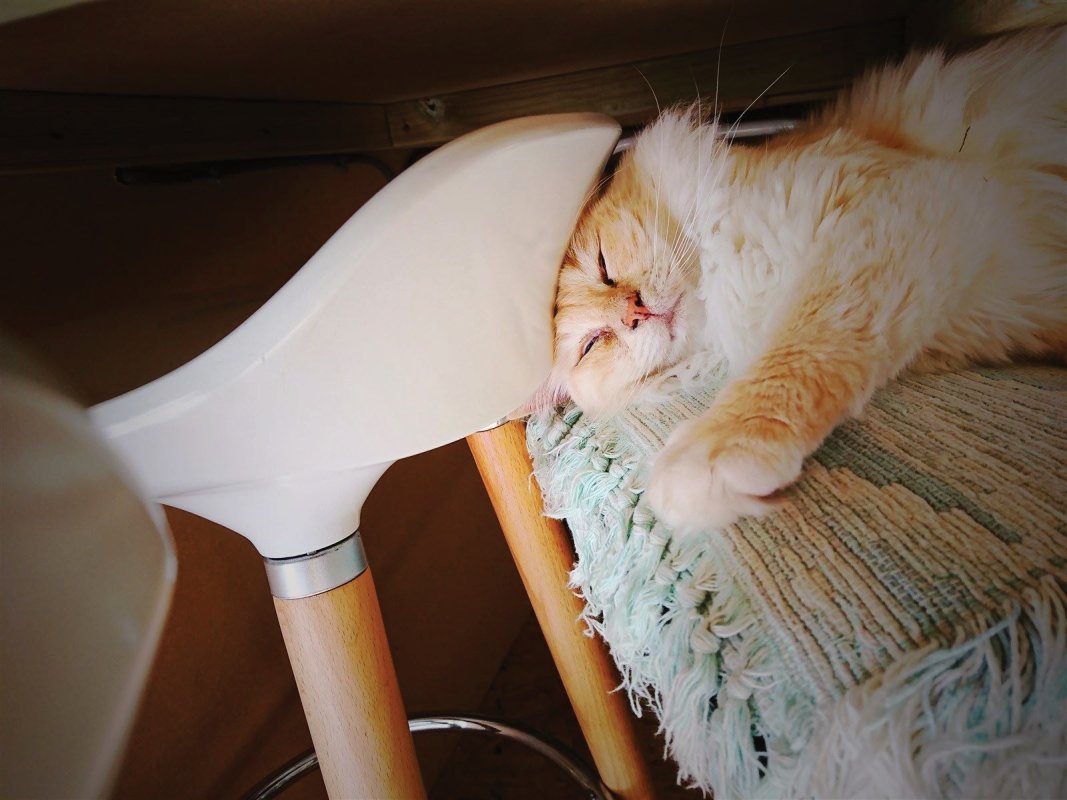 Is it just me or does he look a bit Napoleon Bonaparte-y? Ha ha! 
Happy Days :)
xx Have a  GLORIOUS SUNDAY  Everyone ! xx
So, I was thinking to myself the other day why am I not getting any comments back on my Blog?

Maybe nobody's found it….. Hmm…

Maybe nobody likes it… Oh…

Maybe…

 But Hey, maybe I just need go have a search through my website account and see if I can find them! YEAH!!  And there they were, all tucked away in the Messages SPAM box… So Hi! to you and Thank You for reading :)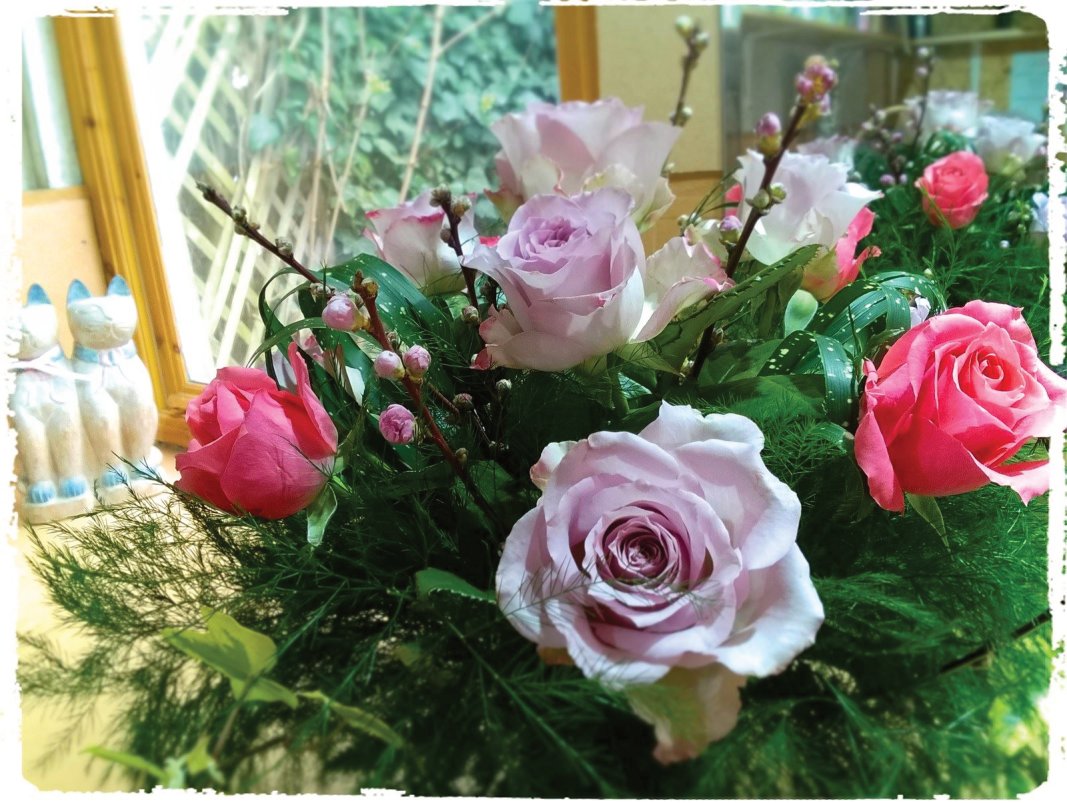 And for waiting so long for the next post – what can I say – the Wedding Season is upon us!
I'm having to get super organised here and schedule in specific things on specific days so I keep on top of everything.

Unfortunately Housekeeping stuff is not included so if anyone visits please don't look at the carpet… And especially DON'T wear anything black ha!

The carpet is supposed to be 'Walnut' but right now it has a layer of the Big Blonde Birman Cat fluff all over it (Birman-Spring-Moult-Time) so it looks more 'Latte' than anything else…

Oh Dear… Pitty whatty as my lovely xx Nan xx used to say…  

Here's the main culprit sunning himself in the garden last Sunday :)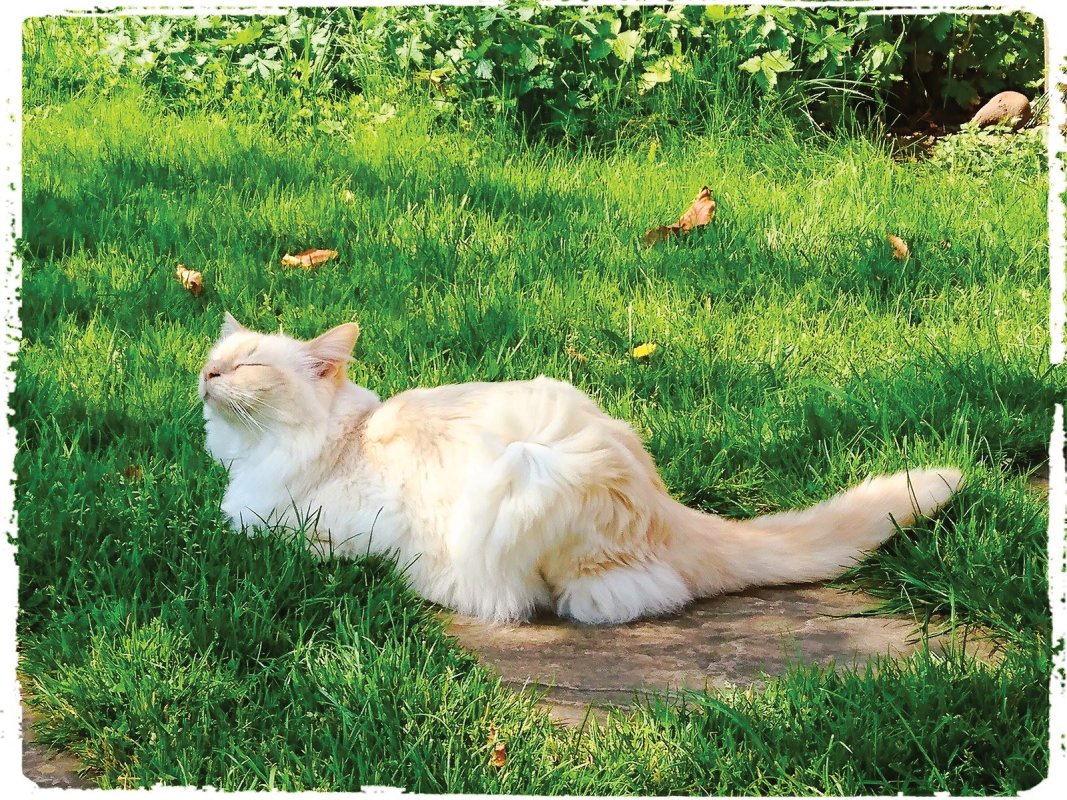 Now, with our Lilly cat on the mend, I'd like to introduce you to Mousie..

Mousie has had a quiet time of it while Lilly's been poorly but I have to say that's all over now.

He gets a bit anxious most days, lookin' here…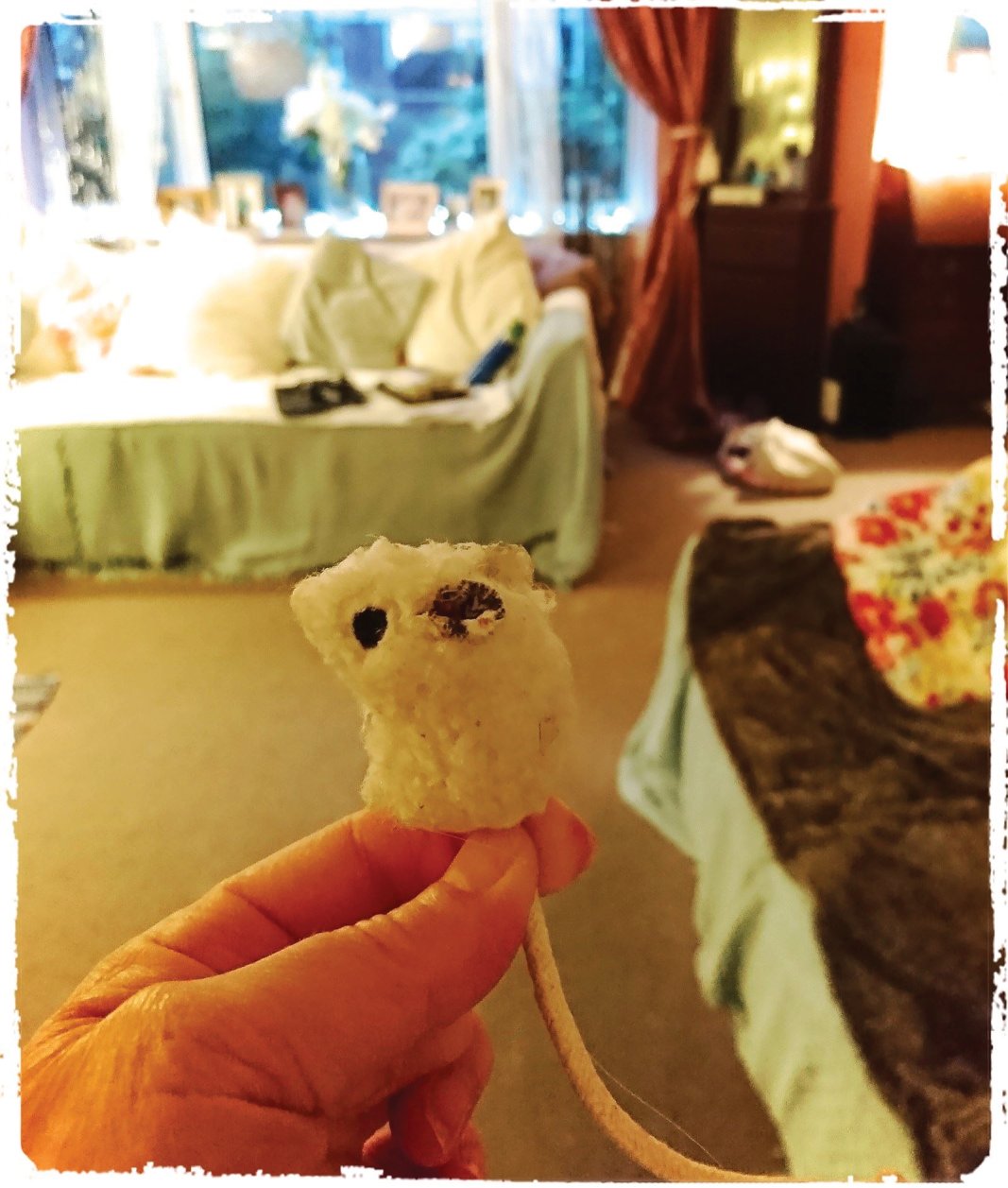 Lookin' there…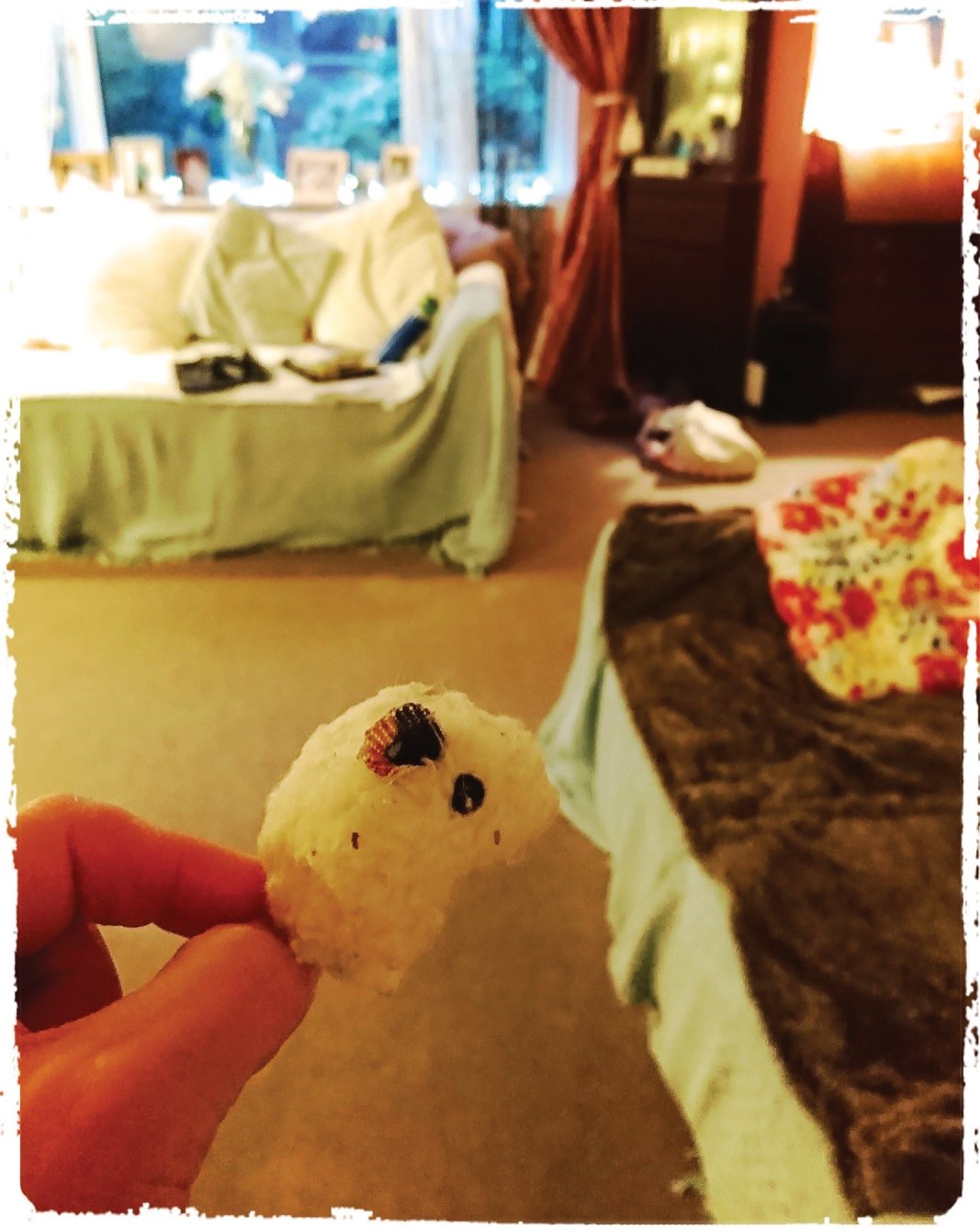 Lookin' everywhere…
Just waiting for that next POUNCE that can see him In the Water…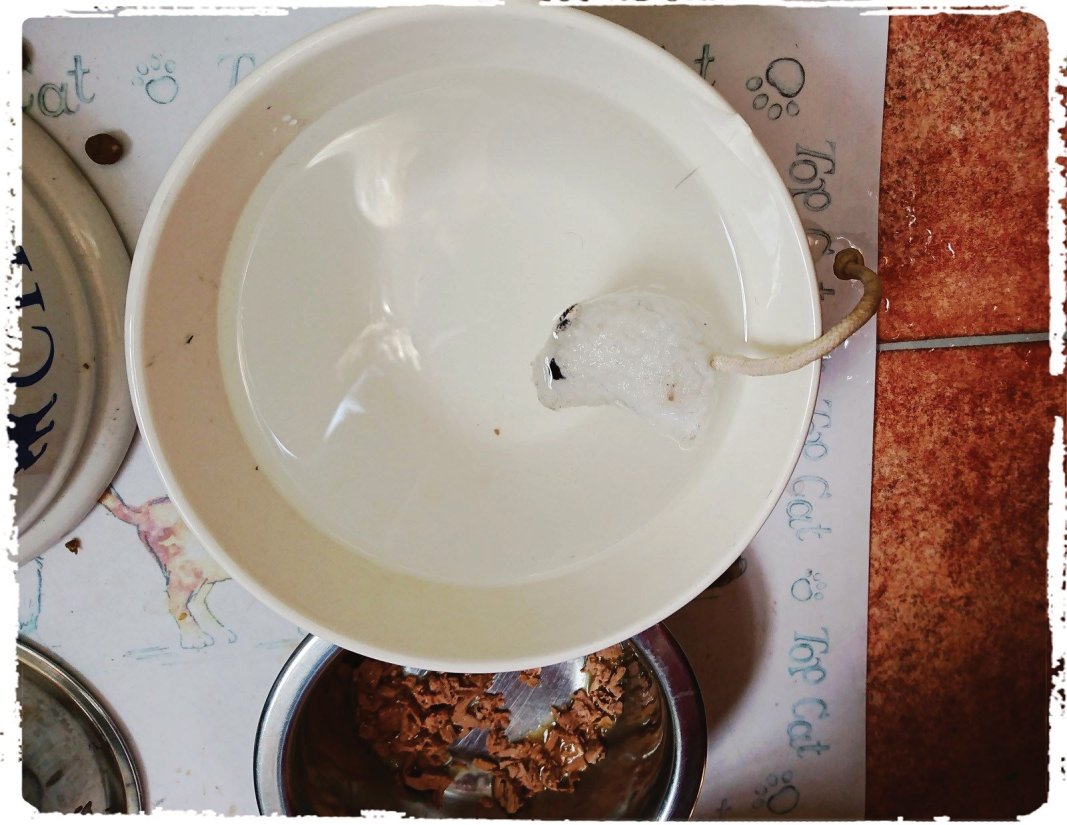 And Out the Water…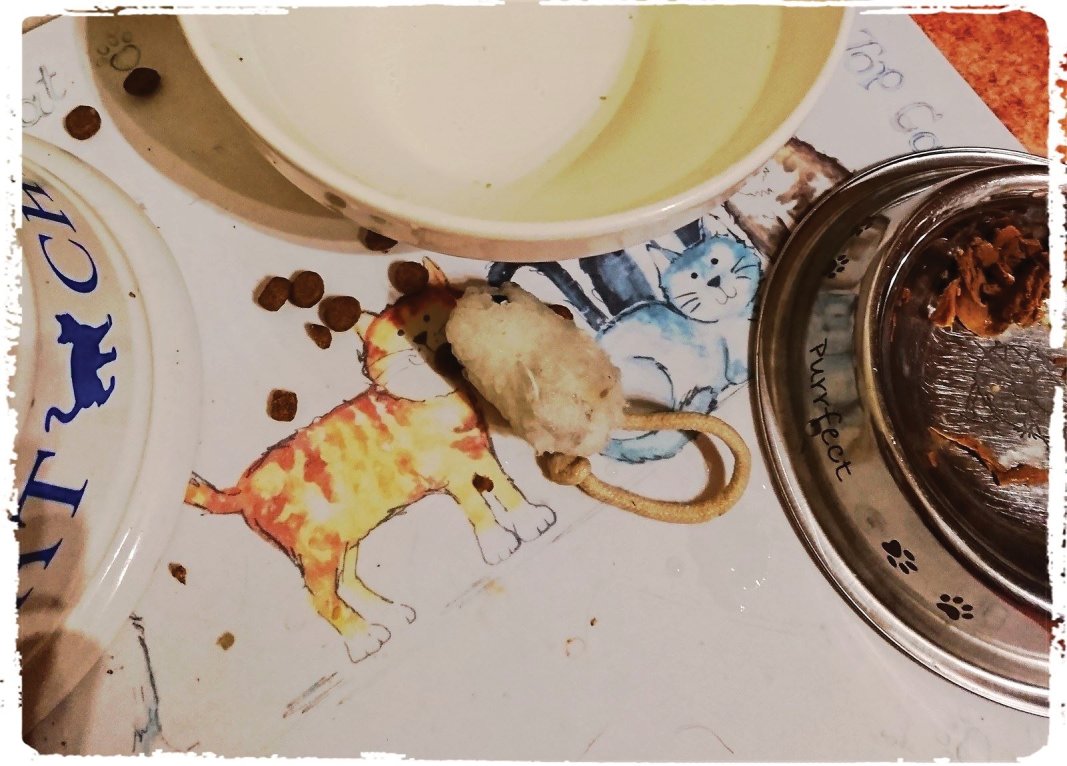 Until the poor thing is just totally shattered…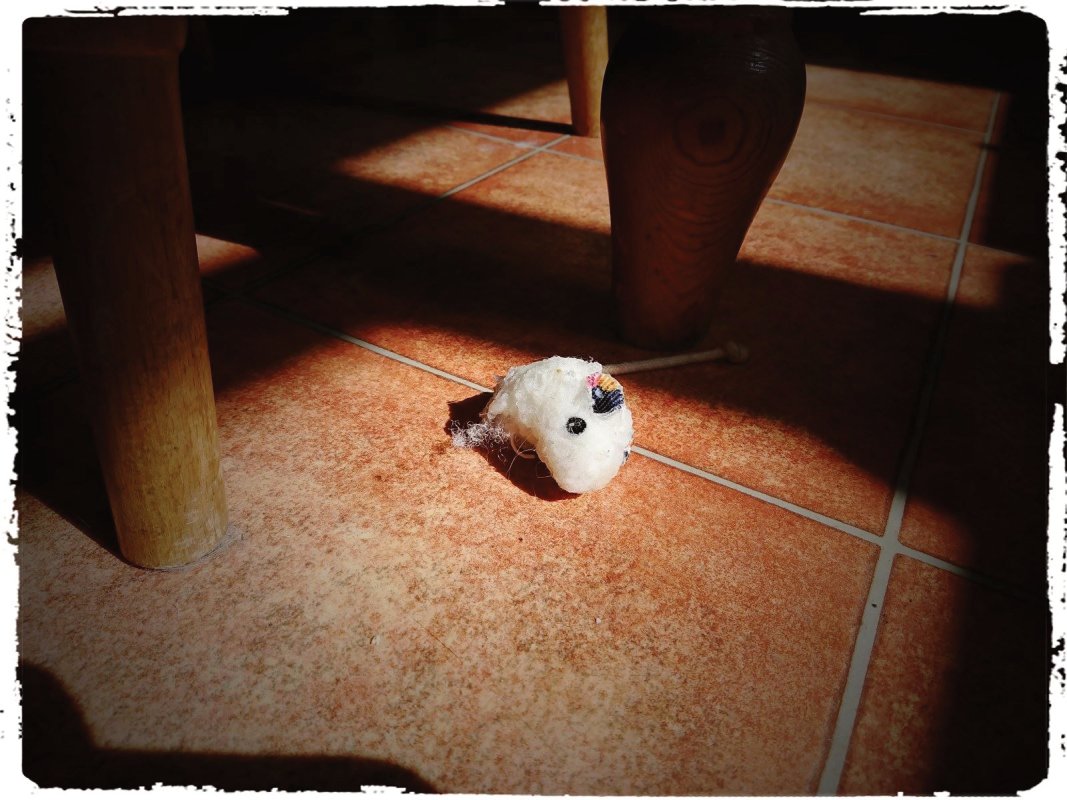 My little Ninja Cat is once more Lilly-The-Inscrutable-Oriental-Woman-Cat not to be messed in any way.

This is the Look she uses to deter weaker minded Humans…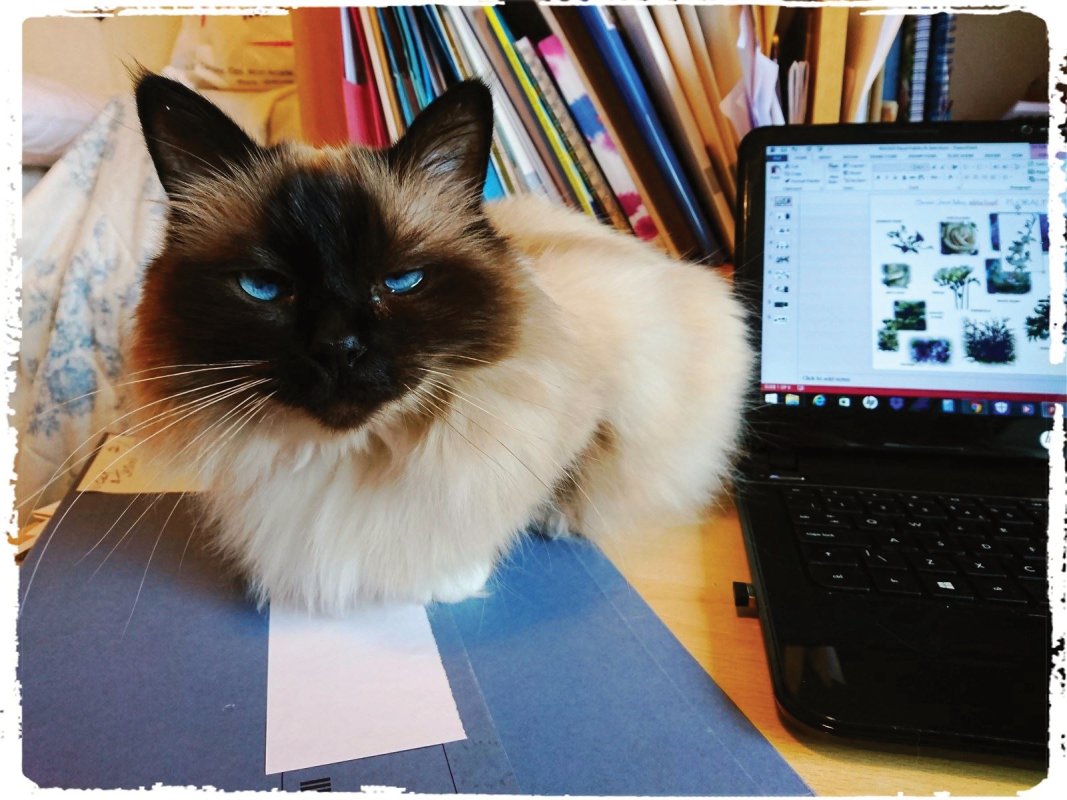 To finish off on a Florista note, I had the most delicate of flowers to work with for this week's wedding. These were home grown Muscari (Grape Hyacinths) provided by the bride and Dutch Lily of the Valley & Ranunculus. All soft stemmed and total Divas ha!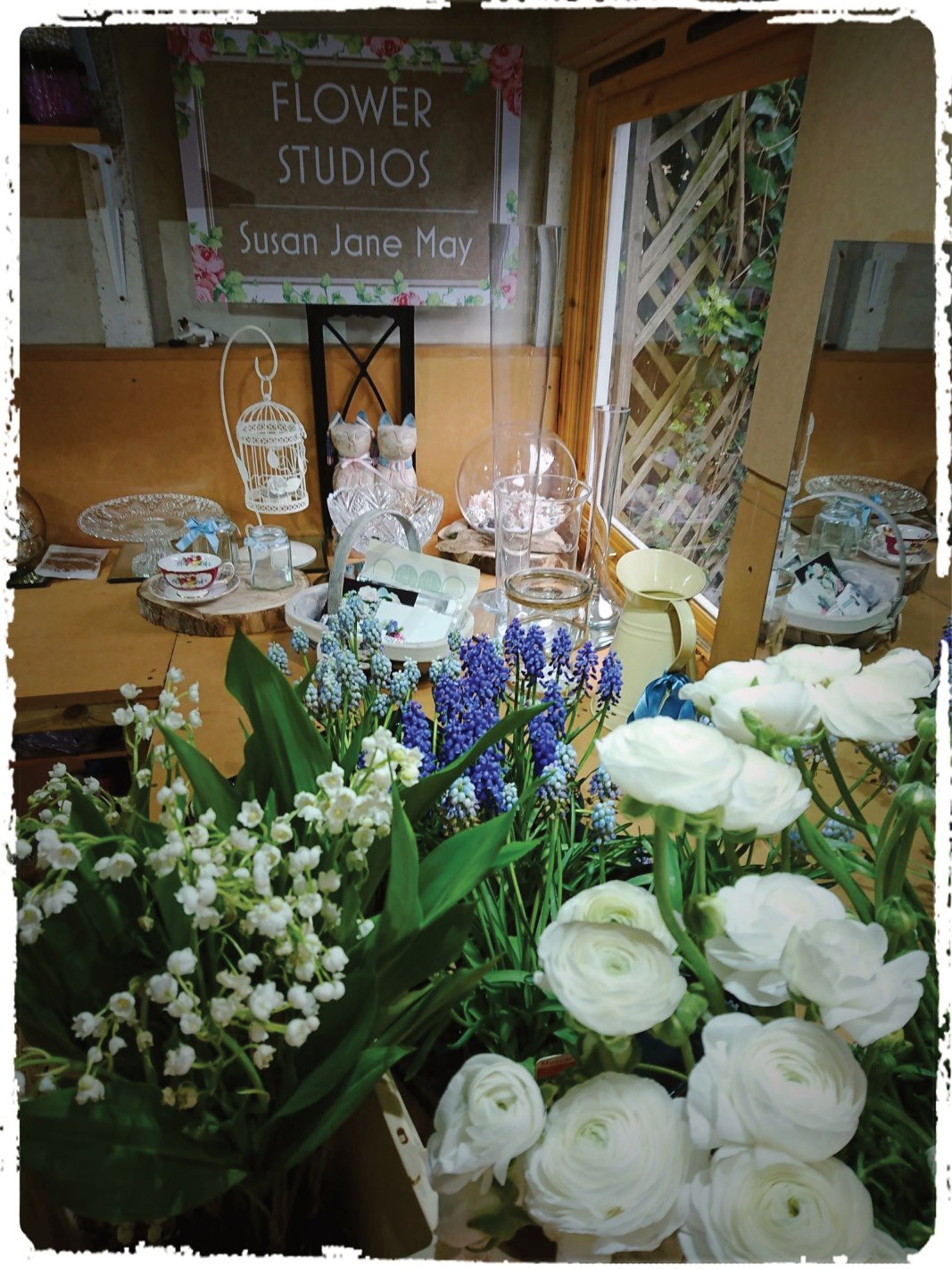 Wiring these into Buttonholes and Wrist Corsages was fun (Read: Tricky ) It was delicate work but they looked absolutely Gorgeous. I had my moments though, especially with the Muscari but…

Would I do it again?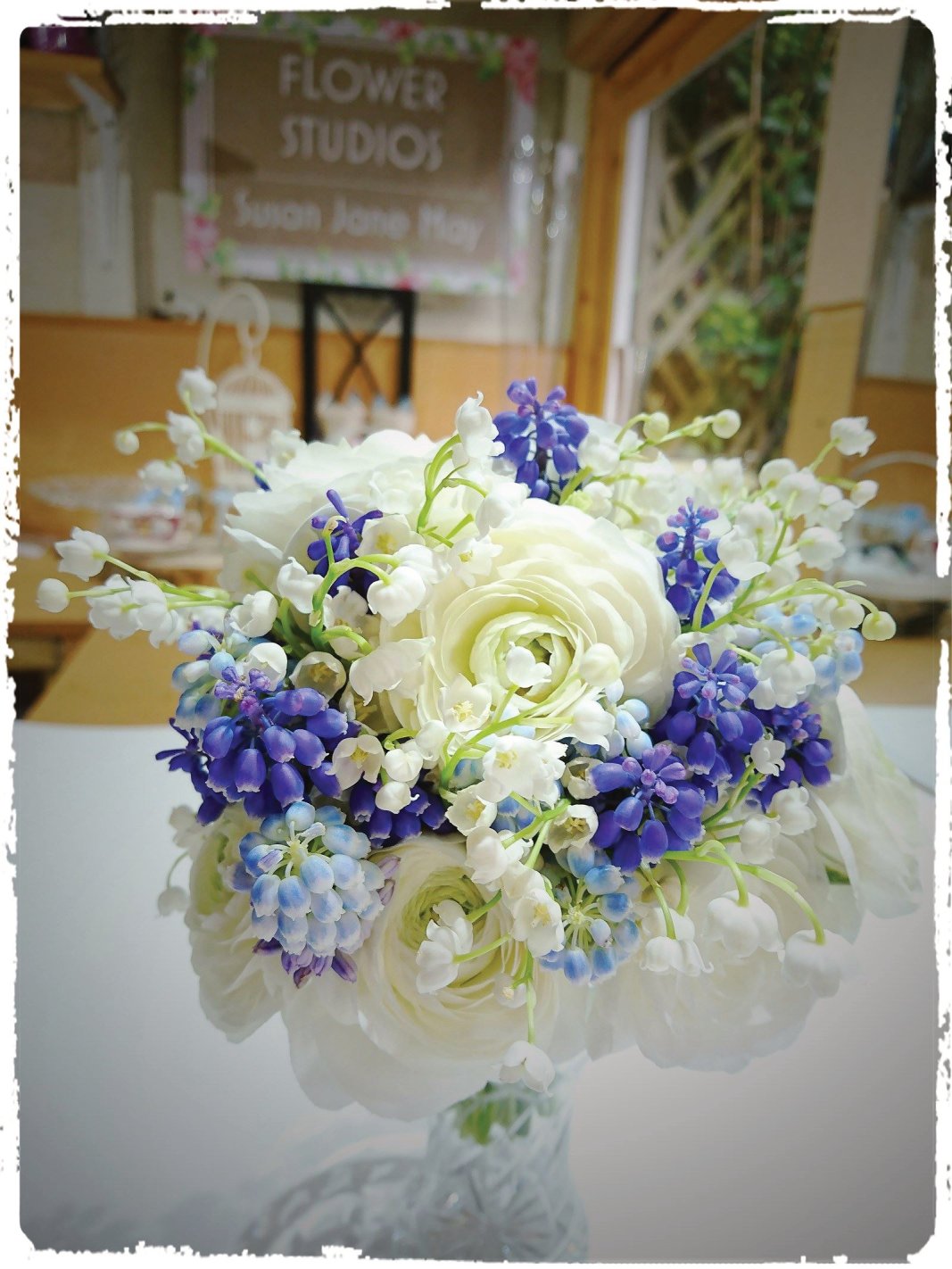 Absolutely!
x HAPPY  DAYS  EVERYONE x
PS. Having Technical problems again so the Font's all wrong but Hey Ho - at least I can get it Published...hopefully... x

Hi Everyone!
HAPPY SUNDAY!!
I've been so wanting to get a Blog Post all finished and published but it's been sooo busy these last few weeks. My days don't always have enough hours in them ha!
And I've got Studio appointments here today too ~ it's going to be a Happy, Busy Year this one..
Anyways, so I thought I'd do a little 'Blogette' this morning and then get the longer one finished later…
In a Nutshell…
Lillycat's doing great…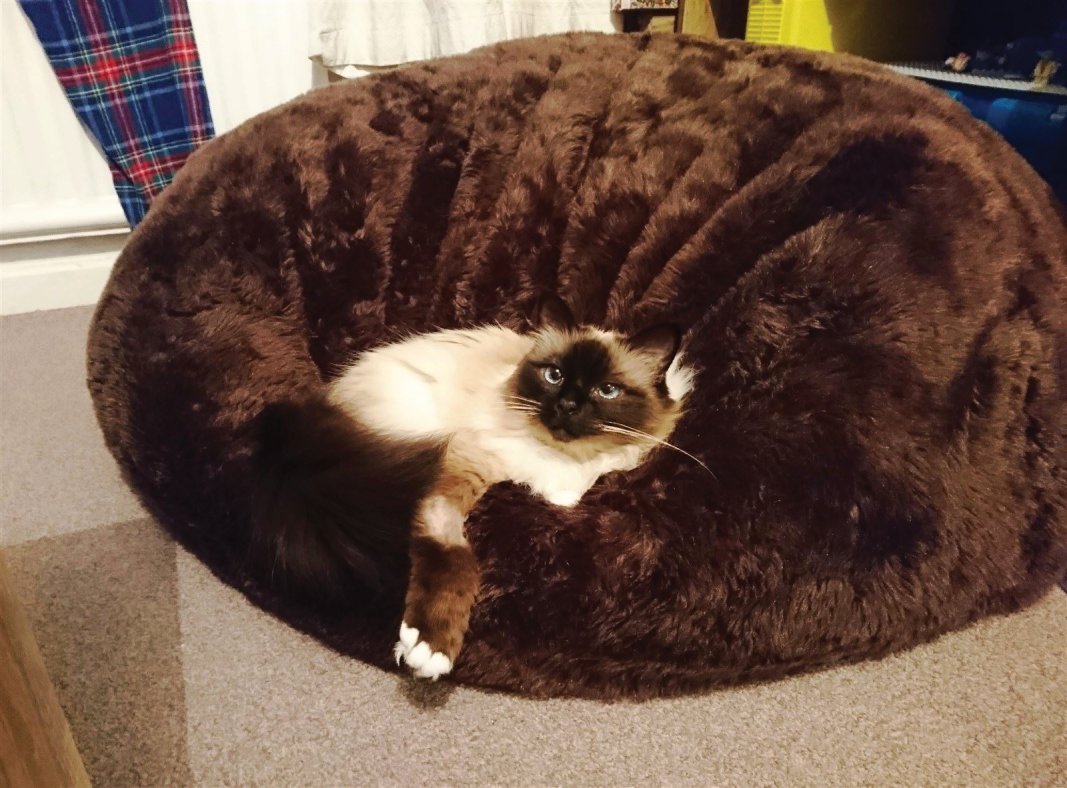 Can't say the same for poor Mousie (more to follow on that one)…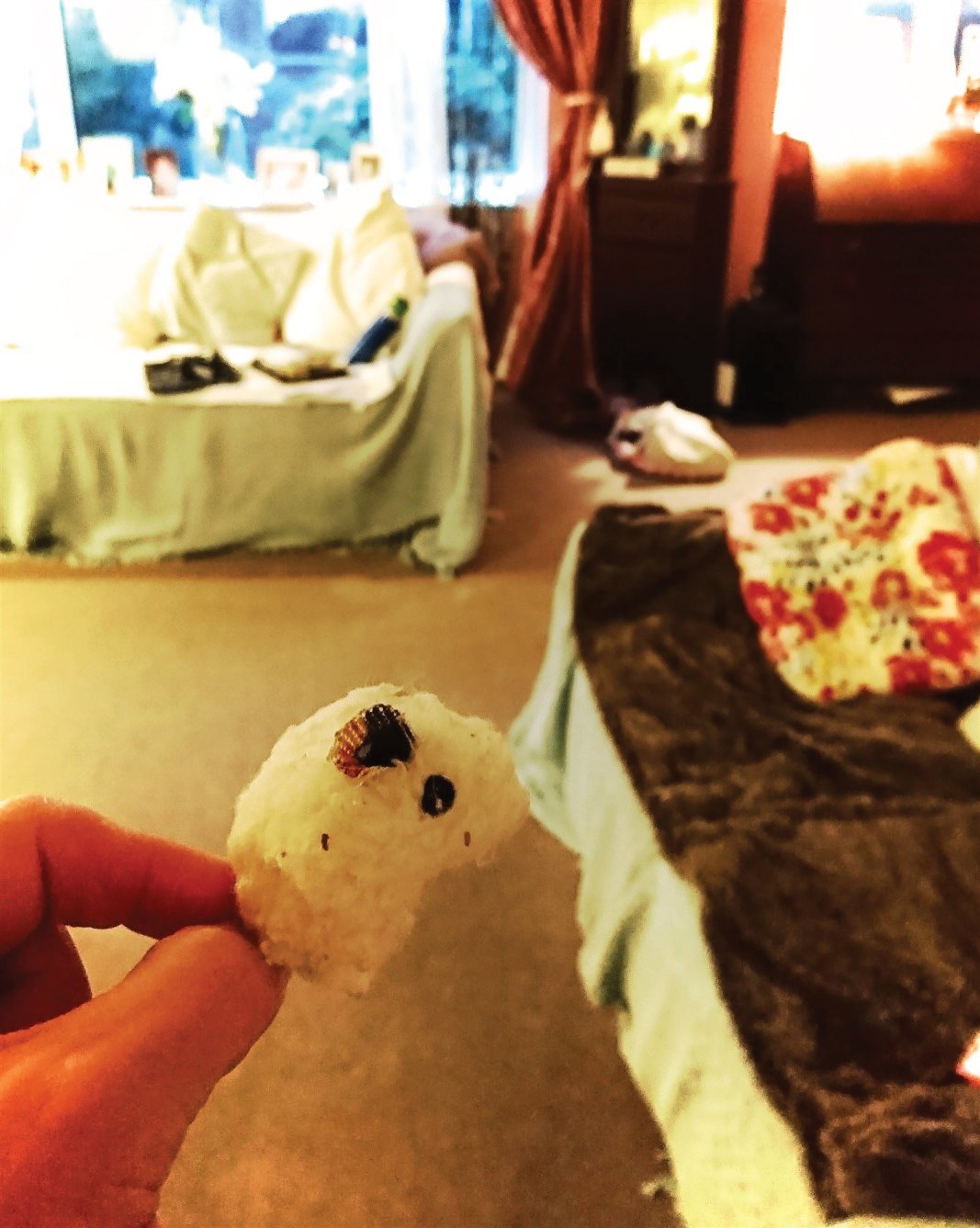 Weddings are going great…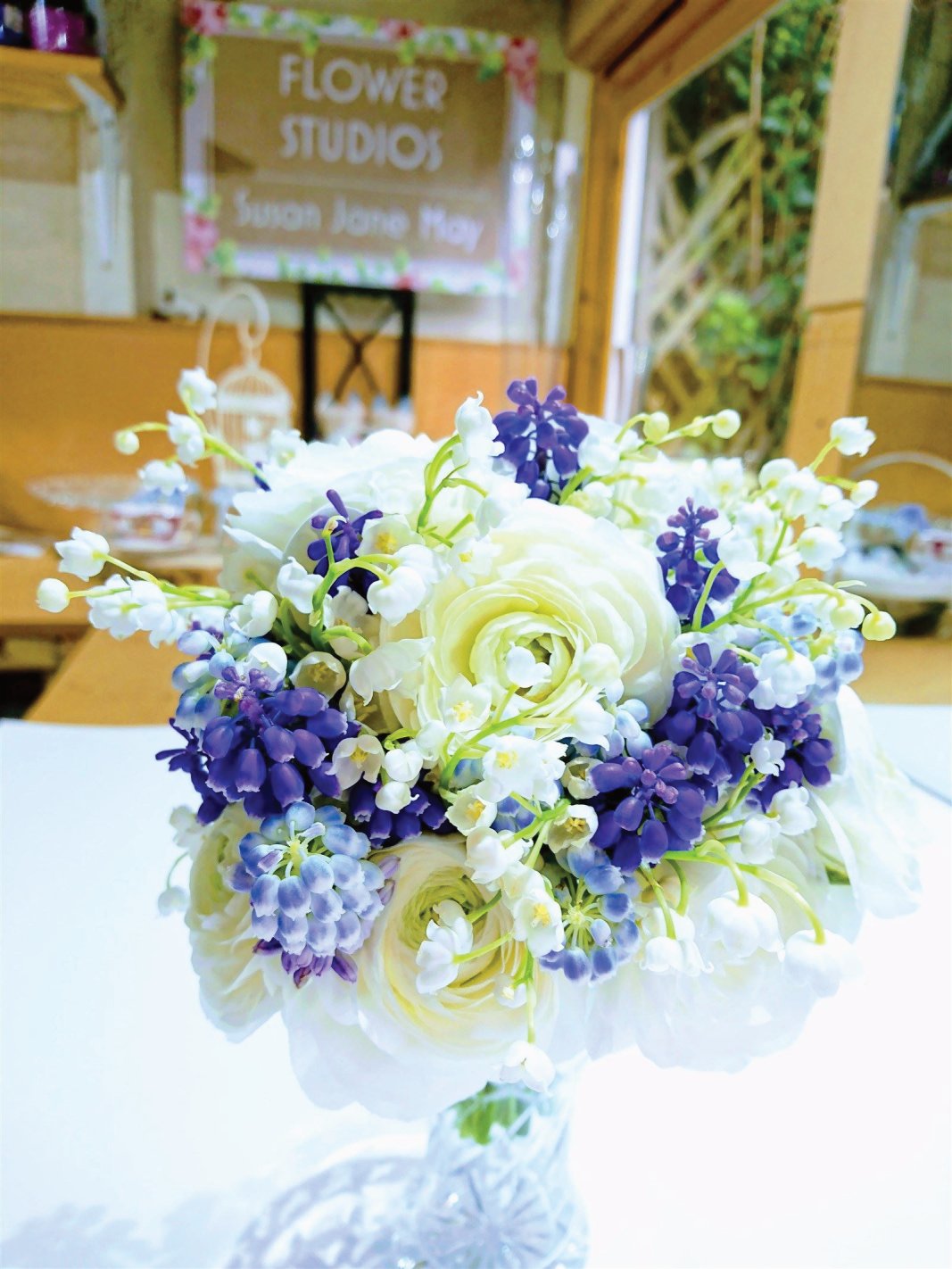 Washing pile's doing great… Oh Oops...Round the wrong way again ~ Never mind eh... no time to sort it out now and it doesn't look so big from this angle Ha!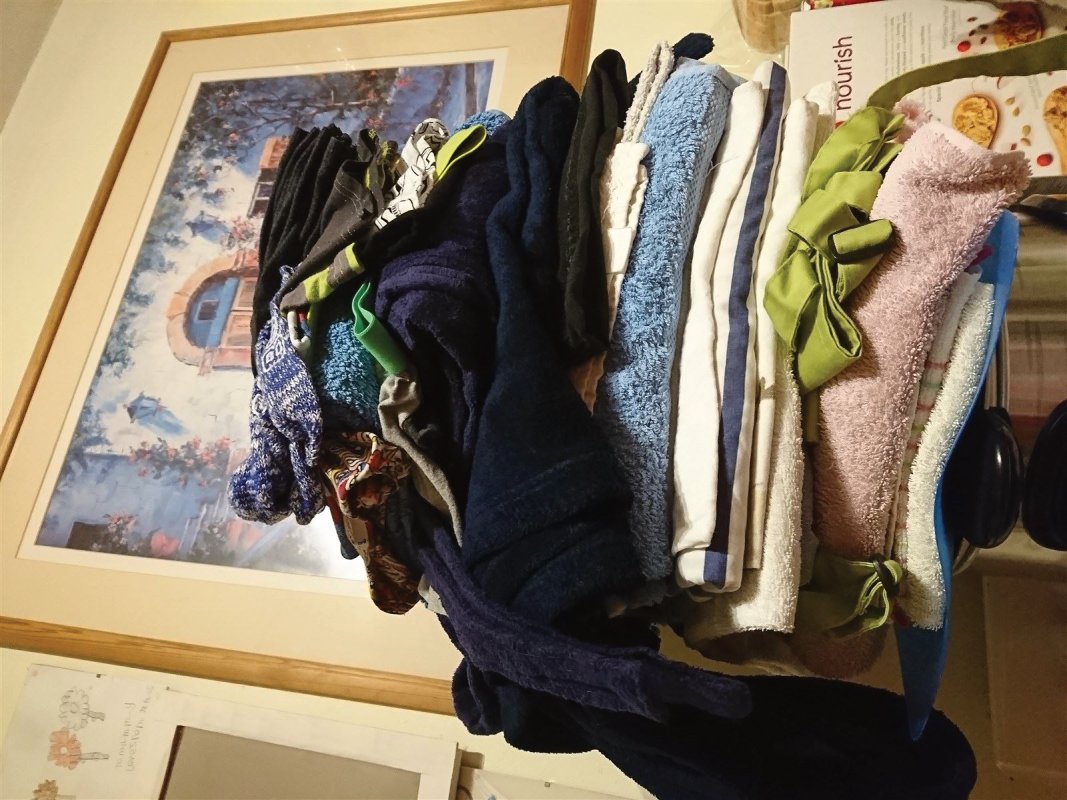 The Garden's coming on nicely at last….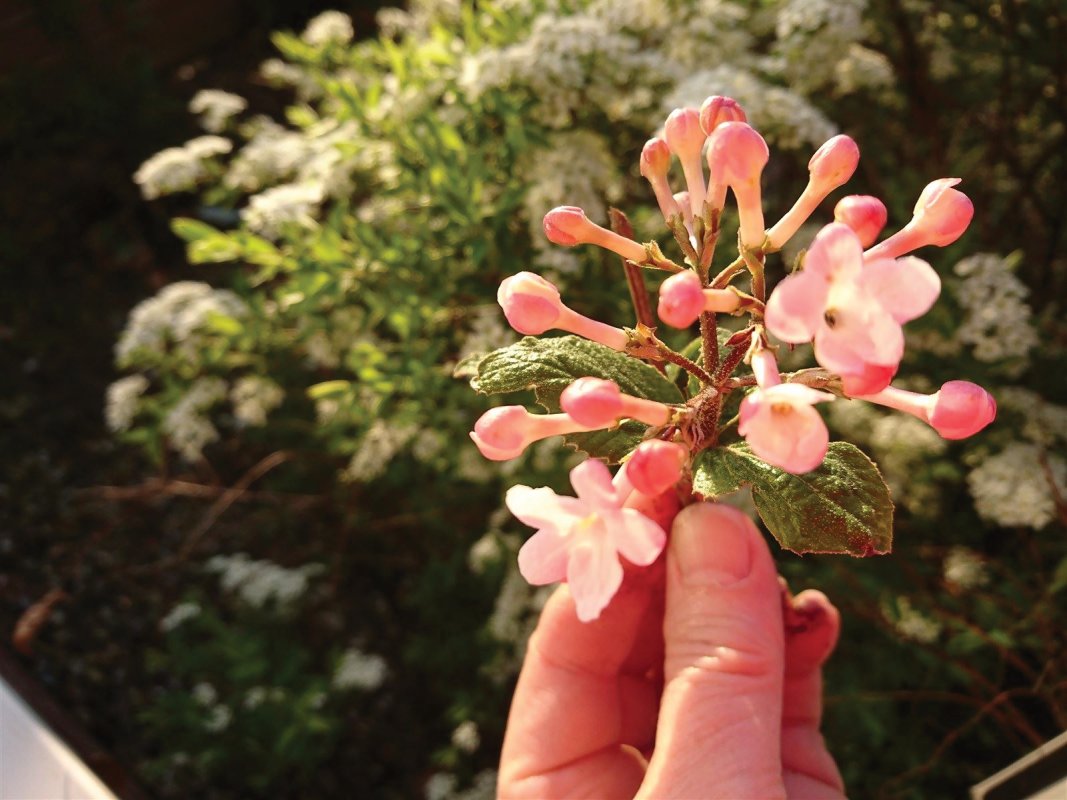 And I LOVE Ranunculus… Look at this little lovely with a touch of Muscari made up for a Wrist Corsage..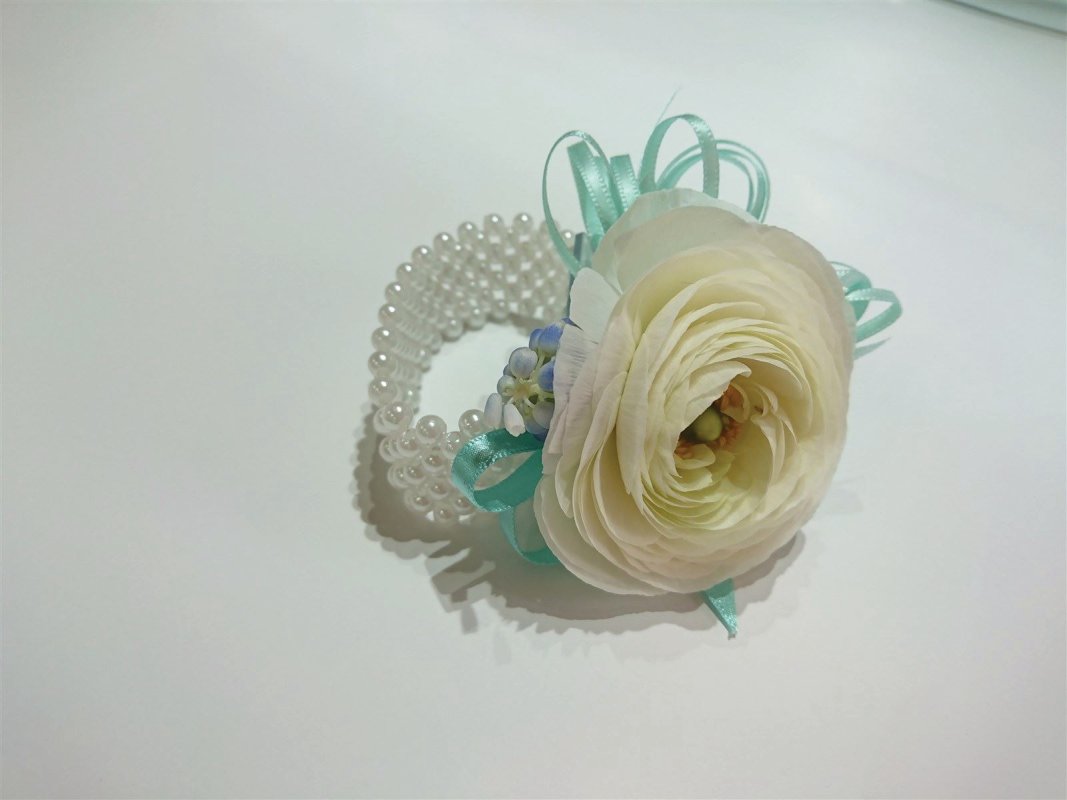 Gotta Go!  Busy, Busy!! See you all Later :)
xx
What a Difference a Day ( or two ) Makes!
Is Spring Sprung at Last? Let's Hope So..
And more good news, our Lillycat's coming Home tomorrow -  Hooray!
Reason enough for some Joyous Pics I think…. These are Flowers from my Garden this time Last Year – let the Springtime begin…please…
Now I do have to tell you that, being someone who REALLY needs to live in the Southern Hemisphere (Queensland specifically please), I ordered a pair of Ugg Boots just before Easter because I was fed up with being Cold…
And they turned up this morning…
Swiftly followed by the sunshine-ey-ist, warmest day we've had here yet ha! ..Oh my… Talk about perfect timing… But I still wore them..
And with the arrival of the First sunny, dry day came the inevitable… The 'Clearing of the Studios'…
Oh, urgh, aah - lovely....Mixed up Boxes, quite a few Spiders, Long-Lost vases that hadn't made it back to their rightful places at the end of last season, some Spiders, lots of Boxes, More Boxes…and did I mention the SPIDERS!! 
Urgh… Hate them…Yukky yuk yuk YUK….
But… I have a secret weapon from Oz to deal with these…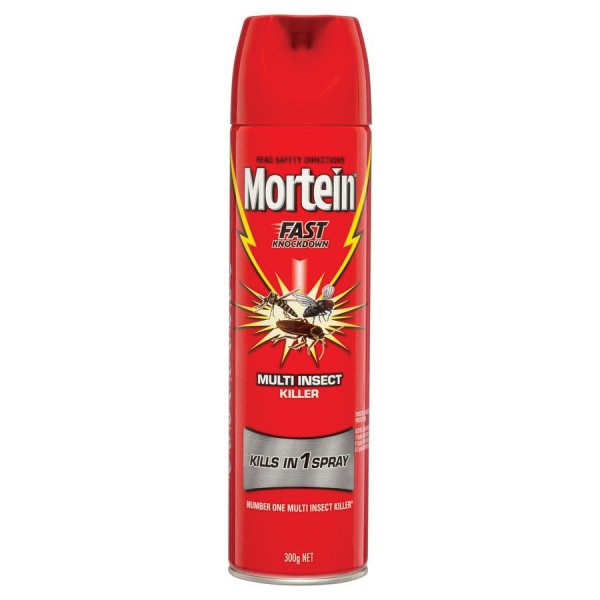 MORTEIN!! May the Force be with You….and against them…at all times…everywhere…
PS. I don't like spiders
PPS. Not good when you work in Garden Studios
PPPS. Even worse when you like Gardening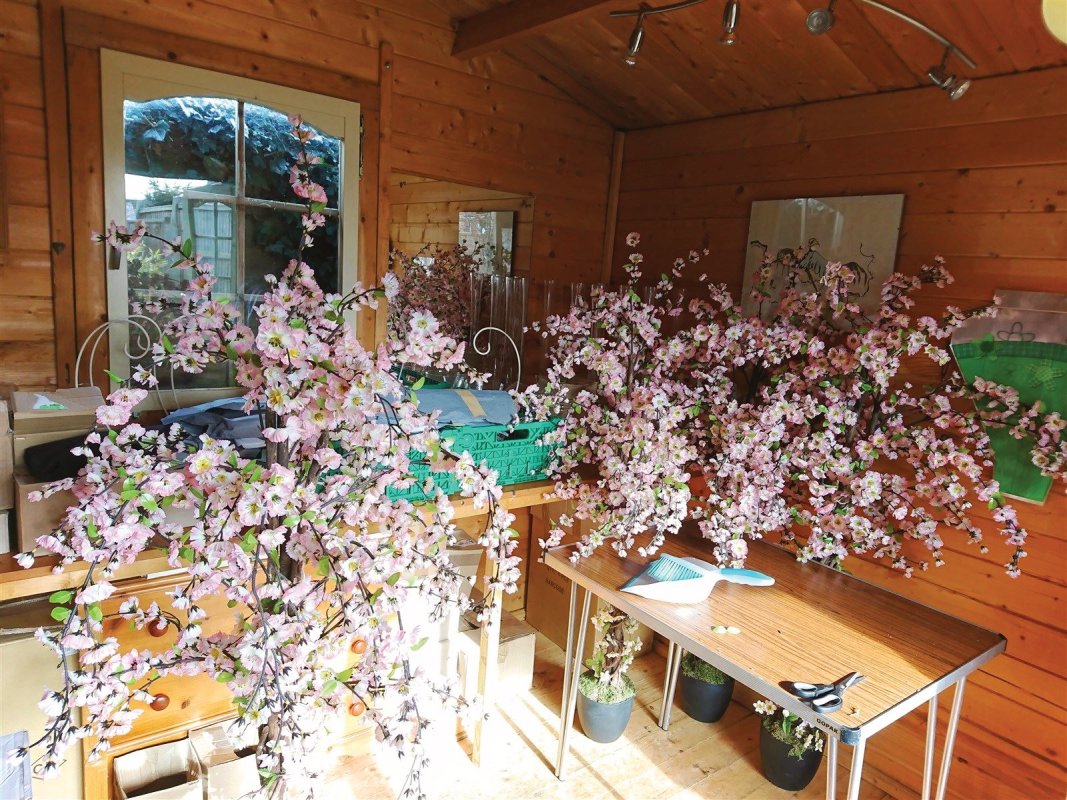 Anyways – job done – well, almost ....getting there.... This is Studio 1 full of sunlight and Blossom Tees - still a bit disorganised but I do know where everything is now ha!
So, onto another thing that needs doing... the 'Drawing of the Straws' between me and Iain for who gets to do the dreaded ' PILLING OF THE CAT'…
Did you see those Teeth in the last Blog?... Let me remind you…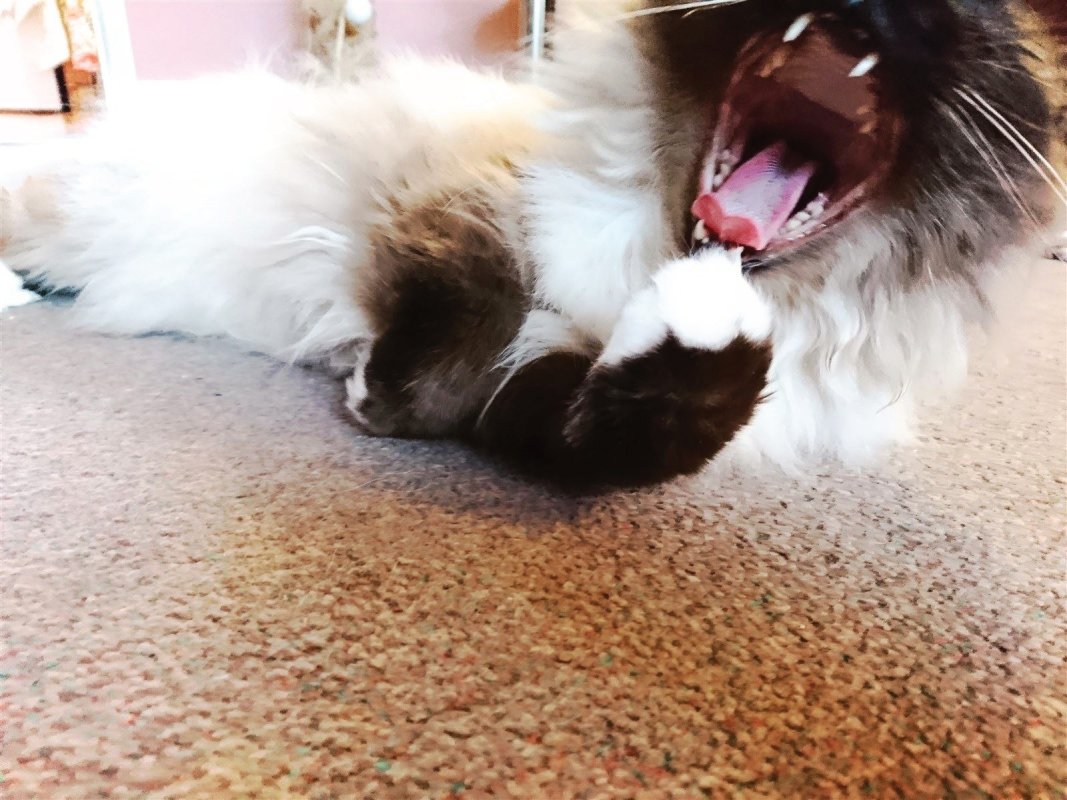 Lils might be small but she is definitely Feisty…
The tablets have to be given MANually (get the hint there?) morning and night…and they're not small, little wee tablets I can tell you – oh no, they're, like, half sections of the big old fashioned Paracetamol tablets? Huge! Watch this space for further developments… I've got a Video somewhere of me doing it in the past and I'll see if I can Blog a link to it somehow… totally hilarious…
But for now, let's look forward to some Gorgeous warmer weather and Spring and Flowers and Summer and Sunshine...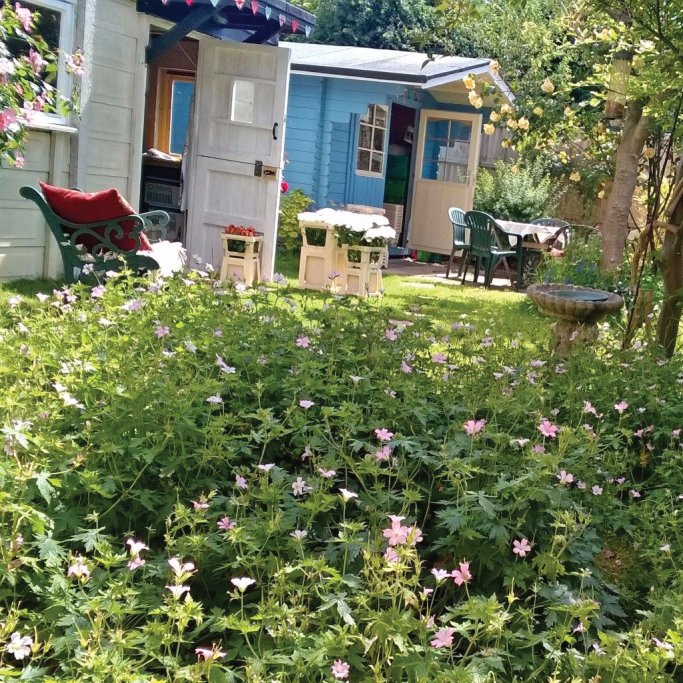 And, oh, Weddings!!! WEDDINGS!!!!!! Oh Yeah! There's LOTS of those to come this year…
Love it
Love what I do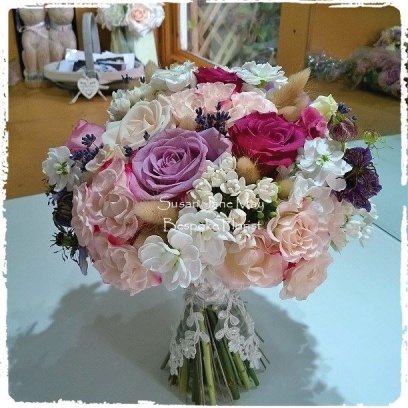 HAPPY SPRINGTIME EVERYONE xx
Hi there and Happy Wednesday from me and The Big Blonde :)
It's been a busy few days - here's what we've been up to today...
Harley's just had a thorough eye cleaning session and, as you can see, is totally exhausted...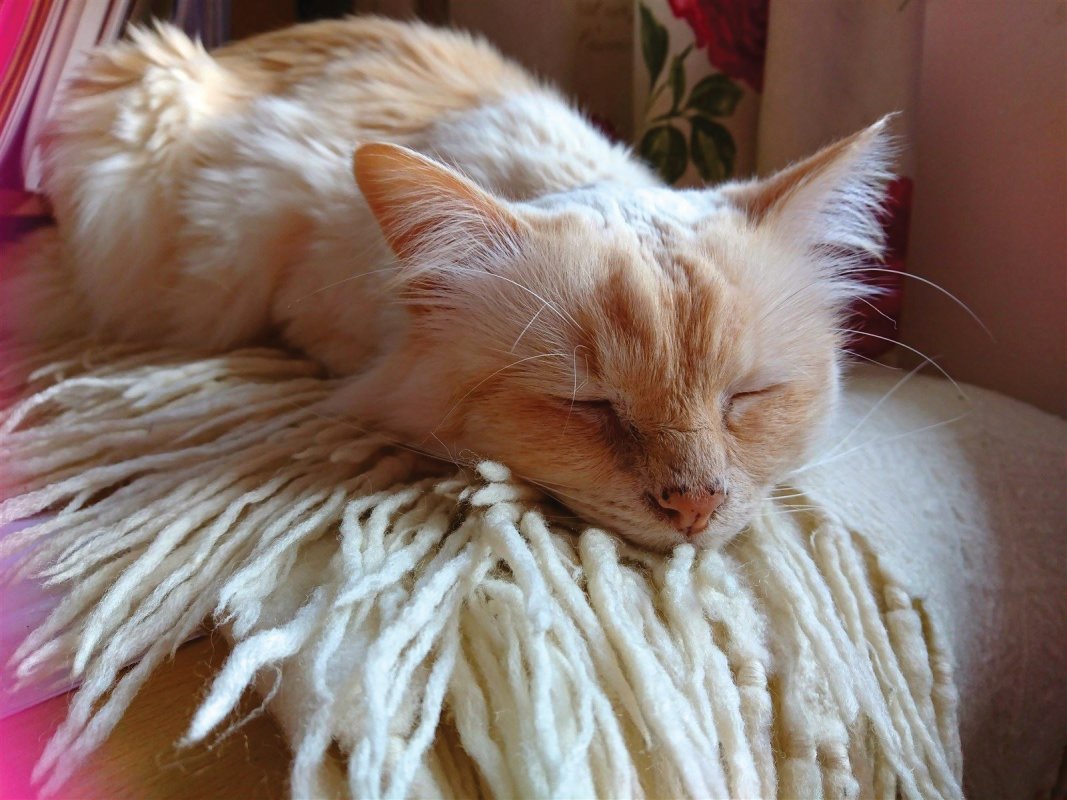 The same, of course, could be said of me... This cleaning-of-the-cat-face involved me getting him in an arm lock, with his backside wedged up against my stomach so he couldn't reverse out of hold, while I applied the "damp-tissuette-of-DOOM" as gently as possible to both eyes.
Well.
What a palaver.
You'd have thought I was trying to do open-eye-surgery or something... He kept squiggling around and stuffing his face under my armpit so I couldn't get to his eyes. This manoeuvre, whilst not resulting in him avoiding the eye cleaning, did managed to cover me in Springtime-Cat-Moult-Fluff which required a change of top afterwards...  
Harls is, without doubt, the biggest wuss-puss ever... but I Love him to bits and, as they say, he's worth it...
xx
It was a little while later at lunchtime when, with the sun all shining in and Lillycat all lying around in it relaxing on the kitchen table, I decided it would be a nice thing to give her a wee bit of a brush...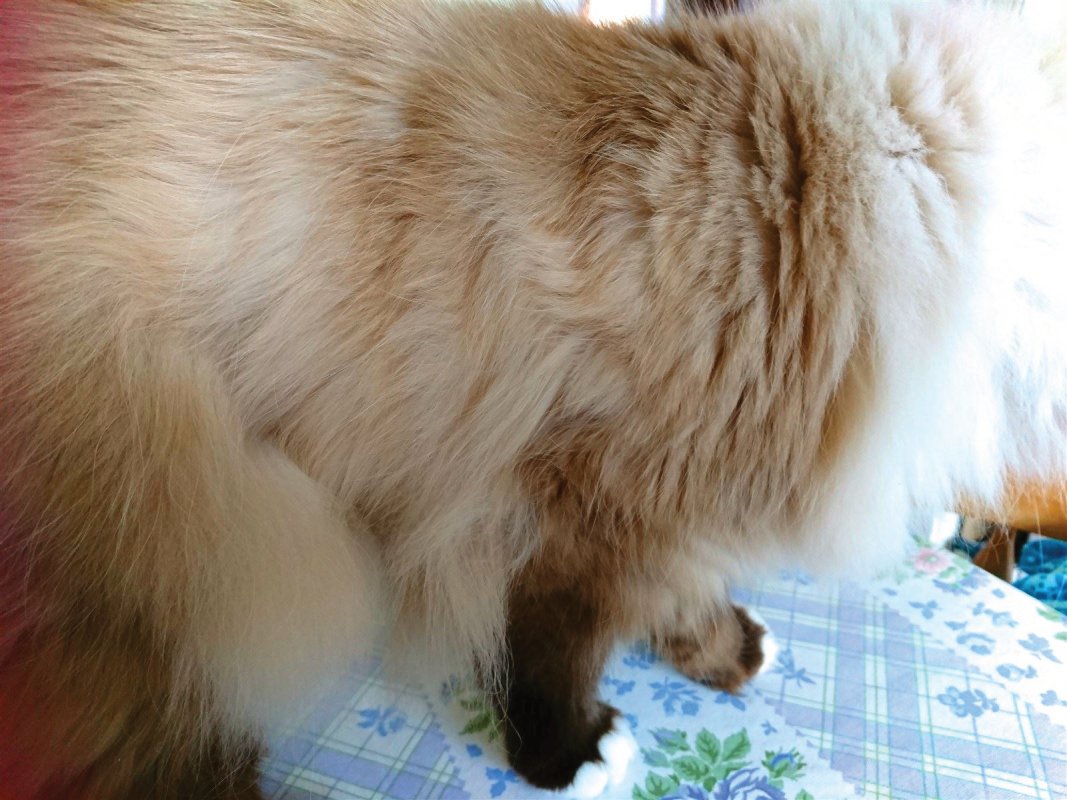 Half an hour and several HUGE brush loads of Tummy-Fluff-Fur later I had a kitchen table cloth that looked like it was growing some sort of Penicillin culture, another top covered in cat fluff and a pair of contact lenses in that were definitely not as happy as they were first thing this morning...
And Lilly?
Oh, well, she was one Happy-Purry-Cat! And what's more she gave me a very rare and gorgeous "I'll-sit-and-pose-for-you-no-worries" picture. I might look in need of yet another makeover right now but I Love her to bits and, as they say, she's worth it...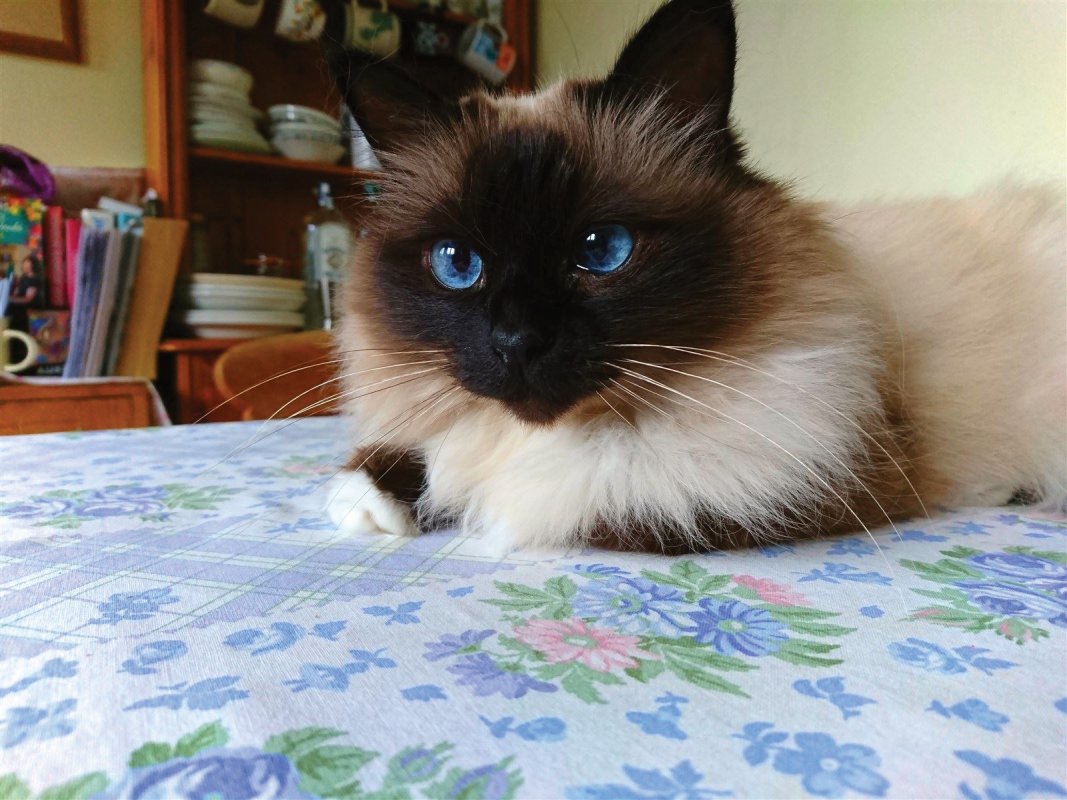 xx
Apart from 'Cat Spring Cleaning' days, there's other times that I end up in need of a bit of renovation....Like at Christmas time when there's door wreaths and garlands to be made... sticky / messy stuff Nordic Spruce...just look at these hands!! And don't forget I'd have brushed the odd strand of hair off my face during the day and, maybe, rubbed my cheek...well, you get the picture I'm sure ha! #chimneysweep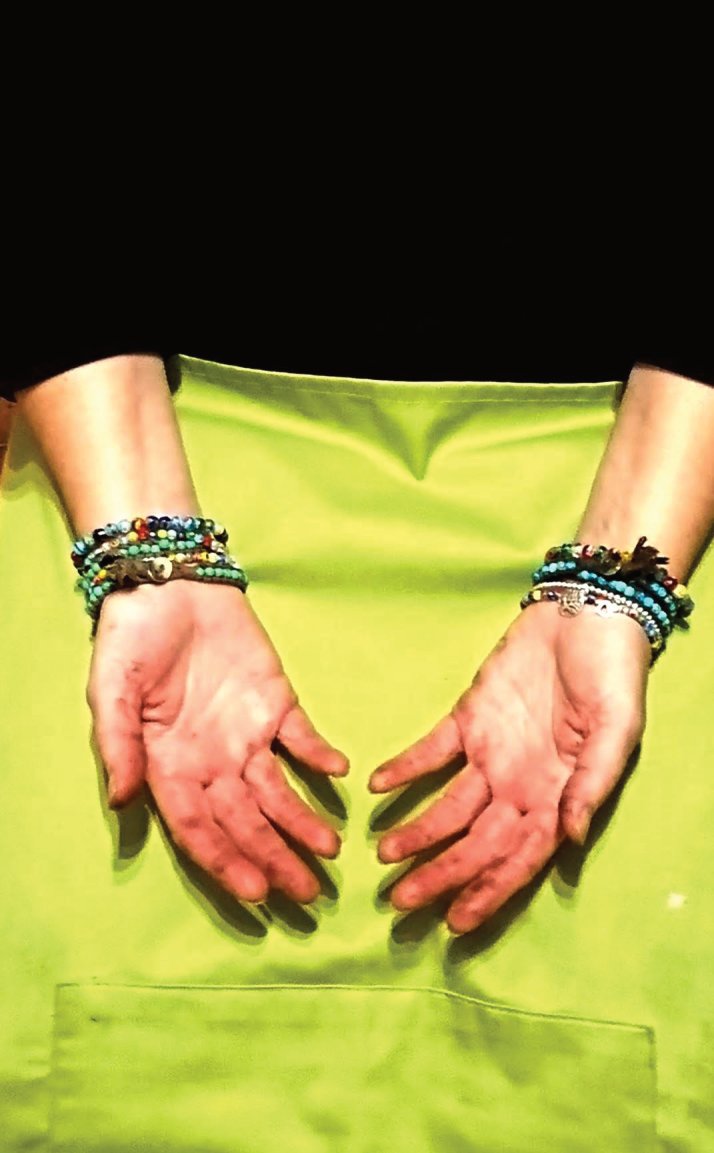 But, of course, it's worth it because you end up with lots of things like this!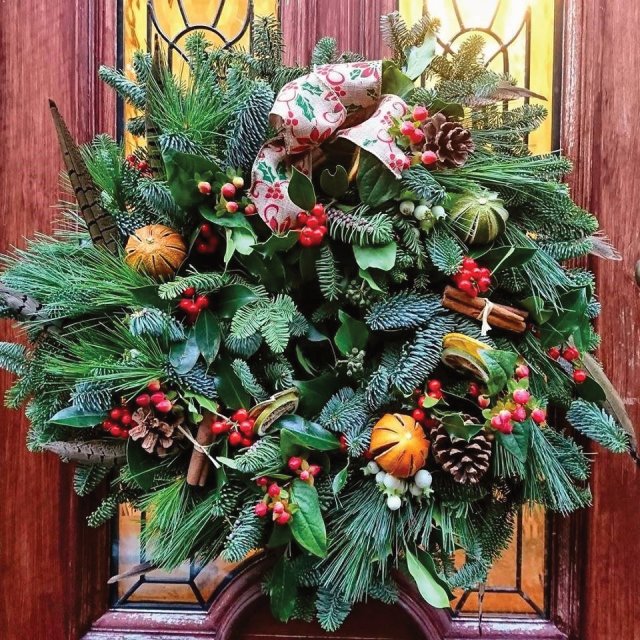 Another thing I do is design and create Tribute Flowers which, to me, is such a very important service I offer as a Florist. People come and see me quietly here in the studio and talk to me about what it is they'd like. 
And I put everything I have into creating it for them.
Because it's important.
Because it's worth everything and means everything.
Some designs are hand drawn from scratch..
Some are measured and built from scratch...
And some are designed, carved and built from scratch..
But they're all made with Love xx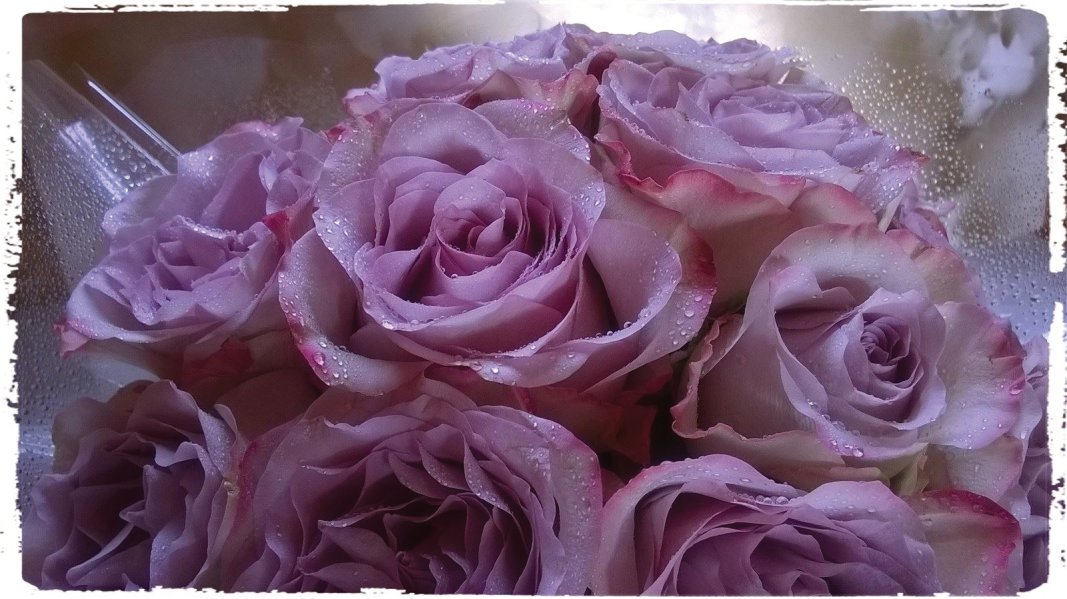 Whatever You're Doing Today - Be Happy x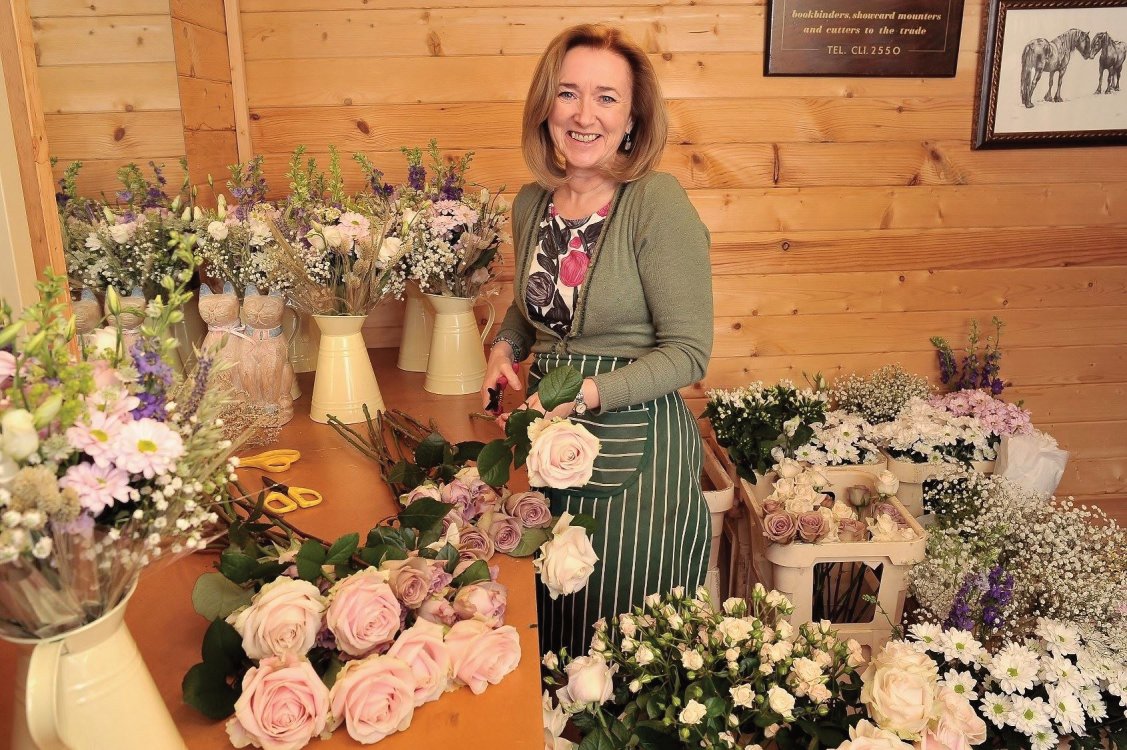 Because You're Worth It  ;)
/